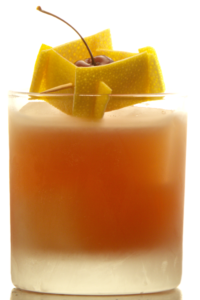 If you would had asked me a few weeks ago witch dark rum you should buy if you are on a budget, I probably would have answered: the Plantation Rum Original Dark. However, I realized that there has been a change in its outfit. Of course, I had to try it and see if it is still worth the praise! While I was at it, I created a new drink, too.
Better is the enemy of good
The old presentation only used rum from Trinidad. Now, the new one is a blend of double matured Trinidad rum and a small portion of heavy Jamaican rum. Double ageing in this case means that the rum was first aged in bourbon barrels and than filled into cognac casks, which were transported to France. This process is the same for all the rum sold by Ferrand and the bottling is also done in France. Besides the content of the bottles the label was changed to a somewhat darker style as well. Normally I would not care so much for the labelling, but in this case Ferrand went to quite a length and provides a lot of information about the rum and the double ageing technique. Nevertheless, let us get to the tasting of the rum!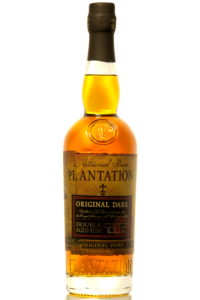 | | |
| --- | --- |
| | Plantation Original Dark |
| Alcohol: | 40 % |
| Price: | 21 € / per litre |
| Appearance: | Dark amber, medium sized windows, slow tears |
| Nose: | Ester notes, caramel, vanilla, violets, dried plums |
| Taste: | Caramel, vanilla, molasses, ester notes, violets, sweetness, tannins, slight bitterness |
| Aftertaste: | Sweet and medium long finish |
| | |
For a rum in this price category it packs quite a punch of aroma! Besides the sweet and typical rum flavours, the first thing you will notice is the Jamaica rum. Contrary to other rum producers, who just add a small amount for marketing purposes, Ferrand seems to add a considerable amount of Jamaican rum. However, the ester notes never become overwhelming or too harsh. Which directly lets me to the smoothness of the rum: clearly there is some sweetness to it, but it does not detract from the complexity of the rum. I almost would go as far as to suggest this rum for sipping it neat and I am very strict when it comes to such a statement! The addition of Jamaican rum definitely is an improvement of the Original Dark. It was an interesting rum before, but now I am afraid I have to say that everyone who buys something else in this price range is an idiot! Just kidding…
From Scotland to the Caribbean
To test the Original Dark's abilities for mixing I had to make a drink with it. The drink I settled on, is again a product of one of my sleepless nights, where I am pondering on drink ideas just because there is nothing else to do. The cocktail itself is a Blood & Sand variation. Of course the base spirit in this case is rum and instead of red vermouth I used Amaro Montenegro, which has become a favourite of mine over the last few months. Apart from that, I replaced the orange juice with fresh pink grapefruit juice, just because in my opinion it goes very well with any kind of rum. The only thing I kept was the cherry liqueur, but instead of my standard Luxardo Sangue Morlaco liqueur, I went for a sour cherry liqueur made by Faude.
Shake – strain – chilled Old-Fashioned glass with ice cubes;
Garnish: Orange peel & brandied cherry;
Song: Barbarossa – Bloodline
The sip starts with a fruity mix of cherry and grapefruit. Followed by a little bitterness with noticeable ester notes from the Jamaican rum. The whole drinking experience reminds me a little bit of sipping non-alcoholic San Bitter soft-drink mixed with grapefruit juice. In the aftertaste the herbal notes from the Amaro become more prominent and end in a dry finish. As with the Blood & Sand it is up to you if you serve this over ice or straight up. I think I would handle this depending on the weather and since at the moment it is one of the hottest summers ever, I would prefer the cocktail with ice.
Very good value for money – plain and simple
For me the cocktail's origin is still noticeable, but the overall impression is lighter and more tropical than in a Blood & Sand. All in all, it is impressive how good the Original Dark manages to compliment the other ingredients and still be prominent in the sip. I think it is clear by now, that I really like the new version of this Plantation rum! Still, I am not very surprised, because until now all products from Ferrand managed to win me completely over!