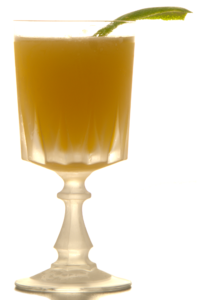 As promised yesterday here is a new cocktail using my homemade yuzu cordial. This time I went not the easy way of combining it with gin, but instead used a local ingredient: Malt liqueur made by the Hausbrauerei Altstadthof here in Nuremberg.
Pure serendipity
It was a pure coincident that I found this malt liqueur: I was out with friends on a warm summer evening. Obviously, we were in need of something to drink at one of the famous spots frequented by students in the old town centre of Nuremberg. The best place to get a great beer late in the evening is the Hausbrauerei Altstadthof near the imperial castle. Yet, plain beer was not enough to celebrate such a great evening and we also order some liquor. Besides some delicate beer spirits we also tried the malt liqueur and I instantly knew that I had to create a drink using it.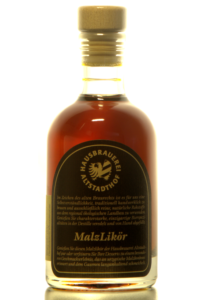 | | |
| --- | --- |
| | Hausbrauerei Altstadthof Malt Liqueur |
| Alcohol: | 20 % |
| Price: | 53 € / per litre |
| Appearance: | Espresso, medium sized windows, medium slow tears |
| Nose: | Sprouted cereals, sweet malt, malt beer, barley, stout beer notes |
| Taste: | Malt, baked bread aroma, sweet chocolate notes, slight hint of smoke |
| Aftertaste: | Dark chocolate in the finish |
| | |
Japanese-franconian Cocktail
So, now here we are and I somehow did go the easy way, because for a base spirit I am using the Nikka All Malt Japanese Whisky. I know just going for things also called "malt" is not the most imaginative way, but bear with me, because the overall drink is really worth it. As I already described in my article on the yuzu cordial, I did not want to just use lemon or lime and made my own cordial. And there we have it: just a simple, yet sophisticated drink, using only three ingredients.
4,5 cl Nikka All Malt Japanese Whisky
3 cl Yuzu Cordial
1,5 cl Altstadtbrauerei Malt Liqueur
Shake – double strain – chilled Cocktail glass;
Garnish: Large lime twist;
Song: Made In Heights – Murakami
This cocktail delivers an interesting combination of citrus and malt flavours. The astringent and slightly bitter yuzu notes are still noticeable in the finished drink and the Japanese whisky kind of provides the right backbone to this concoction. It brings subtle smoke and a slight single malt aroma to the mix. Even with dark spirits, this drink manages to stay refreshing and quenches the thirst for a cool drink on a hot summer day. However, I imagine it would do just as well in autumn!
A final word on the malt liqueur: I am still totally in love with it! Every time I am sipping it I imagine myself drinking the mash of a great whisky, because it just has the right amount of freshly sprout cereal and malt notes. It is quite surprising how quickly you will go through a small bottle of it. Perhaps the fact that there is more to come featuring the malt liqueur might have something to do with that fact: So, stay tuned for news on that matter!