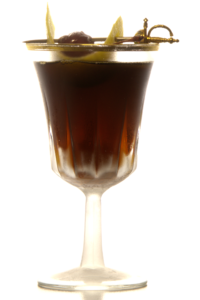 This time I first created a cocktail and began looking for the right spirit afterwards. Maybe that is not totally right, because I had the idea of making a Manhattan style cocktail with green walnut liqueur for quite some time. Now I finally got my hands on some of this exotic liqueur. Moreover, with the Sonoma County Rye I also had the perfect rye whiskey on hand.
"New legacy steeped in the old ways"
First let me introduce the rye: The self titled rye whiskey from the Sonoma County Distilling Company is made from a 100 % rye mash bill, with some of the rye being malted. After fermentation the mash is distilled on one of the smallest alembic stills in the United States, which are heated by an open fire. Next the new make spirit is aged in charred, small barrels made out of American oak and finished in old casks. The Sonoma Rye is bottled at 48 % ABV.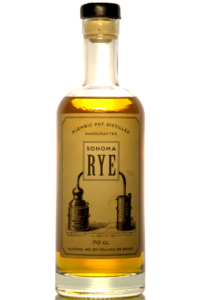 | | |
| --- | --- |
| | Sonoma County Distilling Co. Sonoma Rye Whiskey |
| Alcohol: | 48 % |
| Price: | 92 € per litre |
| Appearance: | Ochre, small windows, medium fast tears |
| Nose: | Vanilla, rye bread, apples, butter, bee wax |
| Taste: | Malt, sweet vanilla, some fruitiness, cereals, baked goods, very mellow |
| Aftertaste: | Long finish with some vegetal notes |
| | |
For a 100 % rye whiskey the Sonoma County Rye is da** smooth! On the one hand this rye manages to be a typical rye whiskey, with its cereal notes and on the other hand it is completely different form other ryes. It has a certain amount of buttery aromas, which I have only encountered before with very old bourbon cask single malts. At the same time it is lacking almost all the green and vegetal notes other famous rye whiskeys have. Do not get me wrong I like it very much and I am not saying that the lack of vegetal notes is bad. However, it might have its problems handling being mixed with other ingredients. Sebastian, who presented the Sonoma County Rye to use told us that he had an Old-Fashioned made with it was a bit lighter than usual. Naturally, I was very curious about mixing a cocktail with it, but first here are my tasting notes on the other Sonoma County Distilling Co. whiskey:
| | |
| --- | --- |
| | Sonoma County Distilling Co. 2nd Chance Wheat Whiskey |
| Alcohol: | 46 % |
| Price: | TBA |
| Appearance: | Ochre, small windows, medium fast tears |
| Nose: | Cereals, sweetness, hint of pineapple, salted popcorn with butter, candle wax |
| Taste: | Sweet, slight bitterness, spices, vegetal notes, malt, caramel |
| Aftertaste: | Long spicy aftertaste, with some oak notes |
| | |
The 2nd Chance Wheat Whiskey is made from a wheat mash bill with some malted rye. It is distilled twice above direct-fire and the new make rests in used rye-whiskey barrels. Probably we should have tried this one first, because if the rye whiskey is da** smooth, what can I say about this one? Da**est smooth? I think you get the point: it is even smoother than the rye whiskey. To put it in Sebastian's words: "It is the right whiskey for sipping on your porch on a warm summer evening." Besides the mellow sip the 2nd Chance manages to remain a certain complexity. The thing I appreciate is that, like the Sonoma rye, the 2nd Chance whiskey shows how a spirit made from a certain grain tastes like. However, it is time to move on to the Patron & Saint cocktail.
4,5 cl Sonoma County Distilling Company Rye Whiskey
1,5 cl Faude Williams Eau De Vie
3 cl Faude Green Walnut Liqueur
0,75 cl Spelt Sweetness Mix (1 Part Spelt Sweetness : 1 Part Water)
Stir – strain – chilled Cocktail glass;
Garnish: Lemon twist – brandied cherry;
Song: Fink – Green And The Blue
This time I forgot the song where the name of this cocktail came from. I guess that is what I get from changing my pattern and going for a verse of a song as a cocktail name instead of the title. Nevertheless, the drink is kind of a combination of a Manhattan and a Dunkin Cocktail. The ratio is more similar to Jamie Boudreau's Dunkin cocktail, but the flavour profile is more reminiscent of a Manhattan. By the way, both the Williams eau de vie and the green walnut liqueur made by Florian Faude, are magnificent! Since, we want to talk about the cocktail here, you will find the tasting notes for both at the end of this article. As mentioned before, the rye whiskey has a delicate flavour and so I had to adjust the amounts a little bit, so it does not get overwhelmed by the pear eau de vie. With this amount of rye, you will get a great combination of dry cereal notes and fruity pear aroma. The walnut flavour just lingers on in the background and gives the whole drink the right structure, together with some cinnamon and clove aroma. Even with a little bit of spelt sweetness added the drink has a very dry and long finish.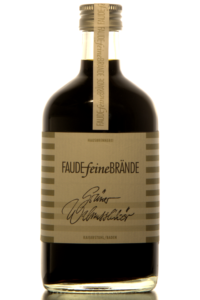 | | |
| --- | --- |
| | Faude Grüner Walnusslikör |
| Alcohol: | 34 % |
| Price: | TBA |
| Appearance: | Dark brown, almost black, medium sized windows, slow tears |
| Nose: | Cinnamon, some bitterness, eucalyptus, Amaro aroma, hints of walnuts |
| Taste: | Delicate sweetness, walnuts, spices, allspice, cloves, cinnamon, slight bitterness |
| Aftertaste: | Long with bitter nut flavour and spices |
| | |
Just a few words on the walnut liqueur: I have read a long time ago about a bartender who made his own liqueur and replaced the red vermouth with it. However, I never thought that it would actually work! Now that I have tasted the excellent Faude green walnut liqueur I know that it does. Because of its slight bitterness in combination with a subtle sweetness, it reminds me more of a Amaro instead of a walnut liqueur. Moreover, it really works wonders with dark spirits! If you can I highly recommend that you grab a bottle of it, even if it seems a little bit hard to come by…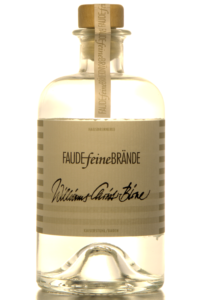 | | |
| --- | --- |
| | Faude Williams Christ Birne |
| Alcohol: | 40 % |
| Price: | 68 € per litre |
| Appearance: | Clear, big windows, slow tears |
| Nose: | Overwhelming Williams fruit aroma, rose pedals, spices, grape pomace notes, cinnamon, slight hint of vanilla, fruit must |
| Taste: | Mellow, fruity and slightly tannins, dominant pear aroma, some vegetal notes, a whiff of sweetness, spices, nutmeg and floral notes |
| Aftertaste: | Long with cinnamon and pear notes |
| | |
Of course, I can not leave you without saying a few words on this eau de vie! Again Florian managed to just blow me away with this Williams eau de vie and I can say that I have tasted a few pear eau de vies now. Simply put: this one is just one of the best! Obviously, it has a prominent Williams flavour (maybe even most prominent), but it is also has an unbelievable depth of flavour. There is a whole bunch of different tastes you can discover when travelling through a single sip: flowers, spices, tannins and so on and so forth… I guess I have gave you enough reasons already to go shopping for some of Florian Faude's spirits!