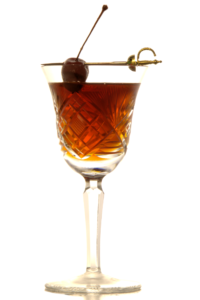 Today I will present another pear eau de vie to you to end the short gin-interlude of the last few days : The Lantenhammer Red Williams pear eau de vie to be exact, which is quite special even if the name sounds familiar. Of course, I also had a suitable cocktail recipe up my sleeve.
The "Red Williams" pear or "Max Red Bartlett", as this variety is called in the States, is a less frequently found mutation of the common green or yellow Williams Christ pear. It was discovered in Oregon in 1947. At the beginning of this year I noticed that more and more eau de vie producers were introducing Red Williams brandies to the market. Even if I had never heard of red Williams pears before, it seems like this trend catches on.
Red and unfiltered
Fortunately, I was lucky enough to have the chance to test the Lantenhammer Red Williams pear eau de vie and its use in cocktails. The pears for this eau de vie come from Italy, from Bolzano and Verona to be exact. Obviously, the pears are only harvested when they are fully ripened and then transported to the distillery near Schliersee in Bavaria. The fermentation takes place after crushing the fruits and the addition of selected pure yeasts at 18 °C – 20 °C over a duration of about three weeks. The mash is distilled on small handmade copper stills produced by Arnold Holstein to about 70 % ABV. Only the middle cut is rested for some time in 1000 litre stone ware tanks to smoothen the taste a little bit. Subsequently, the eau de vie is brought down to drinking strength with water from the "Bannholz" spring and bottled without filtering, to preserve all of its aromas.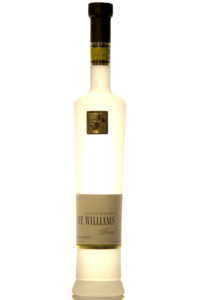 | | |
| --- | --- |
| | Lantenhammer Rote Williams Birne |
| Alkohol: | 42 % |
| Price: | 90 € per litre |
| Appearance: | Clear, big windows, slow tears |
| Nose: | Powerful pear aroma, spices, cinnamon, nutmeg, vanilla, some tannins, cooling mint |
| Taste: | Continuing pear aroma, some tannins, must notes, again some spices, slight hint of menthol |
| Aftertaste: | Long lasting fruity pear notes with some vanilla aroma |
| Rating: | |
It is hard to put your finger on in which way this Williams eau de vie is different from regular ones, but it clearly has a different character. Naturally, the predominant flavour of  are Williams pears – what a surprise! However, there is a lot more going on, ranging from Grappa like tannins to the pungency of a Chinese five spice mix. You also will notice that this eau de vie is not made to go down easy, it undeniably has some edges. In my opinion this is due to the lack of filtering. At the same time, this means that the Red Williams manages to stay exciting and the perfect spirit for eau de vie fans!
Richard Feynman and the flower
To understand the idea behind the cocktail I created with the Red Williams eau de vie, some explaining might have to be done: I stumbled on a piece of music by Phoria in an American television series. The song is called Red – first clue – and it includes parts of a monologue by Richard Feynman, commonly known as "Ode To A Flower". Since, the few sentences included in the song were so moving I decided to check out the whole speech and there Feynman says: "[…] I can appreciate the beauty of a flower (Editor's note: second clue). At the same time, I see much more about the flower than he sees. I could imagine the cells in there, the complicated actions inside, which also have a beauty. […]". And there you have the reason why I named this drink "The Beauty Of The Flower" and why I used the "Red Williams" pear eau de vie for it. Some contributing factors also included that you can use two other Lantenhammer products in this drink: the Lantenhammer Sour Cherry Cuvée and their Rose Liqueur.
2,25 cl Lantenhammer Red Williams Eau De Vie
2,25 cl Lantenhammer Sour Cherry Cuvée
2,25 cl Carpano Punt E Mes
2 Bsp. Lantenhammer Rose Liqueur
Stir – strain – chilled Cocktail glass with a rose petal;
Garnish: Brandied Cherry;
Song: Phoria – Red
In my mind the Feynman quote: "I could imagine the cells in there, the complicated actions inside, which also have a beauty." pretty much sums up the drinking experience here. The goal when using the rose liqueur is to add a floral background to the cocktail, making it more complex ( = "complicated") and the resulting flavour profile is the beauty of the it all. Of course, you have to be careful not to overdo it with the rose liqueur, you just want to notice a slight floral hint in the sip. Moreover, the use of Punt E Mes instead of regular sweet vermouth is also obligatory here. The slightly higher amount of bitterness counterbalances the strong pear notes and also goes very well with the tannins of the eau de vie.
I know what people say about self-praise, but I think I am not overstepping my boundaries when I tell you that I am rather pleased with this cocktail. It is just the perfect cocktail to drink when listening to Richard Feynman's excellent remarks on the beauty of a flower. While I am talking about beauty: make sure to check out the other Lantenhammer products as well. I am absolutely convinced that they will not disappoint you!