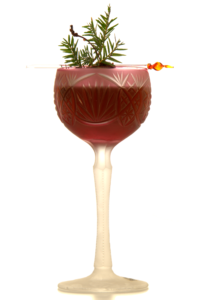 It seems like no matter what I do, I can't shake the gin… Yet, gin producers continue to give their best to surprise me with new variations that attract my attention. In this case, I almost disregarded the spirit in question as "just another gin". However, my dear colleagues from Trinklaune made sure to awake my interest again!
After reading the article on the Z44 Gin I just had to try it myself! Well, so I did and it also took my just a short while to come up with a drink idea for this gin. Now, you might think: Why the heck is he presenting the seventeenth gin to us?! (Editor's note: It actually is the seventeenth gin featured on this blog.) The answer to that question is simple and at the same time unsatisfying for conspiracy theorists, who might tell you that I get paid by the gin-lobby: It is a new gin with an intriguing flavour profile, which is worth checking out, simple as that!
Pine nuts from the White Horn
The White Horn is a mountain in South Tyrol east of Tramin where this gin is produced. On this particular mountain pine trees grow and their pine nuts are harvested for the production of the Z44 Gin. It takes the pine nuts three years to reach their best quality and only then they are picked by hand. Apart from the pine nuts also gentian root, juniper, violet root and yarrow are used as botanicals in the production of the Z44. The distillation is done on a small copper still, which I reckon to be one of the eau de vie stills at Roner. However, this is just guesswork and they could also have made other arrangements.
| | |
| --- | --- |
| | Roner Z44 Gin |
| Alkohol: | 44 % |
| Price: | 80 € per litre |
| Appearance: | Clear, medium sized windows, slow tears |
| Nose: | Menthol, pine nuts, juniper, earthy spices, Szechuan pepper, whiff of sweetness, candied orange peel, kaffir lime leaves, liquorice |
| Taste: | Mellow, pine nuts, juniper, menthol, sweetness, lime, earthiness |
| Aftertaste: | Long and spicy finish with pine nut aroma and cooling menthol, black pepper |
| Rating: | |
I think the number of lines I needed to described all my sensory perceptions says it all. This gin has one of the most complex aromas I ever encountered in a gin! You can just pour a glass and let it sit for half an hour and every five minutes you will smell something different. The nose starts off with a pungent juniper and pine nut scent, which turns very earthy after a short while. Wait even longer and the earthy and spicy notes settle down to leave more room for fruity citrus notes. All these aromas are continued on the tongue, but there the spicy pepper notes are more pronounced. This is the only reason the Z44 Gin did not get a higher rating when sampling it neat, the hot notes of spices are just a bit overwhelming. However, a certain sting is exactly what a gin should have to be able to compete with tonic waters or other mixers!
Again pine nuts and a truce
Regardless of the Z44 Gin's introduction I received a small bottle of pine nut liqueur and my first idea was to mix a Negroni version with it! Then came along the Z44 Gin and suddenly I had the perfect gin for this cocktail on hand. Regarding the proportions I kept my usual Negroni recipe, which means that I am using a little bit more gin. In my opinion this makes for a more balanced drink. The only other thing I changed was that I switched out the red vermouth for Carpano Punt E Mes, because the pine nut liqueur is less bitter than Campari. In this case I derived the name after following up on the history of South Tyrol: Therefore, the name is a reference to the truce of the 3rd of November, 1918 between Austro-Hungarian forces and Italy.
4 cl Roner Z44 Gin
3 cl Pine Nut Liqueur
3 cl Carpano Punt E Mes
Stir – strain – chilled Cocktail glass;
Garnish: Brandied cherry in Campari dust – conifer sprig;
Song: Phoenix – Armistice
The cocktail's bouquet with hints of cinnamon, forest aroma and wine leads to a sip with, spices, hints of natural resin and a noticeable bitterness. These complex aromas are balanced by a slight sweetness reminiscent of citrus notes. Also it seems to me like the juniper and pine nut taste of the gin is very well preserved in the final cocktail. With its bittersweet flavour profile this drink stays true to its ancestor the Negroni, while bringing new and unfamiliar elements to the mix. The only thing you could change is to add an orange peel for a garnish. This way a little bit more freshness is added to the drink and the Z44 Gin's citrus notes come out stronger.
In the end, I have to join the Trinklaune team in their verdict! The Z44 is a very interesting and unusual gin, which at first glance might seems a little bit overpriced. However, this is only until you check out the bottle and notice that it is a regular sized one, containing 0,7 litres. While talking about the bottle: With its drawings on the side, which could have been collected from a nature study book, it is just plain beautiful!