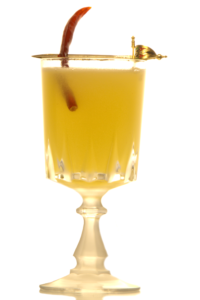 I do not want to downgrade my other cocktail creations, but I think this new one might be quite interesting! Although I think I rather should let you decide on that matter. Nevertheless, I created this homage to my boss's Goldener Wurf for my sister, when she came around and demanded a drink. Of course I hope to have come up with a drink, she enjoys at least as much as the Goldene Wurf!
Before we get to the drink I first want to tell you some facts on its main ingredient: The Lantenhamer Mirabelle Cuvée is a little bit hard to classify, because it is neither a real liqueur nor a true spirit. For the first category it contains too less sugar and for the latter its alcohol content is too low. However, the Cuvée is made with yellow plum juice and Lantenhammer's Mirabelle Eau De Vie. Most of the fruits for the eau de vie come from the Lorraine region, but a small part is harvest in Franconia near Randersacker. It may sound like a wired reason, but since it often happens that yellow plums, which are called Mirabellen in German and apricots, called Marillen in southern Germany and Austria, get confused I decided to reference this in my new cocktail. So, the Goldene Wurf's apricot liqueur is replaced by the Mirabellen Cuvée. Yet, this was just the first change I made…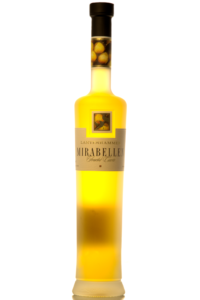 | | |
| --- | --- |
| | Lantenhammer Mirabelle Cuvée |
| Alkohol: | 25 % |
| Price: | 50 € per litre |
| Appearance: | Saffron, small windows, slow tears |
| Nose: | Stone fruit aroma, typical sweet mirabelle notes, whiff of almonds, very fruity, slightly bitter tannins |
| Taste: | Sweet and fruity, mirabelles, plums, almonds, citrus fruits |
| Aftertaste: | Medium long aftertaste, with fruits and a touch of bitter almonds |
| Rating: | |
Spiced and sweetened Single Malt
What sounds like a sacrilege or the recipe for Drambuie, actually summons up what drinking the Goldene Wurf tastes like. I tried to replicate this taste experience, but ended up changing almost all the ingredients. As mentioned before, I used the Marillen Cuvée instead of apricot liqueur and since I was mixing with Lantenhammer products I used the Slyrs Sherry Edition Pedro Ximenez Casks instead of Laphroaig for the second bases spirit. Moreover, I threw out the cardamom and Szechuan pepper and added Bhut-Jolokia chili powder instead. A few words of warning here: the Bhut-Jolokia is the second hottest chili pepper variety known on earth. A measurement of the New Mexico State University Chile Pepper Institute – yes there really is such a thing – revealed a rating of 1,001,304 on the Scoville scale in 2012. On the one hand, this means – and I cannot stress this enough – you really have to be careful when handling and using it!
Hottest thing you will ever have tasted
On the other hand, the chili has a very intriguing aroma! When taking a careful whiff from the sealed container, you will notice a spicy, but also sweet, pineapple like flavour. You can actually use it in a drink without any further preparation! As I told you before, you really have to make sure to only use a knife tip of it and not a gram more! Another word of advice: Do not shake the container before opening it unless you want to bring tears to your eyes and sneeze very, very hard… If you follow my instructions and do not fool around, you will end up with a complex and totally save drink. Well, except for the fact that it contains alcohol, but I think you know what I mean. Apart from that, I assume that any very hot chili powder will work her, since the goal is to just add a layer of complexity to the finished cocktail.
3 cl Lantenhammer Mirabellen Cuvée
1,5 cl Slyrs Sherry Edition Pedro Ximenez Casks
3 cl Lemon Juice
1,5 cl Simple Syrup
1 Tip of a Knife Bhut-Jolokia chili powder
Shake – double strain – chilled Cocktail glass;
Garnish: Rum soaked chili pepper;
Song: Benjamine Clementine – Cornerstone
Certainly, you all are now wondering if this drink will make you cry? The presumably disappointing answer is: Unless you have a hotness-tolerance of nil, probably not! You will just notice a slight hint of spicy chili aroma at the back of your tongue. Apart from that the Mirabellen Cuvée dominates the flavour with clear stone fruit notes and slight hints of almonds. The Slyrs single malt also adds to the complexity of the drink by bringing some dried fruit aromas to the mix. In the aftertaste the sweet plum notes dial down a bit to make more room for the whisky. At this time of the sip the taste experience is similar to a whisky sour, but with more complex and deep flavours. Obviously, this is just one way of mixing the Mirablle Cuvée. It will definitely be worth a try mixed with Champagne, but seriously which fruit liqueur isn't?