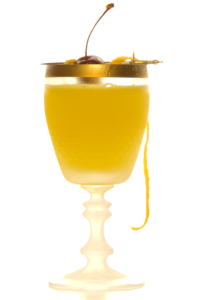 The modern gin craze – I only have one problem with it and it is not the sheer amount of new gin introduced to the market, nor the price cover-up represented by half litre bottles, but  rather the trend towards a lower alcohol content. Ok, maybe I have more than one problem with modern gin, but that is not my point here. One thing I will always hold in high regard is a high percentage of alcohol by volume! This is exactly what I applaud the guys at the Sünner brewery and distillery for: Their new gin bottling weighs in at Navy Strength!
Straight from paradise
S ince I was introduced to the regular Sünner Gin a few years back, I am a fan of this small distillery from Cologne, which main business area is actually brewing Kölsch. Fine, their regular Dry Gin only has 43 % ABV, but on the one hand this is still more than most new gins have and on the other hand there is an exception from every rule! Besides a bigger amount of their regular botanicals, bitter orange peel, juniper, lavender and lemon peel, they add grains of paradise for the production of the Sinner Strength. This pepper variety from Western Africa is cold macerated and then added to the third distillation of the gin. After distilling, the spirit is bottled at the usual Navy Strength of 57,3 % ABV.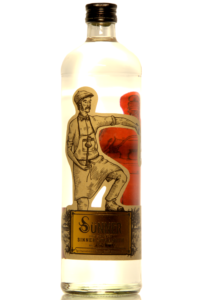 | | |
| --- | --- |
| | Sünner Sinner Strength Gin |
| Alkohol: | 57,3 % |
| Price: | 43 € per litre |
| Appearance: | Clear, big windows, slow tears |
| Nose: | Juniper, sweet citrus notes, hints of lavender, reminiscent of lemon balm, freshly ground pepper notes, floral, then a slight whiff of alcohol |
| Taste: | Strong juniper and spices, noticeable alcohol, menthol, hot pepper, lemon drops, some perfume notes |
| Aftertaste: | Very long aftertaste, with hot pepper and mint notes |
| Rating: | |
I know that the rating seems a bit low here, but the description of the aroma alone should tell you that this is an excellent gin! Maybe, even one of the best I have tasted in the last few months. However, it is not exactly what I would sip on its own in front of the fireplace or on the front porch… As I keep on repeating over and over again: Gin should not be made for neat sipping! This juniper spirit needs to be rough around the edges, because this is the only way it can keep the upper hand when competing against tonic waters and other flavourful ingredients. Since we are talking about flavourful ingredients: The cocktail creation I came up with, follows the same trend a lot of my other recipes do: There is at least one element in it you probably have never heard of! In this case its Amchoor powder. It is made from dried and grounded unripe mangos and has a very sour taste. Its main area of application are Tandoori recipes from northern India and because of its taste I decided to replace lemon juice with it.
4,5 cl
Sünner Sinner Strength Gin
3 cl
Orange Juice
2 cl
Apple Sweetness Mix
(1 Applesweetnes : 1 Water)*
½ Bsp. Amchoor Powder
10 Szechuan Pepper Corns
Crush pepper corns in a mortar – shake – double strain – chilled Cocktail glass;
Garnish: Brandied Cherry – long orange peel;
*Replace with regular simple syrup or a mix of simple syrup and honey
Song: The National – Sin-Eaters
Despite the hint of exotic flavours, this drink leaves a lot of room for the gin! It somehow reminds me of  a Gimlet, with orange instead of lime flavour. Towards the middle of the sip the spicy notes of the gin form a powerful alliance with the Szechuan pepper and the tart aroma of the Amchoor. Just before a subtle sweetness sets in and makes sure that the hotness from the spices does not overwhelm your palate. At no point of enjoying this drink will you notice the high alcohol content of the gin and in this department it works similar to a Screwdriver. When I come to think of it: it basically is a Screwdriver – made with gin – and on steroids…
Just one final word on the gin: When you find yourself having enough from exotic gin creations with ingredients you have never heard of or if your taste is plain boring: The Sünner Sinner Strength Gin makes an excellent Gin & Tonic, not maybe, but just the best I had in quite some time! So I would give it a rating of 4,5 lions, if I would do such a thing and rate G&Ts you know…