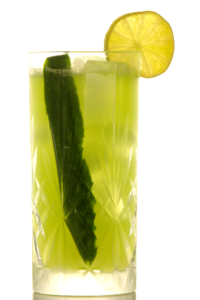 To be honest I was a bit sceptical about this new gin from the Glasgow Distillery Company. Was there really the need for another Scottish gin? However, when I received an e-mail which informed about the Makar Gin winning two "Masters" medals at the Global Gin Masters 2015 my curiosity was aroused. One helping factor was that I already had the idea for a cocktail and was in need of a suitable gin!
As always: First some information on the gin
I already told you that this gin is produced by the Glasgow Distillery Company, from uh… Glasgow. Besides the obligatory juniper berries, seven other botanicals are used for making this gin: Angelica root, black pepper corns, cassia bark, coriander seed, lemon peel, liquorice and rosemary. Make sure to check out the Makar Gin homepage for the description of those botanicals, there is actually useful information on what each botanical brings to the mix! The distillation of the gin takes place on a copper pot-still form German producer Carl, called Annie. Basically, this is all the information there is on this gin. Maybe I also could mention that Makar is the Gaelic expression for poet.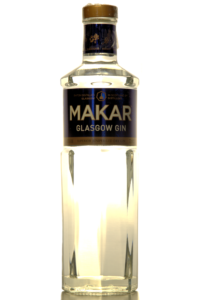 Makar Glasgow Gin
Alcohol:
43 %
Price:
64 € per litre
Appearance:
Clear, large windows,
fast tears
Nose:
Juniper, strong citrus notes, some black pepper, natural resin aroma,
Taste:
Very earthy taste, juniper, oily resin notes, citrus peel, hot spices, no noticeable alcoholic burn
Aftertaste:
Medium long with juniper, lemon peel and pepper notes
The Makar Glasgow Gin's speciality is its earthy and resin like taste, it somehow reminds me of a hot forest floor in summer. Besides that this gin delivers all qualities a good London Dry Gin should: unmistakable juniper aroma and a straightforward citrus note. It does not go on rambling about any new or peculiar botanicals. The only drawback in my opinion is, that if it had been bottled at the regular 47 % ABV, it would have been even better. However, 43 % ABV should be enough to make a difference in a Gin & Tonic and I reckon this will be its main area of application. Nevertheless, I went a slightly different way:
Green and …unhealthy
Inspire by an article in the Sueddeutsche Zeitung on green cocktails I wanted to create one, too. Since I did not have any wheatgrass on hand, I went for cucumbers, which are growing like hell in our garden. You could see this cocktail creation as a slight cartoon version of a Gin & Tonic with cucumber slices. Basically the idea behind it was: "If you want cucumber in your gin, I'll give you cucumbers!" and so I did. To make things more interesting and to counterbalance the earthy cucumber and gin notes a bit I used Fentimans excellent elderflower lemonade to top the whole thing off. Make sure not to forget the lemon bitters in this, like I did the first time. They really bring another layer of complexity to the mix.
4,5 cl Makar Glasgow Gin
3 Dashes The Bitter Truth Lemon Bitters
4,5 cl Strained Cucumber Juice
1,5 cl Lime Juice
Top off with Fentimans Elderflower Lemonade
Purée 15 cm of peeled cucumber and strain trough a fine mesh strainer – mix other ingredients in a mixing glass – add ice cubes to a chilled Highball glass – fill glass half with lemonade – add the rest of the drink – stir slightly;
Garnish: Cucumber peel – lime wheel;
Song: Se – First
If you think a Gin & Tonic is refreshing on a hot evening, this one will blow you of your feet with freshness! This is mainly due to the fresh cucumber and partly because the lemonade is not as sweet as regular ones. Moreover, the gin, cucumber and lime form a great alliance of earthy and fresh flavours, which will sooth your palate even more. Just at the end of the sip you will notice slight herbal and spicy aromas, coming on the one hand again from the gin and on the other hand from the bitters. If you absolutely can not find lemon bitters, you might substitute them with Celery or even Angostura Bitters. With the latter you probably should only use two small dashes.