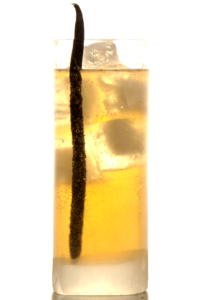 Today I have an almost iconic Gin for you: the Citadelle Dry Gin from Ferrand. Now the problem with a classic is, that there is no news to report. Nevertheless, because of its strong flavour profile, I thought I have a go at creating a drink for it. If you know me at all, you probably can imagine that the result is more than just a mere Gin & Tonic variation.
First some facts
The Citadelle Gin's recipe was supposedly created in 1775 at Dunkerque by Carpeau and Stival. The so called "Citadelle" distillery at that time had a whopping number of twelve copper stills. Nowadays the gin is made in the Cognac region at Ferrand's Logis d'Angeac manor. The base spirit for this gin is wheat grown in the Picardie region of France, which is fermented with a special yeast and spring water from Angeac. Afterwards the mash is distilled three times on Charente's pot-stills. The nineteen botanicals used for the production of Citadell Gin are placed in large, oversized teabags and steeped in neutral alcohol for five to seven days. Before bottling, the base spirit and the macerated botanicals are distilled once again and then filled into bottles or oak barrels. Below you will find a list of all the botanicals used in this gin along with the region they are sourced from, this should serve as an example for other gin producers concerning transparency.
| | |
| --- | --- |
| Botanical: | Country / Region: |
| Almonds | Spain |
| Angelica | Germany |
| Cardamom | India |
| Juniper | France |
| Cassia | Indochina |
| Cilantro | Morocco |
| Cinnamon | Sri Lanka |
| Cubeb pepper | Java |
| Cumin | Netherlands |
| Fennel | Mediterranean area |
| Grains of paradise | West Africa |
| Lemon peel | Spain |
| Liquorice | China |
| Nutmeg | India |
| Orange peel | Mexico |
| Orris root | Italy |
| Savory | France |
| Star Anis | France |
| Violets | France |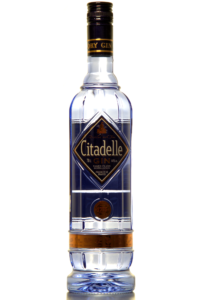 This article certainly would not be complete if I would not add my tasting notes on the Citadelle Gin. So, here they are:
Citadelle Gin
Alcohol:
44 %
Price:
48 € per litre
Appearance:
Clear, medium sized windows,
fast tears
Nose:
Juniper, cardamom, spices, slight hint of alcohol, cooling mint
Taste:
Juniper, spices, citrus peel, black pepper, whiff of menthol
Aftertaste:
Medium long finish with juniper and spices
There is not really much to say about the taste of this gin. In this case I mean it as a compliment, because the gin has just a so down to earth flavour, that it does not need to make a fuss about exotic ingredients or flavours. It is just a classic, juniper-led gin with complimenting citrus and spice notes. Thereby it will work perfectly in a Gin & Tonic, or in other classic gin cocktails. In a world which is overflowing with eccentric gin creations, this honest and familiar taste is rather refreshing. I almost feel a little bit embarrassed by the fact that I overlooked it for so long…
Roses and vanilla beans
Now of course, I could just have mixed a G & T or a Singapore Sling with the Citadelle, but since I have the demand of myself to create a new matching cocktail for each new spirit I review. In this case I decided to create a light and refreshing Highball, which maybe also has some elements of a Singapore Sling. The drink is a combination of gin, cherry liqueur, homemade lime cordial, rose lemonade and vanilla. Now, this list of ingredients may sound like a lot of flavours fighting each other, but if you get the balance right you will end up with a complex and delicious Highball. The cherry liqueur is just there to give the whole drink a little bit more depth, while the lime cordial provides a certain amount of acidity. Be careful not to overdo it with those two ingredients, otherwise you will end up with a drink that is far too sweet. Also I think I do not need to mention that it is forbidden to use bought lime cordial here!
Top off with Fentimans Rose Lemonade
Garnish: Whole vanilla bean, cut on the side
Song: Whitey – Brief & Bright
Vanilla bean upcycling
This time I will start with the garnish: I know it is not exactly cheap to decorate a cocktail with a whole vanilla bean, but it just looks great and it infuses aroma and flavour into the drink! There are also two things to counter balance the costs: first you can reuse the vanilla bean multiple times to make vanilla flavoured rum or vanilla sugar. You just have to carefully wash the bean after you took it out of the drink and place it in a bottle with the spirit of your choice. If you want to make vanilla sugar, I recommend drying the vanilla bean first… Second you can buy them in bulk, which lowers the cost per unit.
As already mentioned the cocktail starts of with a powerful vanilla aroma in combination with some floral notes from the lemonade. Afterwards, the gin and cherry liqueur get to play their role in the flavour composition. Depending on your preferences you can use a cherry liqueur with or without almond like kernel flavours. In my case the Sangue Morlaco imparts a delicate nutty taste into the drink. The Citadelle and its herbal and spicy notes are the basic framework of this drink, that give it structure and also more depth of flavour. With each sip different aromas of the gin are brought to light, which makes the drinking experience very entertaining.
In conclusion, the Citadelle is a wonderful London Dry Gin with a great value for money. If you are into this kind of gin with clear and defined juniper flavours, this is the right choice for you! It definitely will result in great classic gin cocktails, such as Aviations, Twentieth Centuries and Vespers!