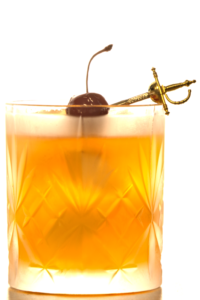 Sometimes things happen which you do not expect. In this case, I was prepared to taste the Sonoma County Distilling Rye, but the presentation ended up in a full on whisky tasting. This way, my boss and I where the first persons in Bavaria to try the new Glendalough whiskies and Poitín. And here are my thoughts on two of them:
Spirit from 584 AD
First some facts on the distillery itself: it was founded by five friends who wanted to be amongst the first "craft" distillers in Ireland. Since, Poitín was maybe the first ever spirit distilled in Ireland, with first records dating back to 584 AD, the guys consequently started with this traditional spirit. All their spirits are distilled on a still made by renowned German producer Arnold Holstein. It is a pot-still, which has a column still with bubble cap trays attached to the side. The Poitín itself is made from malted barley and sugar beets. After distillation it is aged in new oak barrels, because the liquid is clear, I suppose it was filtered afterwards. If you want some more barrel aroma, a Poitín which has been finished in sherry casks is available, too.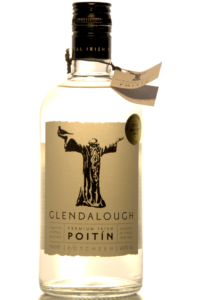 Glendalough Poitín
Alcohol:
40 %
Price:
48 € per litre
Appearance:
Clear, medium sized windows,
fast tears
Nose:
Sweet potatoes, full ripe apples, slight bonfire smoke, earthy notes
Taste:
Sweet, again potato aroma, cereals, earthy, reminiscent of Mezcal, beet notes
Aftertaste:
Medium long finish with cooling menthol and spicy notes
Unlike other Poitíns, this one is actually a rather nice sip. It has complex earthy notes which remind me of Mezcal, without being very smoky or having a pronounced umami taste. Also some hints of a beetroot eau de vie I had tried some time ago where detectable. Underneath it all lay a slight sweetness, somehow similar to sweet potatoes. In conclusion, this is an interesting spirit, which certainly felt like fun to experiment with and so I did: I do not now why, but my first instinct was to use the Poitín instead of gin in a sort of Negroni variation. However, I was afraid that the Campari would ruin the more delicate notes in the Poitín, so I replaced it with Aperol. Basically, this was the same reason why I switched out the sweet vermouth for Cocchi Americano. During the last year I noticed a new trend amongst bartenders, who are using a few drops of saline solution in bitter drinks to turn down the bitterness and add complexity. Since I never tried this before, I thought this recipe could be a good place to start. The last ingredient I added, just because I felt like it, were some sprays of orange eau de vie.
3 Drops
Hibiscus Salt Solution
3 Sprays
Vallendar Orange Eau De Vie
Stir – spray chilled Double Old-Fashioned glass with eau de vie – strain – over ice cubes;
Garnish:
Brandied Cherry;
Song:
Zoe Keating – Escape Artist
Even though the roots of this drink are still detectable, it is considerably different. There is no familiar pungent juniper taste, instead the sweet potato notes of the Poitín sweep in. Of course, the drink is not so bitter, as when preparing it with Campari, but this makes the cocktail more approachable. The orange eau de vie and the orange notes of the Cocchi Americano take care of a certain fruitiness of the sip. With the saline solution you should only use the smallest amount. Only to confuse your senses and wonder if you can actually taste it in the cocktail. If you really taste it in the drink, you have used too much, which will ruin the whole thing. If you get the balance right, you are rewarded with a slightly bitter, but complex drink. Since this was my first try at using Poitín in a cocktail, I am quite pleased with it.
Same but still different
Finally yet importantly, my tasting notes on the Glendalough 7 year old single malt. The Irish whiskey is made from malted barley and aged in first fill bourbon barrels. Out of all three Glendalough whiskeys, this one was our favourite: On the one hand, it had the most complex aromas and on the other hand, there was a lack of juvenile characteristics other young single malts sometimes possess. Also this is a long shot from your regular mass produced Irish whiskey! To be fair here, I probably should mention that this whiskey was not distilled at the current Glendalough distillery, because the five guys only met five years ago. At least this is what Sebastian told us.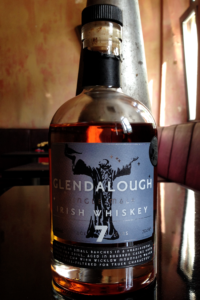 | | |
| --- | --- |
| | Glendalough 7 Year Old Single Malt |
| Alcohol: | 46 % |
| Price: | 65 € per litre |
| Appearance: | Saffron, medium sized windows, slow tears |
| Nose: | Sweetness, malt, heather, violets, mint, caramel |
| Taste: | Sweet, apples, malt, caramel, again heather, spices, flowers |
| Aftertaste: | Dry finish with pepper, vanilla and hints of vegetal notes |
| | |