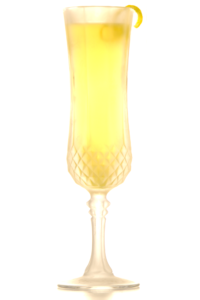 A few months ago I promised you that I would concentrate more on eau de vies and their application in cocktails. Well, many articles later I've got distracted a bit, but still every once in a while I manage to get my hands on some new fruit spirits I just have to present to you! This time it is again all about a pear eau de vie, which might be one of the most prominent fruit brandies out there.
Usually you first create a drink and then start wondering about a name. However, because I am not like every over bartender I sometimes like to do switch things around. In this case I wanted to create a drink for the song "Cult Logic" by Miike Snow. To bridge the gap between the name and the drink I wanted to do something with hard cider, or cidré. Since in my opinion the cider becomes more and more popular. Luckily I had two other ingredients on hand that seemed just perfect for mixing with cider: The first was a Williams (Bartlett) pear eau de vie from Studer and the second Amaretto. While the first combination is kind of a no brainer, I might have some explaining to do for the second. As some of you may know, Amaretto is produced using apricot kernels to give it its well-known marzipan like taste, but nevertheless it is too often disregarded as an inferior product. Yet, at the latest since his Amaretto Sour Jeffrey Morgenthaler proved that you actually can make high quality cocktails using Amaretto!
A bottle for the seawater aquarium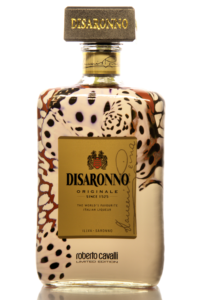 One of the most famous amaretto brands on the market is Disaronno and apart from their annual cocktail competition, they also release a limited edition every year. This time they worked together with the renown designer Roberto Cavalli. The unique design for their memorable rectangular bottle was somehow inspired by different styles of seashells. The arrangement is featured on the bottle itself and on the pouch it comes in. It definitely gives this bottle of Amaretto an interesting new look and makes it stand out on your backboard!
Apples and oranges from Switzerland
Of course the main ingredient for the pear eau de vie made by Studer are neither apples nor oranges, but instead it is distilled from 100% Swiss Williams pears from the Valais region. The pears are harvested in late summer and afterwards matured in small wooden crates until they are fully ripe. Then they are carefully distilled, rested in glass containers and bottled at 41 % ABV. Since we feature a designer product today let me just utter a few words on the design of the Williams Supérieur: This classic line of the Studer spirits comes in a regular bottle, instead of one with a Matterhorn at the bottom. Still, the bottle is perfectly fine for a high quality pear eau de vie! But let us put the looks aside and get to the cocktail instead. To add a little bit more complexity to the drink I decided to add some bitters and the peach flavoured ones from Ferdinand's seemed just right for the job. With the three basic components settled you of course could just top the whole thing of with Champagne. Chances are good that it would be a great drink! – Still, as mentioned before I was already set on using cidré in this.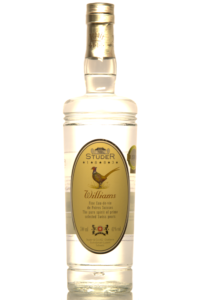 | | |
| --- | --- |
| | Studer Williams Supérieur |
| Alcohol: | 41 % |
| Price: | 75 € per litre |
| Appearance: | Clear, large windows, slow tears |
| Nose: | Pear, vanilla, floral, apple purée, slight hint of menthol |
| Taste: | Strong pear notes, spices, a whiff of tannins, mint |
| Aftertaste: | Pip fruits and vanilla |
| Rating: | |
The Studer Williams delivers everything you might expect from a pear eau de vie: Concentrate fruit notes, some spices, especially vanilla and some stewed fruit aromas, which remind me of apple strudel. Also there are some tannins and a slightly cooling menthol note. In comparison to the Studer Vieil Apricot the Williams Supérieur has a more complex, but also more spirit forward flavour profile, which means that it is a bit less smooth. However, I kind of prefer a more intensive drinking experience over a perfectly rounded out sip. This could also mean that the eau de vie could stand up better to other ingredients when being mixed. Still, there is only one way to find out!
4 Dashes Ferdinand's Peach Bitters
Top off with Van Nahmen Cidré Brut
Shake – double strain – chilled Cocktail glass;
Garnish: Lemon twist;
Song: Miike Snow – Cult Logic
As expected the Williams Supérieur manages to be the most prominent flavour in the drink. It is accompanied by a slightly sweet apple taste from the Cidré. In turns it also gives the drink carbonation that lends it structure and a certain amount of excitement. Finally, the floral notes of the peach bitters are somewhere lingering in the back of the sip. They just are the finishing touches of the whole cocktail. Through the combination of Amaretto and Cidré the cocktail manages to be refreshing at the one hand, but also suitable for the colder months on the other. – What am I saying? I probably could sip it throughout the whole year!