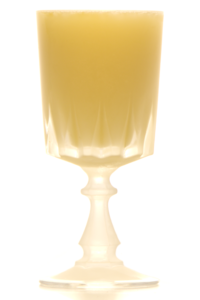 Sometimes you are not really looking for a new recipe when you get hit by a flash of inspiration! Ok, I admit while browsing through the Starchefs photo gallery I often cannot help myself, but to create a new cocktail… Still, this time it only took one ingredient to get my attention: Peanuts!
The cocktail in question was created by Carmine Potenza and is called The Big Payback. Basically, all his cocktail did was to plant the idea of using peanuts in a cocktail in my mind. I think almost everyone likes those mostly salty bar food, but until now I never thought of incorporating them into a drink. When pondering about how to use them in a drink, the first thing that sprang to mind was making a peanut orgeat. Because of the lack of other ideas I just made one and with this thing settled I started to wonder which other ingredients to use in the cocktail…
There's a mountain in my bottle!
In the mass production of orgeat often apricot kernels are used, because they deliver a similar flavour for less money. What I took away from this was, that nuts and apricots might go together well. So, the Studer Vieil Apricot, an aged apricot eau de vie, seemed to be just the right choice for the job. It is distilled from carefully selected Luizet apricots and afterwards aged in Barrique barrels made out of Swiss oak. During maturation the eau de vie is refined according to a family secret recipe by the cellarmaster. What I guess is that an extract from the apricots used for making the eau de vie itself is used to add some extra flavour. Now, you could argue that this masks the real character of the eau de vie and I am inclined to agree with you. However, the fact that Studer clearly communicate this bonification of the distillate kind of makes me okay with it. – At least they are honest about it!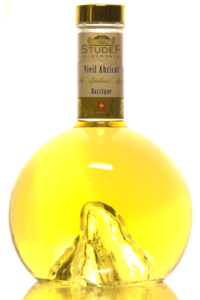 | | |
| --- | --- |
| | Studer Vieil Apricot |
| Alcohol: | 40 % |
| Price: | 75 € per litre |
| Appearance: | pastel gold, large windows, slow tears |
| Nose: | Apricots, very fruity and slightly reminiscent of Campino sweets, whiff of fresh cut grass, rosewater |
| Taste: | Stone fruits, apricots, slight sweetness, very mellow, hint of bitterness, whiff of spices and dried fruits and blossoms |
| Aftertaste: | Long aftertaste with sweet dried apricots |
| Rating: | |
No doubt everything about this eau de vie says premium! Its combination of intensive apricot flavour, slight sweetness and very mellow taste makes it perfect for neat sipping. I was especially impressed by the Vieil Apricot's captivating apricot aroma. Nevertheless, I cannot help myself but wondering how this eau de vie would have been without the addition of the "secret recipe". Maybe, it would have had even more to offer… Still, I totally get the point of this spirit, especially in combination with the gorgeous bottle, which includes the relief of the Matterhorn at the bottom. Still, all of this did not keep me from mixing a cocktail with it! To give the Mellow Out cocktail a kind of Tiki vibe I decided to use a second base spirit in it. This also gave me the chance to use the splendid Revolte Rum again!
Shake – double strain – chilled Cocktail glass;
Garnish: Spray The Bitter Truth Xocolatl Bitters on top;
Song: Nathaniel Ratliff & The Night Sweats – Mellow Out
Sipping the Mellow Out cocktail is a really crazy experience! You instantly get the peanut aroma, but through its almost milk like viscosity and the white colour our palate is somewhat confused. The apricot and rum combination only is the second thing you will notice. Both work together very well and form a powerful alliance to respond to the peanut flavour. The Yuzu cordial just gives the whole thing a slightly acidic backbone and sharpens the whole flavour profile. The bitters also add a slight layer of cacao and spices to round the whole thing off. Apart from that, it really feels like sipping a glass of cold, flavoured milk and despite the unusual feel I am very happy how the whole thing turned out! Of course, now I am very interested in hearing from you if you have any drink recipes using peanuts or any other nuts!