A few weeks ago I already featured the Gin'Ca Gin made by the Inca Distillery from Peru. Yet, they not just created one new gin, instead they also made a second edition called Amazonian Gin Company. This second bottling takes its inspiration from the Amazonian jungle and with ingredients that do not even have names here in Germany, it sounds rather interesting. Moreover, I also want to use the chance to introduce you to the Gin Festival taking place in Hamburg at the end of July.
Of course, a few years into the Gin Hype there are a lot of domestic gins already on the market. So, why should you drink a gin from South America? Well, actually if you are using the usual gin botanicals, like cardamom, cinnamon, coriander lemon, lime, oranges or even vanilla in the recipe for your average gin chances are high that those ingredients already come from all over the world. This means, that in my opinion it does not make a great difference if you import the botanicals used for making gin or the gin itself. The ecological aspect aside, let us take a closer look at the Amazonian Gin Company Gin.
100 % local botanicals
Compared to the Gin'Ca Gin there is not that much information on the Amazonian Gin Company Gin available. On the flyer I got it says that only botanicals are used which come from Peru and are directly shipped to Lima by small local producers. However, the juniper for the Gin'Ca came from Macedonia and I guess that it is also the case here. All in all, the gin is distilled four times and amongst the botanicals Amazonian nuts, camu camu, cider lemon, Inca chestnuts, physalis, tonka beans and sweet lemons are used.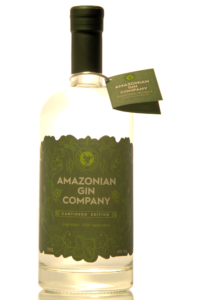 | | |
| --- | --- |
| | Amazonian Gin Company Gin |
| Alcohol: | 41 % |
| Price: | 57 € per litre |
| Appearance: | Clear, small windows, medium fast tears |
| Nose: | Herbal, citrus notes, ginger, black pepper, resin, oranges, lavender, long pepper, lime peel, fruits |
| Taste: | Slightly sweet, spices, herbs, ginger, pepper, chili, juniper, resin, lavender, |
| Aftertaste: | Long with pepper and menthol |
| Rating: | |
In comparison to the Gin'Ca Gin the Amazonian Gin Company bottling is more modern. It's less juniper forward, but boasts a whole bunch of different citrus and floral aromas. Despite having one percentage more alcohol than the Gin'Ca it is also more balanced and smooth. I especially like its exotic mix of citrus, juniper and spicy pepper notes. The Amazonian Gin should be a great choice for light Summer cocktails like a Gin Basil Smash and Tom Collins etc!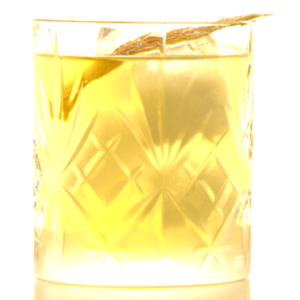 Top off Coconut Water
Tarragon Smoke*
Shake – strain – smoke filled carafe – fill – Double Old-Fashioned glass over ice cubes – top off;
Garnish: Orange Twist;
Song: Lykke Li – No Rest For The Wicked
*Light dried tarragon leaves in a pan – catch smoke in a carafe;
The "No Rest For The Wicked" is very different from other drinks I have created. The gin and apricot liqueur are familiar flavours, but the tarragon smoke and the coconut water make it very different indeed. Actually, the flavour is a little hard to describe because all the ingredients sort of blend together with the coconut water being the most noticeable of the bunch. The coconut water manages to add just enough freshness to the mix so that the sweetness does not get overwhelming. As mentioned before, the Amazonian Gin Company Gin is a great choice for Summer and if you are a gin lover this is a great addition for your home-bar!
Talking about gin lovers, if you by any chance are in Hamburg on the 29th / 30th of July you should definitely check out the Gin Festival which will take place at the 23rd floor of the Emporio Tower. There you will have the opportunity to try over 70 different gin bottlings from over twenty exhibitors. Check out there website for details!