Yes, you read right: cucumber eau de vie – a distilled spirit made out of cucumbers. This might seem like a poor idea at first glance, yet everyone is already throwing cucumber wheels in their Gin & Tonics. So, why not take the next step and replace the gin altogether? Because, plain cucumber and tonic water does not sound all that appealing to me I thought hard and long on another Highball style cocktail and finally came up with the recipe for the "Bend" cocktail!
Bent Cucumbers
Following his self-imposed culture of only harvesting fresh and regional ingredients Florian Faude uses "bent cucumbers" from the Lake Constance island of Reichenau for his extraordinary cucumber eau de vie. The cucumbers are macerated in grain spirit and then distilled to produce this vegetable eau de vie. As per usual for Faude distillates no sugar or colouring is added to the cucumber spirit. That being said, I admit that mixing with such a special spirit is kind of a challenge. However, as you might notice when reading my tasting notes, the Faude Cucumber Eau De Vie is not that awkward as it might sound at first!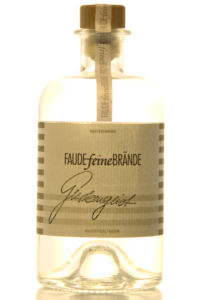 | | |
| --- | --- |
| | Faude Cucumber Eau De Vie |
| Alcohol: | 40 % |
| Price: | 68 € per litre |
| Appearance: | Clear, small windows, medium fast tears |
| Nose: | Fresh cut cucumber, cucumber peel, citrus notes, coriander, fresh, slight hint of earthiness, some floral notes |
| Taste: | Cucumbers, spices, herbal, fresh mint, hint of menthol, slight sweetness |
| Aftertaste: | Spicy with pepper and cucumber, medium long |
| Rating: | |
As mentioned before, while undoubtedly tasting of cucumbers the eau de vie from Florian Faude, is everything but displeasing! On the opposite, its freshness and slight spicy taste make it a perfect choice for summer. Besides the refreshing flavour you will sense every aspect of a cucumber: From its peel, which is present in the aroma to the taste of biting into a fresh slice of cucumber when actually tasting it. Nevertheless, there are also notes of coriander, fresh pepper and a slight citrus note to this cucumber spirit, which add to its complexity.
Even more cucumbers!
An eau de vie made from cucumbers might sound enough to give a cocktail a certain vegetal taste. Yet, nothing goes against adding even more cucumber flavour by using a cucumber lemonade! Well, ok if you do not like cucumbers at all, it might not be the best of ideas, but if you are used to throwing cucumber slices into your Gin & Tonic, you should definitely check this one out! Similar, to the lavender lemonade I previously featured, the company Cucumis sat out to create an entirely new style of lemonade. Similar to the Faude Cucumber Eau De Vie the Cucumis has an interesting cucumber note which will not overpower other ingredients, but instead provide them with a stage to show their own aromas. Obliviously, the Cucumis Cucumber would be great with gin, but to be honest this would have been a little bit uninspired. Therefore, I decided on mixing it with aquavit, the cucumber eau de vie, some lemon juice and… dill! At first, I thought about using arugula, but when fetching it from the herb garden my grandfather told me to use dill, because it goes perfectly with cucumbers. And who am I to question his judgment?
| | |
| --- | --- |
| | Cucumis Cucumber |
| Price: | 5,80 € per litre |
| Appearance: | Green, some carbonation |
| Nose: | Cucumbers, slightly earthy, lemon, herbs a little bit of spices |
| Taste: | Noticeable but not overwhelming cucumber notes, nice carbonation, slight sweetness, freshly pressed lemon juice, some herbal flavours |
| Aftertaste: | Rather short with earthy cucumber and citrus notes |
| Rating: | |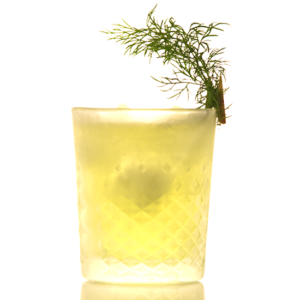 1 Sprigs Dill
Top off with Cucumis Cucumber Lemonade
Shake – double strain – chilled Double Old-Fashioned glass over ice cubes – top off;
Garnish: Dill sprig;
Song: Chet Faker – Bend
Obviously, this drink tastes of cucumbers, but the fresh and slightly earthy flavour also goes very well with the aquavit's notes of caraway and other spices. Also the dill manages to set a great accent and kind of brings the aquavit and the cucumber even closer together. The eau de vie is beautifully integrated in this cocktail and amplifies the cucumber aroma without overwhelming the whole drink. Finally, the lemon juice and apple sweetness give the whole drink a sweet and sour backbone to make it more refreshing and multi dimensional. However, without dissecting this drink you could just say it is a very refreshing cucumber flavoured drink that makes you forget all about your Gin & Tonics!