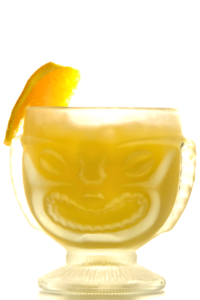 The Plantation Stiggins Fancy Pineapple Rum might just be the first rum created after a fictional character! The inspiration for this special kind of rum was the favourite drink of Reverend Stiggins from Charles Dicken's Pickwick Papers. While the name alone awakes the desire to mix up a Piña Colada, it probably is way better suited to give spirit forward cocktails a pineapple note. So, I sat out to see how this might work!
Three is a magic number
On first glance you could disregard the pineapple rum from Plantation as being just another "spiced" rum. However, this would be a great mistake! There is much more labour involved in the production of this rum than you might think. First, actual pineapples are used for the making of this rum and not just pineapple flavour. The fresh pineapples are then peeled by hand and the rinds are macerated in Plantation 3 Stars Rum for three months and distilled afterwards. Second, the pineapple flesh is steeped in Plantation Original Dark, also for three months. Those two spirits are blended together and allowed to spend again three months in barrels. As you can imagine this whole process is costly in terms of labour which means that you have to pay a little bit more for it than for the rums it is based on. Let's find out if it is worth it!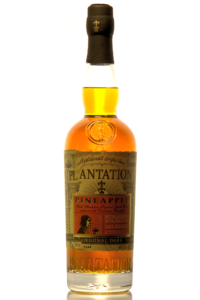 | | |
| --- | --- |
| | Plantation Stiggins Fancy Pineapple Rum |
| Alcohol: | 40 % |
| Price: | 45 € per litre |
| Appearance: | Copper, medium sized windows, fast tears |
| Nose: | Ester notes, pineapple, coconut, pickled pineapple, sweet vanilla notes, exotic fruits |
| Taste: | Sweet, ester notes, vanilla, pineapple, litchi, candied violets, pineapple rind |
| Aftertaste: | Medium long with sweet pineapple notes and a hint of dark cacao |
| Rating: | |
Do you like Piña Coladas?
It's not only that this rum delivers what it promises, instead it also manages to be quite complex. Sure, there is a certain sweetness, but that is what everybody expects when sipping a pineapple flavoured rum. Apart from the sweetness, the Stiggins Fancy rum has noticeable ester notes and clear barrel aromas, too. Moreover, there is a certain exotic fruit aroma to it which descends above being just pineapple. It is best described as a mix of coconut and exotic fruits in the aroma and a combination of litchi, violets and pineapple rind in the taste. Don't worry, the litchi taste is not that apparent, for me it is just what comes closest if I had to pick a similar fruit out of a basket of exotic fruits… The point I am trying to make is that besides some people calling this the Piña Colada rum, it has much more to bring to the game than its coconut and pineapple flavour.
Not quite a Piña Colada!
Believe it or not, I did not choose apples as a pairing for the pineapple rum, just because pineapple has apple in its name. Well, maybe I did, but nevertheless pineapples and apples go well together and since I decided to add a little splash of eau de vie to all of my future cocktails, (obviously, I won't add it to EVERY cocktail…) I also included some Golden Delicious eau de vie in the recipe. Yet, with those three ingredients the cocktail probably would be quite unbalanced and because of that orange juice acts as a filler and brings the different flavours together. I used plain simple syrup this time to give the whole thing enough sweetness and a few sprays of Islay Single Malt act as the final touches to this cocktail.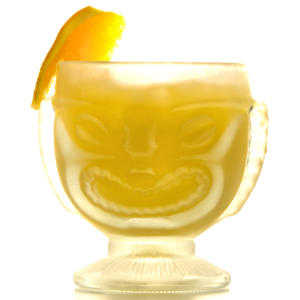 4,5 cl
Plantation Pineapple Rum
0,5 cl
Morand Golden Delicious Eau De Vie
4,5 cl
Fresh Granny Smith Apple Juice
1,5 cl
Fresh Orange Juice
0,75 cl
Simple Syrup
Spray Laphroaig PX Islay Single Malt Whisky
Shake – strain – chilled Tiki glass with ice cubes – top off with crushed ice;
Garnish: Orange slice;
Song: Glass Animals – Gold Lime
The drink I dubbed "Gold Lime" is of course very fruity. And guess what it also tastes of pineapples… Yet, besides this prominent flavour the apple aroma is also quite pronounced. Like a proper Tiki drink there is some sweetness, but it is well balanced by the freshness of the apple and orange juice. The ester notes of the rum and the smokiness of the Single Malt set accents and make the cocktail more interesting. In my mind, the apples and pineapples in this drink work together in perfect harmony. It is a refreshing deviation from the beaten path that are regular Tiki drinks!