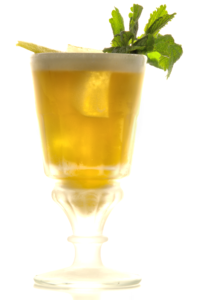 While the Auchentoshan Three Wood is hardly new to the Scotch whisky market. Yet, there are way and I mean way, way too less Scotch based cocktails out there. To change that I decided to provide you with a simple and refreshing cocktail which you should mix up when hosting your next barbecue or watching the European championship! Even better, the Metallic Cloud also uses another underappreciated cocktail ingredient: Beer!
Triple distilled – triple cask aged
As the name suggests the Auchentoshan Three Wood is aged in three different types of casks. This means that after a triple distillation this Lowland Single Malt spends about ten years in used bourbon barrels, before being filled into Oloroso sherry casks for one to two years and a concluding finish for six months in Pedro Ximenez barrels. I have a kind of special relationship to this Single Malt, because this was one of the first ones which was suggested to me as being especially mellow, while still being relatively complex. Ever since then I would keep this one in mind for people with a delicate palate who do not want to get hit by the smokiness of a full-steaming Islay whisky. So, let us find out if over the years the taste of the Three Wood has changed or if I still am able to recognise it.
| | |
| --- | --- |
| | Auchentoshan Three Wood |
| Alcohol: | 43 % |
| Price: | 65 € per litre |
| Appearance: | Terracotta, medium sized windows, slow tears |
| Nose: | Candied fruits, sweet oranges, dried plums, raisins, hint of vanilla and caramel |
| Taste: | Mellow almost sweet, dried fruits, again oranges and plums, atypical sherry notes, some spices, molasses |
| Aftertaste: | Medium long aftertaste with sweet dried fruits |
| Rating: | |
As mentioned before, the Auchentoshan Three Wood is a pleasant sipper! You will get typical sweet and fruity sherry notes and of course a hint of caramel and vanilla. However, the notes from the bourbon cask are somewhat masked by the intensity of the sherry. Of course, one reason for this Single Malt being so smooth is the triple distillation which the Lowlands are famous for. Yet, the different barrels also add to the rest and also to the complexity. In my opinion, this whisky is excellent for enjoying a glass with your friends, even when they are not the biggest Scotch drinkers. You will not be disappointed!
Lemon balm and thyme smash
For a cocktail recipe I decided to stick to a simple Smash variation: Whisky, lemon juice, sweetener and some herbs. To make things more interesting I also added an Indian Pale Ale to the mix. The fruity beer transforms the regular drink into something special and unconventional. Besides its fruity mango notes, it also adds a little bitterness which beautifully contrasts the sweet notes from the syrup and the whisky. As for the syrup, I like to use spelt sweetness when mixing with whiskies, because the darker malt notes go well with… Single Malts. Although, you can just use a regular simple syrup here, maybe a little bit darker cane syrup. From experimenting with different herbs, whisky and beer, I kind of discovered that thyme goes well with dark spirits and lemon balm adds a nice citrus note to beer cocktails. So, I just combined those two for another layer of complexity in the drink.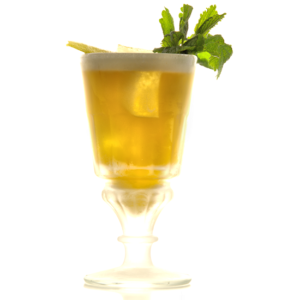 6 cl Auchentoshan Three Wood
3 cl Lemon Juice
2,25 cl Spelt Sweetness Mix (1:1)*
2 Sprigs
Thyme
1 Sprig
Lemon Balm
Top off with
Crew Republic Drunken Sailor IPA
Shake – fill chilled Absinthe glass with ice cubes and half with IPA – double strain;
Garnish:
Sprig of lemon balm – lemon twist;
Song:
Damien Jurado – Metallic Cloud
*or 1,5 cl (½ oz) Simple Syrup Simple Syrup
As promised the drink manages to show of the Single Malt's aromas while at the same time being very refreshing. Besides, the carbonation you will get hit by a subtle sweetness. But only before it is contrasted by the herbal notes from the lemon balm and thyme. When enjoying this drink you first might think that you are drinking a regular Fizz or Collins, but in the aftertaste the beer shows all of its aromas. On the one hand that might confuse your palate, but on the other hand this is also what makes this drink interesting. I know that I am repeating myself, but this is another excellent example of a great drink you should mix up in Summer.