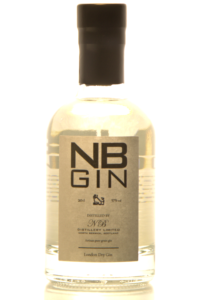 In this series I am providing you with tasting notes of spirits that had a lasting impression on me, yet I did not get around to create a drink with them. So, this Spirited News is all about rye and a little bit of gin. Yet, we are not talking about rye whiskey here. Instead I present the pure essence of rye to you. Furthermore, the already great NB Gin was fortified with a little bit more alcohol. I guess I do not have to tell you that this is a great thing!
The essence of rye
Craft spirits are on the rise, no matter where you are. This means, that it should not come as a big surprise that there also is a small distillery in Finland which sat out to create high quality spirits. In this case I am talking about the Kyrö Distillery Company which in Germany are distributed by Sierre Madre. The Kyrö Distillery was opened in 2014 on the grounds of Finland's most famous cheese factory, which had been closed for several years. The special thing about this most Northern gin and whisky distillery is their commitment to just one cereal for their base spirit. The folks at Kyrö only distil rye and the botanicals for their gin are collected on the former battlegrounds of the Great Northern War. I had the chance to try their new make and gin. The so called Juuri is distilled twice from 100 % malted rye and for the gin Kyrö uses twelve dried and four fresh botanicals.
| | |
| --- | --- |
| | Kyrö Juuri New Make |
| Alcohol: | 46,3 % |
| Price: | 77 € per litre |
| Appearance: | Clear, small windows, very slow tears |
| Nose: | Cereals, overripe apples, grape marc, rye bread, dry, freshly grounded spikes, fresh dough |
| Taste: | Fruity, apples, rye, mellow, slight hint of sweetness, almost smoky, hints of citrus, |
| Aftertaste: | Prolonged aftertaste, rye, cereals, fresh spikes |
| Rating: | |
This is 100% rye, not rye whiskey, not a rye distillate just pure freshly grounded rye in liquid form. Moreover, it is very smooth for its relatively high ABV, so mellow in fact that you will notice the alcohol only by your third sip when your tongue starts going numb. Besides its to some extend complex flavour, its taste is so interesting and unusual that it will make you want more of it. Just to discover all of its character and nuances. Unlike other very fruity rye distillates I can imagine that it might actually be hard to mix with this spirit. On the one hand usual gin cocktails might not work, because of Juuri's astonishing rye notes and on the other hand it might just get squashed by the other ingredients in regular whiskey cocktails.
| | |
| --- | --- |
| | Kyrö Napue Rye Gin |
| Alcohol: | 46,3 % |
| Price: | 70 € per litre |
| Appearance: | Clear, medium sized windows, slow tears |
| Nose: | Juniper, water mint, lavender, slight sweetness and fruitiness, vegetal notes, birch leaves and a hint of citrus |
| Taste: | Juniper, pine cones, spicy, some sweetness, ginger and a herbal freshness, whiff of fruity rye |
| Aftertaste: | Long aftertaste with hot pepper and cooling menthol |
| Rating: | |
The Napue Gin is very different from the Juuri. What sounds like a redundant statement is in truth much more. What I am trying to say is that the Napue manages to be a great classic gin without the overwhelming rye notes of the new make. From other gins that use a very cereal forward base I know that, while it is interesting to taste a very unconventional gin, it gets very hard to use them in popular gin cocktails. The Napue manages to bridge the gap and with its whole bunch of botanicals it is sufficiently complex. Also if you concentrate very hard you will taste the fruity rye notes from the new make, but they only stay at the back and leave the other botanicals enough room to shine. As I just found out a perfect application for both Kyrö products is a Sazerac made with half new make and half gin.
Strong yet delicate
After the NB Gin, the NB London Dry Citrus Vodka the NB Navy Strength Gin is the third product from this small Scottish distillery. The base for the Navy Strength is high quality grain spirit and the same recipe as the regular NB Gin. It uses eight different botanicals with one of them of course being juniper, but also angelica root, cassia bark, coriander seed, grains of paradise, cardamom, lemon peel and orris root. The distillation itself is meticulously controlled and the spirit is brought to a strength as high as over 83 % ABV. After that, the distillate is allowed to rest for a short period before being brought down to drinking strength or in this case Navy Strength. In this case I also managed to create a drink using the NB Gin, which showcases the gins strength and subtle notes at the same time. I was inspired by a bartender from Paul & George in Stuttgart.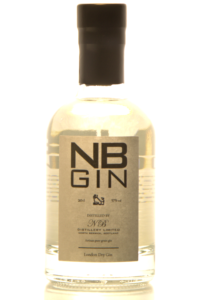 | | |
| --- | --- |
| | NB Navy Strength Gin |
| Alcohol: | 57 % |
| Price: | 90 € per litre |
| Appearance: | Clear, small windows, very slow tears |
| Nose: | Juniper, lemon eau de vie, borage, coriander, hint of menthol, slight sweetness, sweet oranges |
| Taste: | Sweet, some hot pepper, juniper, lemons, oranges |
| Aftertaste: | Very long with black pepper, juniper and menthol |
| Rating: | |
2 Dashes The Bitter Truth Lemon Bitters
Stir – strain – chilled Double Old-FAshioned glass over ice cubes;
Garnish: Lemon and Orange Twist;
The Comfort A Thief is clearly inspired by the White Negroni. Yet, with notes from the bitters and the Strega it is a little bit more complex than the original. Besides the noticeably bitter gentian flavour from the Suze there are also spices from the gin and fruity notes from the vermouth. The cocktail is definitely worth a try for Negroni lovers and perfect for warm Summer evenings. However, this is just one application for the great NB Navy Strength Gin and I reckon that it would also make a killer Dry Martini!