6760 miles, this is how far this new gin had to travel to get to me. No wonder if you take into account that it is distilled by the Inca Distillery in Lima, Peru. Luckily, Christian Wurm from Sucos Do Brasil started to import the products of this relatively new South American distillery a few months back. Having no experience with spirits from Peru except Pisco, I was very curious to see how this gin would taste like.
Until now I have already tried a fair amount of gin. Yet, most of the them came from North America or Europe. So far I have not tried one which was made in South America. To change that I set out to sample the two bottlings provided by Sucos Do Brasil the Gin'Ca and the Amazonian Gin Company Gin. However, this time I will take a closer look at the Gin'Ca and also provide you with a new recipe.
Gin inspired by Peru's rich landscape
As the master distiller from the Inca Distillery Eric Röthig told me that they sat out to create spirits which showcase the botanical variety found in Peru and at the same time help to further develop their country. Their first gin, the Gin'Ca, is made using eleven botanicals which all but the juniper come from Peru. They are black pepper, cinnamon, lemon verbena, lime, Macedonian juniper, Peruvian pepper, rosemary, rue leaves, tangelo and tagetes minuta. The gin is distilled five times on a still called "Cooper" made by Carl and each batch consist of 200 bottles. After distillation the gin is brought to drinking strength with glacier water from the Andes.
| | |
| --- | --- |
| | Gin'Ca Peruvian Distilled Gin |
| Alcohol: | 40 % |
| Price: | 57 € per litre |
| Appearance: | Clear, small windows, very slow tears |
| Nose: | Citrus notes, juniper, slight sweetness, candied ginger, lavender, spices, hints of musk, floral, whiff of menthol, wet clay, cinnamon, |
| Taste: | Spices, juniper, floral, lavender, roses, slight sweetness, menthol, resin, herbs |
| Aftertaste: | Rather long with menthol and a hint of citrus |
| Rating: | |
Despite the unusual ingredients the Gin'Ca is not that different from your regular gins. I would not call it a classic London Dry style gin, but it is also not your typical Western Style Dry. The Gin'Ca ranges somewhere in between those two categories. The interesting thing about it is that it delivers a lot of different aromas one after the other, so you can spent quite a long time, just smelling it. When it comes to the taste the Gin'Ca is on the one hand juniper forward and at first glance also floral. Yet, when taking the second sip the rose notes disappear and are replaced by more spicy and resinous juniper flavour, which I personally like. Now, this would be the time I usually complain about the low alcohol content of this gin… In this case however it might actually work, because there is also a notable menthol note. So, this might just be what this gin needs to stand up in mixed drinks.
For a cocktail using the Gin'Ca Gin I decided it would be best to create a highball style cocktail to show its flavours. To pay respect to its exotic heritage it seemed like the right choice to pair it with another exotic ingredient, guava syrup. Since, there were also lavender notes present in the sip I chose a lavender lemonade made by Cucumis as a mixer and of course lime to give the whole thing a little bit of acidity. As a garnish I would have used a herb that was also used in the production of the Gin'Ca, but unfortunately I ran all out of lemon verbena and tagetes minuta. This why I settled for Thai basil instead. Before we get to the drink however, I just want to give you my tasting notes on the Cucumis Lavender lemonade. It is a new and very pleasant soft drink from Hamburg made with lavender and bergamot lime. The Cucumis has just the right amount of floral lavender notes so that they do not overwhelm the taste.
| | |
| --- | --- |
| | Cucumis Lavender |
| Price: | 5,80 € per litre |
| Appearance: | Purple, noticeable carbonation |
| Nose: | Lavender, lemons, lemon peel, hint of sweetness |
| Taste: | Nicely balanced combination of lavender and citrus notes, fresh, slight sweetness, herbs |
| Aftertaste: | Medium long with citrus notes |
| Rating: | |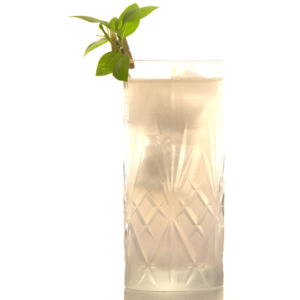 Top off with Cucumis Lavender Lemonade
Shake first three ingredients – strain – chilled Highball glass with four ice cubes and half filled with lavender lemonade;
Garnish: Thai Basil
Song: Grizzly Bear – Southern Point
The Southern Point is a fresh and fruity combination of gin and citrus. The lavender is only slightly present in the sip and as mentioned before, it does not overpower the mix. Also, as planed the gin was beautifully incorporated into the drink. It had just the right strength to stand up against the other ingredients. In conclusion, this is a great Summer refreshment for hot days and so much more delicate than your average Gin & Tonic!