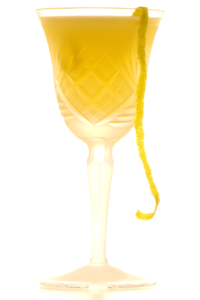 Two weeks ago I presented Florian Faude's magnificent cucumber eau de vie to you. Yet, it was not the only vegetal eau de vie Florian was kind enough to provide me with. The second one, a beetroot eau de vie was kind of a big challenge to mix with. Yet, it was totally worth the trouble!
Bloody beetroots!
Beetroots are like liquorice, either you like them, or you hate them. Their earthy taste can be – let's just say – overwhelming and I have to admit that I hated them for years! It took me until last Summer to really enjoy them. The turning point for me, was a salad with goat cheese, honey and walnuts I had at the Trific restaurant in Hamburg. Apart from that, we where also served a great cocktail made out of beetroot eau de vie, Mezcal, Campari and Lille the next evening. Ever since then this highly unusual eau de vie was on my shopping list for my homebar. When Florian Faude told me that he was also creating an eau de vie from beetroots I was more than curious to try it! Don't let the rather short description fool you, the beetroot eau de vie made out of young fresh crops harvested by a local farmer in Bötzingen is rather complex. In fact, it has so many earthy notes that it can outweigh the strongest Mezcal! While this sounds like a great spirit for mixing, it also comes as a challenge, because if you overdo it in a recipe the cocktail will taste like a freshly dug vegetable patch…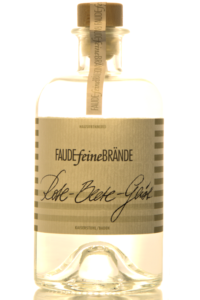 | | |
| --- | --- |
| | Faude Beetroot Eau De Vie |
| Alcohol: | 40 % |
| Price: | 68 € per litre |
| Appearance: | Clear, small windows, slow tears |
| Nose: | Beetroot chips, earthy, hint of menthol, vegetal notes, potatoes |
| Taste: | Beetroots, very earthy, umami, hint of lemon, spices, slight sweetness |
| Aftertaste: | Never ending aftertaste with earthy beetroots |
| Rating: | |
As I already told you, the beetroot eau de vie is quite earthy. When taking only one whiff you immediately know from which vegetable this spirit is distilled. However, there is more than just plain earthiness! There are also traces of citrus notes, peppery spices and a little bit of menthol. But I guess the most impressive trick of the eau de vie is its aftertaste! It is just endless and I am not exaggerating here! You will only get rid of it if you brush your teeth… So, while this spirit is very interesting and perfectly distilled, you probably are best advised to use it in small doses. Otherwise it will overpower everything it comes in contact with. I had to find this out the hard way, but more on that later!
And now to the cognac
Since the beetroot eau de vie alone would be too much for the drink I decided to pair it with another spirit to "dilute" it a bit. Probably gin, or even Mezcal would have been the obvious choices, yet I settled for cognac. Not only because it is underappreciated as a spirit for cocktails in general, but also it is not the first thing that comes to mind when thinking of a refreshing Summer cocktail. However, the Pierre Ferrand Ambré Cognac I had on hand is the perfect choice for light, but also aromatic dark spirit drinks. It is distilled from 70 % Ugni Blanc and 30 % Colombard grapes with the yeast and then aged in small Limousine oak barrels for an average of ten years. So, you could even call the Ferrand Ambré an X.O. cognac! Technically you cannot call this a X.O. cognac, because the youngest eau de vie has to be at least six years old and furthermore Pierre Ferrand Cognacs are not classified the traditional way.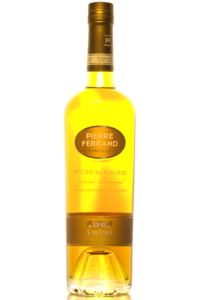 | | |
| --- | --- |
| | Pierre Ferrand Ambré Cognac |
| Alcohol: | 40 % |
| Price: | 49 € per litre |
| Appearance: | Ocher, small windows, very slow tears |
| Nose: | Violets, vanilla, caramel, floral, dried apricots, grape mark spirits, rose liqueur |
| Taste: | Vanilla, slight sweetness, red grapes, citrus fruits, young freshness |
| Aftertaste: | Medium long with candied flowers, oranges, caramel and a hint of menthol and spices |
| Rating: | |
I have already tried some Pierre Ferrand Cognacs and also a few more other cognacs, but the Pierre Ferrand Ambré is still one of my favourites! It is neither the most complex, nor the smoothest one, but it has a perfect balance between notes of fresh and young cognacs and fully matured ones! This is best shown when sipping it neat, it has a lot of floral aromas, but it is far from being soapy. Moreover, the floral notes are not the usual candied violets you often find in cognacs, but instead reminiscent of freshly cut flowers. Apart from that, you just get the impression that the folks at Ferrand and especially Alexandre Gabriel really know what they are doing. More than once I have encountered a good value for money cognac which tasted great at first, but after the initial sip had a strong sawdust taste. I reckon this comes from new barrels made out of too young wood. The point I am trying to make is, that with this cognac you just notice the great cask management Pierre Ferrand does! And this is not limited to their cognacs!
Trial and error
Usually when creating my drinks I sort of know how the individual components taste like together. This means that it only takes adjustments of the recipe, but in general the result is rather tasty. Yet, when creating a drink using Florian's beetroot eau de vie my first trial went quite wrong… The beetroot eau de vie completely took over the drink and was also fighting the sparkling wine I had paired it with. After publishing the article on Florian's cucumber eau de vie, I told him that my first try with his other vegetable spirit did not work. Florian suggested to try a Gimlet variation with the beetroot eau de vie. So, I wanted to take his advice, but at the last minute I decided to make kind of a Sour instead.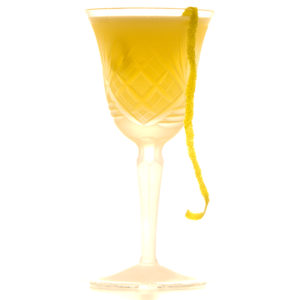 Shake – strain – chilled Cocktail glass;
Garnish: Lemon Twist;
Song: The Cactus Channel – Kill The Doubt Feat. Chet Faker
Even with the small amount of eau de vie is enough to give the drink a noticeable earthy beetroot flavour. Yet, the cognac and agave syrup do their best to contain it to a pleasant level. Apart from that, the cocktail is similar to a Sidecar, but without the pronounced bitter-orange flavour. This way the drink is refreshing and familiar, but also complex, earthy and unusual at the same time. Even the dried fruit notes form the cognac come through in the final drink. How unusual this combination might sound at first glance, it really does work! Not to get overly colourful in my description of this drink, but its combination of earth and grape notes kind of reminded me of a vineyard in the summer after the rain.