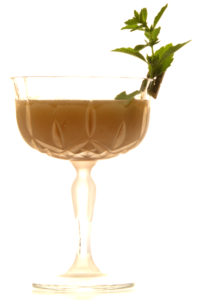 It seems like this months theme is cognac! That's fine for me! As I already told you in my last post, cognac is far too underappreciated in cocktails! Some people think of it as not being as cool as gin, not as controversial as tequila and not as complex as whisky and therefore give it the go-by. This is a big mistake in my opinion, because cognac is something like the jack of all trades when it comes to cocktails. It can be enjoyed all year round and it even makes some refreshing Summer drinks!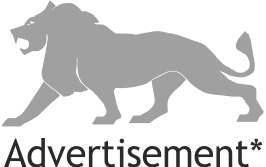 Inspired by greyhounds
The cognac in question this time comes from Landy which is marketed by Pierre Ferrand. I had encountered Landy cognac before at a cognac tasting in Berlin some years back and their X.O. cognac really impressed me. Especially its smoothness was unmatched by the other X.O. cognacs we tried. So, this time I had the chance to try its little brother the V.S.O.P. With an average age of 12 years this could, similar to the Pierre Ferrand Ambré, be almost called an X.O. cognac. Apart from that, the Landy V.S.O.P. is distilled from Colombard and Ugni Blanc grapes together with the yeast of the fermentation. Then the fresh spirit is filled into new casks with a volume of 850 l and after an initial maturation time of about eight months it is transferred into fûts roux, which are older casks that have already held their share of young eau de vies. Let's see how this cognac tastes like!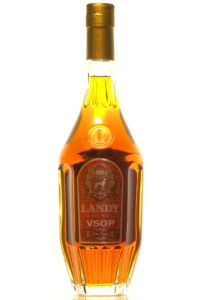 | | |
| --- | --- |
| | Landy V.S.O.P. Cognac |
| Alcohol: | 40 % |
| Price: | 44 € per litre |
| Appearance: | Auburn, medium sized windows, fast tears |
| Nose: | Oranges, citrus notes, vanilla, candied violets, sweetness, grapes, dried fruits, apples, hint of cinnamon, little bit of menthol |
| Taste: | Smooth, slightly sweet, caramel, a lot of vanilla, plum pudding, hint of menthol |
| Aftertaste: | Medium long with vanilla, dried fruits and caramel |
| Rating: | |
In two cognac blind tastings I recently did, the Landy V.S.O.P. was rated very high and could even keep up with cognacs that were a lot older. In fact, I myself mistook it for the oldest one in one of them. Besides that, it is an atypical cognac with a lot of dried fruit, candied violets and vanilla notes. Actually, it probably is the cognac with the most vanilla aroma I have encountered so far. All in all, it is really worth its money, you can perfectly sip it neat and it also has enough flavour and power to stand out in cocktails. We will especially see if the last part is true later on!
One minor mistake
When making a drink with the Landy cognac I originally intended to make a simple Sidecar variation with lemon balm and strawberry jam. Yet, instead of grabbing the lemon juice I had already pressed in advance I went for the lime cordial I also had made, but for another drink. When I discovered my mistake it was already too late, because all the other ingredients were already in the shaker. Instead of throwing it all away, I just added some fresh lime juice and made the drink anyway. As it turned out, this was a great decision, because despite the cocktail clearly being on the sweet side, the result was pretty delicious!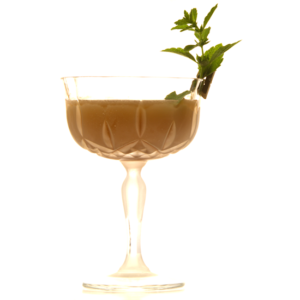 Of course, the two most prominent flavours in this drink are strawberries and cognac. Yet, despite the sweetness of the cocktail, there are also fresh notes of lemon balm and lime in it, that keep the jam and orange liqueur from overpowering the drink. Still, I admit that this might be more suited for colder days than for a hot summer evening. Nevertheless, the accidental addition of lime cordial to this recipe makes it somewhat unique and therefore very interesting. Especially, the preserved lime notes from the cordial go very well with the strawberry jam. The Landy V.S.O.P. did a great job in giving the drink enough depth and a proper spirit backbone. Even if you are not going to mix up this cocktail, I reckon the Landy would be great in any number of cognac cocktails, from Champs-Élysées to Sazeracs or Sidecars.
*The fact that I received a product reviewed in this article for free, did not – in any way – influence the rating of said product.