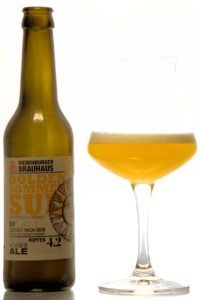 As a cocktail and spirits blogger you sometimes have to look beyond the horizon. Therefore, I want to revive an old category I already did introduce here on the blog: You Can Call Me Beercules (YCCMB)! However, each article from now on will just feature a single beer. So, here we go, the first one is a Session IPA from Bavaria made by Riedenburger.
Dolden Sud's little brother
Riedenburger is a traditional brewery from the heart of Bavarian. Nevertheless, they did not settle for their regular line of beers and with all the craft beer hype going on they of course also wanted a share. Their first and most famous expression of craft beers was and still is their Riedenburger Dolden Sud IPA. Yet, I do not want to talk too much about the Dolden Sud, because I will feature it in an later article. The Dolden Summer Sud is as already mentioned a Session IPA and therefore it has a lighter style and less alcohol. Still, for brewing it four Bavarian aroma hops are used: Cascade, Mandarina Bavaria, Smaragd and Spalter Selekt. On the label it says that there is only malted barley in the Summer Sud, even if I could have sworn that it uses some malted wheat, too.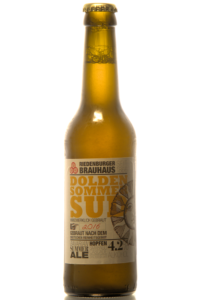 | | |
| --- | --- |
| | Riedenburger Dolden Sommer Sud |
| Alcohol: | 4,2 % |
| IBU: | 20 |
| Hops: | Mandarina Bavaria, Smaragd, Spalter Selekt |
| Price: | 5,70 € per litre |
| Appearance: | Cloudy, mustard, reasonably stable white foam |
| Nose: | Passion fruit, mandarins, spices, violets and cider-like apple notes |
| Taste: | Mellow, creamy texture, wheat, just a hint of bitterness, yellow paprika, noticeable carbonation |
| Aftertaste: | Rather short with wheat-like notes and a slight sweetness; |
| Rating: | |
When trying the Sommer Sud, you have to take into account that this is supposed to be a Summer beer! It is brewed so that you are able to enjoy it even when it has 30 degrees outside! Keeping this in mind, I have to admit that it is very good. The bouquet is very fruity with citrus fruits and exotic fruits. At first glance you might actually think you are drinking a regular IPA. In the taste however you quickly notice that it goes down very smooth and is refreshing. There also is an interesting creamy texture and some wheat bread notes. The high quality of the Sommer Sud is beyond any doubt. There are no offtastes whatsoever. A few smaller craft beer producers sometimes manage to get some of them into their brews and with a lighter style of beer you of course notice them more.
In the end, there is not much left to say, except: If you are only slinging down Triple IPAs and Imperial Stouts you will be disappointed with this one. Every normal person however will just enjoy it for what it is: A light, yet elegant Summer refresher!