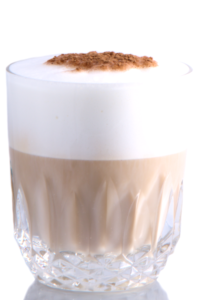 Sorry for the weird animalistic title, but in this case it is really about a swan and a piggy. The swan in question is actually an Irish cream liqueur called Cool Swan and of course the piggy is a cask strength single malt. What else could it have been? So, let's see how those funny named liquors fair in a review.
So, you are reviewing cream liqueurs now?
First, I have the urge to tell you that I am not a fan of cream liqueurs, no matter what they are based on. However, you cannot always taste indepedently bottled cask strength single malt. If you are only into this sort of stuff, just skip the first part of this article. The so-called Cool Swan is a mixture of Irish whiskey, Belgian white chocolate, cream, cacao and vanilla. To me the list of ingredients rather sounds like the recipe for a cake than for a liqueur, but I still want to give this one a fair chance. Apart from that, I also came up with a coffee cocktail using it.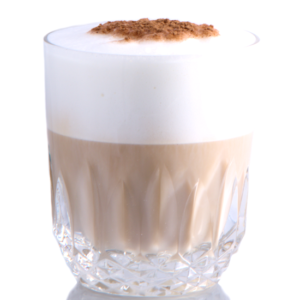 1,5 cl Bushmills 10 Years Irish Whiskey
1,5 cl Cool Swan
4,5 cl Milk
1 cl Forrest Honey Mix (1:1)
1 Shot Cold Espresso
Reverse dry shake first four ingredients over ice – fill into chilled Old-Fashioned glass – carefully pour cold shot of espresso into the drink;
Garnish: Dust coffee spices on top;
Song: Bombay Bicycle Club – Swansea;
The Swansea cocktail is great when you are looking for something in the directions of a Milk Punch, with the addition of coffee. The espresso keeps the whole thing from becoming too sweet and balances the chocolate and vanilla notes of the Cool Swan. While talking about the Cool Swan, it is quite pleasant, especially considering the fact that I am, as mentioned, not a big cream liqueur fan. The white chocolate and the vanilla clearly dominate its taste, but the Irish Whiskey and some bittersweet cacao notes also shine through. If you are into this sort of liqueurs you should definitely give it a try.
Only indepedently bottled cask strength single malt beyond this point!
It is time to become all serious again, so let us talk about some single malts from independed bottler C&S. Their whiskies are meant for sipping and not for collecting which means that they are reasonably priced. I had the chance to try three of their new bottlings, from two different distilleries. Apart from them all being bottled at cask strength, this also means that I am able to cross off two more distilleries from my single malt scotch bucket list.
C&S Dram Collection Little Piggy 6 Years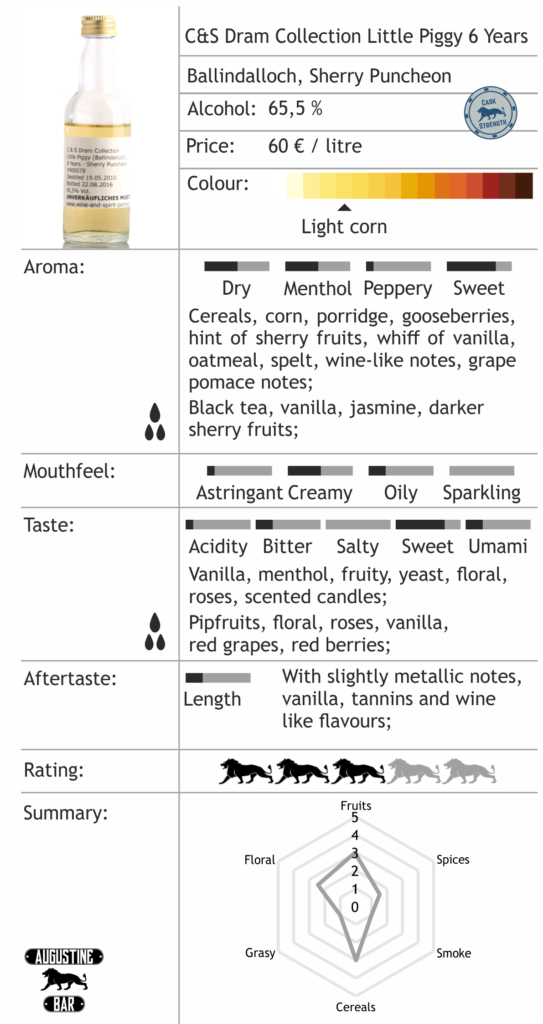 Maybe we are not so serious afterall, hence the name of this single malt. – Despite its age the Little Piggy is quite interesting. Through its complex cereal and sherry fruit notes, in combination with quite a powerful ABV, this single malt manages to almost hide its youth. There are quite a lot of different flavours to discover in the aroma and the taste. And while I suggest adding a decent amount of water to it, it is really only the aftertaste where you notice that it has just spend half a dozen years in a barrel.
C&S Dram Collection Benrinnes 9 Years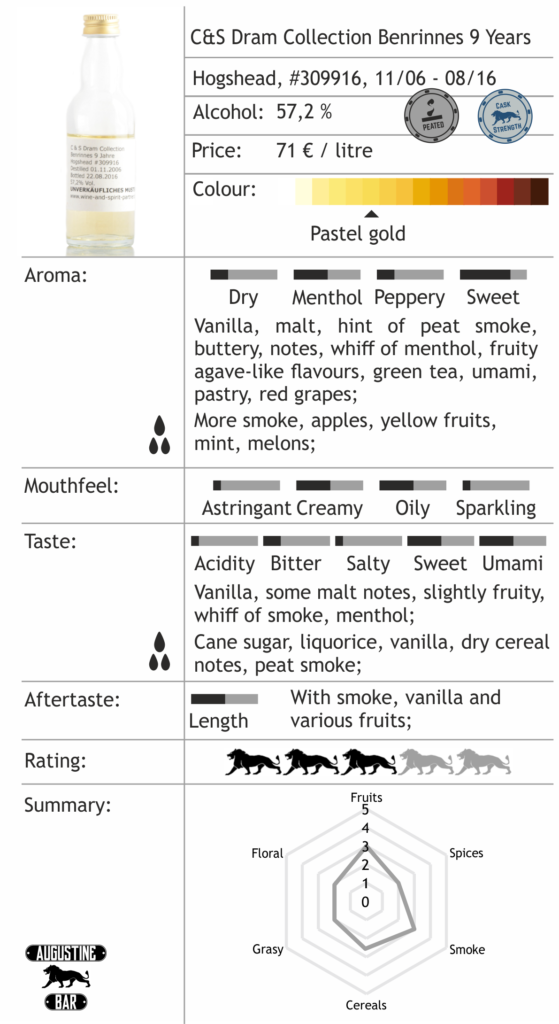 With almost the age a lot of scotch fans consider enough (10 Years), the Benrinnes manages to be even more interesting than the Little Piggy. This is partly due to the three more years it had time to develop its character, but also partially due to the use of peated malt. In this single malt there is just enough smoke to notice it while still not overwhelming your palate. Instead it leaves you with a nice combination of fruits, cereals and spices. If you like slightly peated malts I highly recommend this one to you!
C&S Dram Senior Benrinnes 24 Years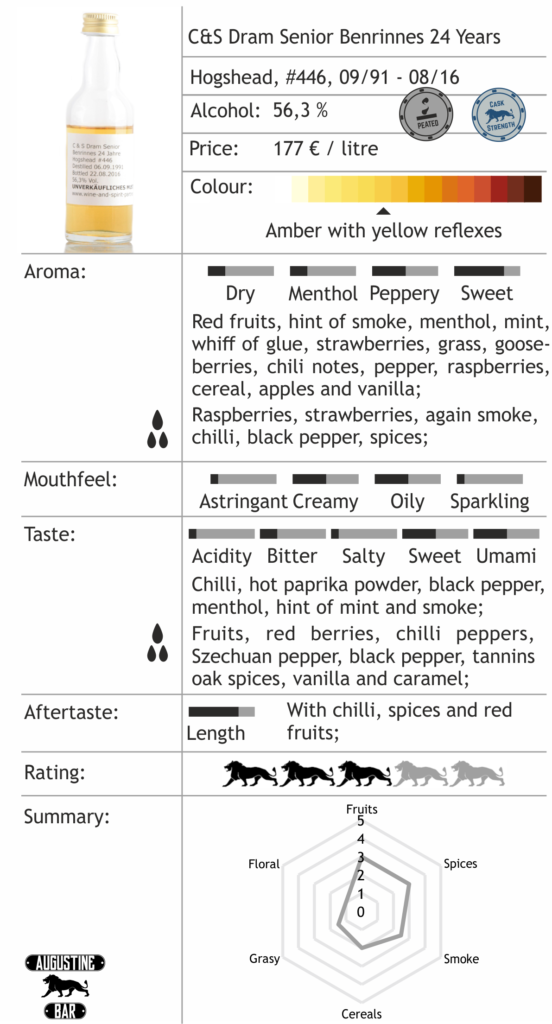 Finally, on to a really old bottling of single malt, also from Benriennes. I know the term "chilli catch" is already taken by another single malt from the Scottish Islands. Nevertheless, it would also fair the Benriennes 24 Years well! Don't get me wrong, this single malt is very complex, but at the same time it demands your full attention when sipping it. There is just a shipload full of chilli peppers and other spices notes in this dram. This means that it can easily overpower your taste-buds. You should choose this one if you are into demanding and complex single malts!
*The fact that I received a product reviewed in this article for free, did not – in any way – influence the rating of said product.