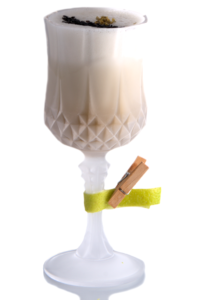 After all this bourbon whiskey, it is time to focus on some interesting agave spirit again! In the case of the Don Fulano Fuerte, we are not only talking about a high quality tequila, but it is also bottled at overproof. And I do not have to tell you that a higher ABV is always better!Unfortunately you do not see a lot of higher proof tequilas around. So, I was more than intrigued to try it!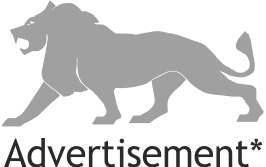 I already featured the Don Fulano Reposado here and because of its great terroir notes it got a 4 lion rating right away! So, I expected quite a bit from the Fuerte. In contrast to the Reposado it is not aged. The agaves are harvested in Jalisco around the town of Atotonilco. It is located in the Highlands and because of the high elevation and the colder nights the agaves grow more slowly. This is supposed to result in a higher sugar content of the agave hearts and therefore in a more complex tequila. I guess Lowland tequila producers would raise objections here, but what is definitely true is the very mineral taste good Highland tequilas should have. Apart from that, the Don Fulano Fuerte is double distilled at the La Tequilena distillery.
Tequila that almost leaves you speechless!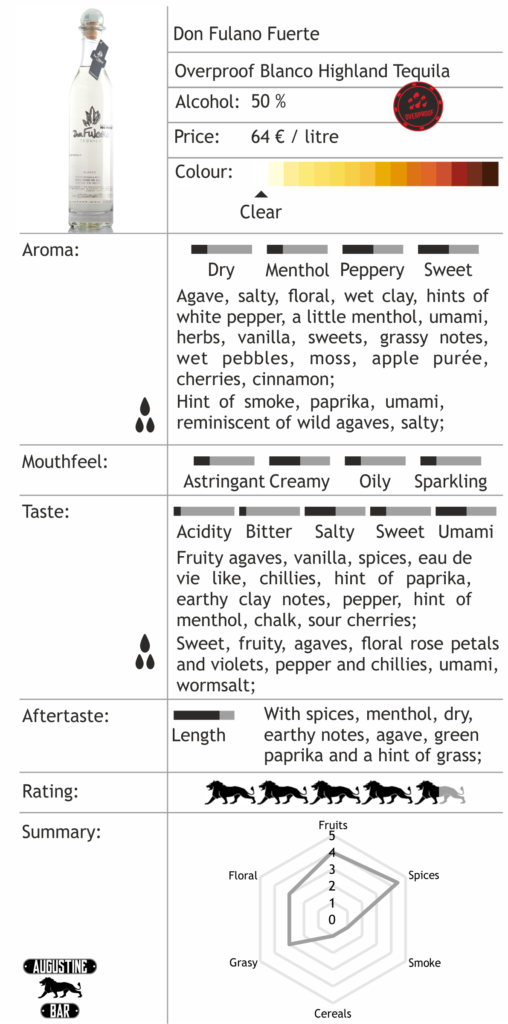 To be honest this is the first overproof tequila I have tried. Nevertheless, the Don Fulano Fuerte is probably still the best blanco tequila I enjoyed so far! It has everything you can ask for in a great tequila: Agave notes, mineral terroir flavours, some umami notes and on top of that even more fruits and spices. Taking the Don Fulano Reposado as a reference of what the regular proof bottlings of this brand taste like, I am sure that the regular Blanco also is a great tequila. However, the higher ABV makes the Fuerte an extraordinary one. Of course, when sipping it neat you will slightly notice the alcohol, but with a few drops of water the heat dies down a bit and even more flavours are recognisable. Another way of mellowing the Fuerte a notch is to mix a cocktail with it. Believe me when I say that it makes a phenomenal Tommy's Margarita, because as you can see below I have tried it. Though, I also wanted to create a tailor-made drink for the Don Fulano Fuerte.
Black magic with black sesame
For the Zingaro, named after a fitting Chet Baker song, I took some inspiration from a Tales Of The Cocktails article on black drinks. In the article black sesame syrup was mentioned and I just had to make some! Basically, I followed this recipe. When researching the syrup, I stumbled upon a recipe for a dessert which combines black sesame with fennel and I instantly new that this would make for a great combination. So, I decided to infuse the Don Fulano Fuerte with fennel and I also added some homemade black tea bitters. However, you can just use the ones made by Dr. Elmegirab instead or use Angostura Bitters if you must.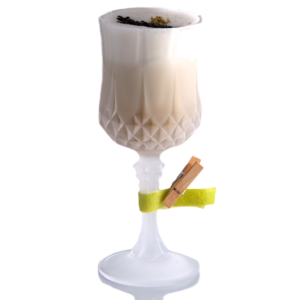 6 cl Fennel Infused Don Fulano Fuerte Tequila*
3 Dashes Homemade Black Tea Bitters
3 cl Lime Juice
2,25 cl Black Sesame Syrup
0,75 cl Agave Syrup
1 Small Egg White
Reverse Dry Shake – fill – chilled cocktail glass;
Garnish: Black Sesame – Fennel Pollen – Lime Twist (no drop);
Song: Chet Baker – Zingaro
*Add one tsp. fennel to 2 oz of tequila – let infuse for 30 minutes – strain through fine mesh strainer;
You should think of this cocktail as a slightly enhanced Margarita variation. The aroma of the drink starts with a clear tequila note, before the fennel and some umami flavours show themselves. When taking the first sip you will first notice refreshing citrus notes and then some liquorice aroma comes to mind. After that, the fennel, a hint of smoke, more tequila and finally some agave notes complete the sensory impression and lead to a long and lingering finish. The egg white beautifully provides a canvas for the other flavours while at the same time dialling down too harsh citrus and tequila notes. All in all, the drink shows that the Don Fulano Fuerte can also very well handle being mixed. – If you are a tequila fan, I can highly recommend this to you and you will not be disappointed!
*The fact that I received a product reviewed in this article for free, did not – in any way – influence the rating of said product.