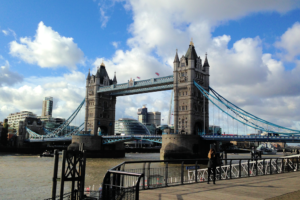 To celebrate the finishing of my studies I went on a short trip to London with three of my friends. Besides the usual sightseeing we also went on a great culinary trip through the capital of the United Kingdom. Needless to say that also two great bars were on the list.
On our first night we grabbed a late bite at an Indian restaurant in the neighbourhood of our hostel. While I cannot attest to the self-proclaimed fact on their website that they are London's best Indian restaurant, I can tell you that it was authentic Indian food and also very good. From the starters in form of Papadoms, which are small fried plates made from lentil flour to the slow cooked Khala Lamb Bhuna, lamb with lentils and tomatoes, everything tasted great. What especially surprised my palate was the pickled lime chutney which managed to taste sweet, sour, spicy and hot one after another. The drawback of our late meal was that when we were finished all pubs in the neighbourhood were closed and we settled for the basement bar in our hostel.
Tea and burgers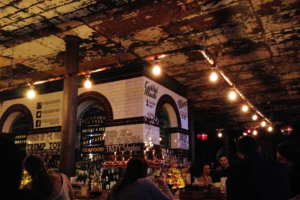 The next day was mainly reserved for sightseeing around the Tower and the Tower Bridge and in between we went for the traditional English tea. After a day with a lot of walking we had an early dinner at Blues Kitchen in Shoreditch. The purpose built run down 1960s look is probably the best place in London to have Barbecue or Burgers and all of this while being able to choose from a fast drinks menu. We especially liked the spicy chicken burger in combination with sweet potato fries and an accompanying Oatmeal Stout and the pulled pork also with sweet potato fries but with the Beavertown Brewing Gamma Ray IPA. Yes, craft beer is really going strong in London! After the fantastic dinner and another round of craft beers we headed over to Callooh Callay to find out what there new menu was all about. My first drink was the "Madon Baron" which was a combination of Bulleit rye, Punt e Mes, Madeira, barolo chinato and Angostura Bitters served on a hand carved ice cube. The drink reminded me of a multi layered Manhattan with a deep and complex bitterness. Other great choices were the "High Sherriff" with Lapsang Souchong infused Teeling Whiskey, the "Blue Macaw" with macadamia and tonka been syrup, the "Chica De Ganso" which just tasted like a Black Forest cake and the "Tocororo" which featured Chartreuse and salted cucumber.
Cocktail science at its best
On our second evening we had a reservation at 69 Colebrooke Row, after a long day of some more sightseeing around Big Ben and the Buckingham Palace. If you also are planning to visit Tony Conigliaro's world famous bar in Islington you definitely should book a table, because the beautifully decorated place in the style of 1920s Noir movies is just tiny. However, if you do so you are in for a great evening with modestly decorated cocktails that speak through their flavour. Sure, there are other bars out there which deliver spectacularly garnished concoctions, but those shiny gimmicks also distract a bit from the flavour itself. The Bar With No Name, as 69 Colebrooke Row is also called, is just all about flavour! Every drink we had was just perfect and everyone liked every cocktail. So much so, that it was really hard to pick a favourite. The drinks that stood out the most were the "Manhattan Steel Corp." a clear, distilled Manhattan that packs all the usual flavours and more, the "Rye Rye",  a combination of Rye Whiskey, Rye Syrup and Rye Angostura Bitters and maybe the best of them all the "Silent Neon Flower". The latter was served in a small chilled glass poured straight from the bottle. Basically, the cocktail only contained Sous Vide infused Beefeater Gin with ambrette seeds and jasmin. This combination might not sound like much, but it was an explosion of flavours, but so beautifully arranged that even when you knew what was in there you were not really able to place the individual flavours. On this evening the drinks were so excellent that I completely forgot to take pictures, besides the fact that it would have been a bit impolite in this very private venue.
More craft beer
Following a suggestion by the staff at 69 Colebrooke Row we went for a beer to end the evening in the Brewhouse & Kitchen at the Angel Islington station. There I had the Chaplin IPA, brewed in there own microbrewery, which had a great balance between fruit flavours and bitterness. However, you should first ask if your beer from their extensive drinks menu is a real ale or one served with carbonation. I like the traditional English ales served slightly warmer and without carbonation, but some other folks don't. Apart from that, the Brewhouse also carries a great variety of international craft beers like the wonderful Brooklyn Brewery Chocolate Stout or various Belgian and German beers.
All in all, it was a great short trip with a lot of excellent places for eating and drinks. However, I of course know that you probably could spent months or even years discovering London's bar and culinary scene, but at least this gives you the perfect excuse to always visit this city again!