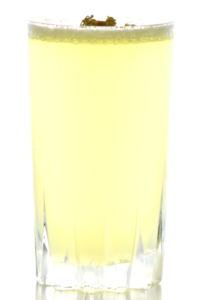 Maybe you have been wondering lately what is wrong with me? So many weeks gone by and no review of a new gin ! Well, do not despair, it is time to sample a new German gin! In this case it is also a rather special one. Not only does it come with a slightly higher ABV, but also the label "Distiller's Cut" leads to high expectations. So, let's see if the Siegfried Distiller's Cut can also deliver!
It is quite a while ago that I have first noticed the Siegfried Gin. It comes from the German city of Bonn and is distilled by the Rheinland Distillers UG. However, at first it fell through the cracks of my arbitrary gin-filter. – Since there seems to be a new gin every week I decided to only take interest in bottles with an ABV above 44 %. Nevertheless, it seems that the guys behind the Siegfried Gin got wind of my filter-criterion and decided to introduce a new version called Distiller's Cut with an ABV of 45 %. – Or could this just be a coincident? Well, yes of course it is, but what matters most is that the higher ABV really spiked my interest and now I am curious to find out how the new Siegfried Gin tastes like!
Lime blossoms as a secret ingredient
Similar to Siegfried from the Nibelungen saga the Siegfried Gin also involves lime-tree blossoms. They are used as a special botanical during distillation together with 17 other ingredients and in case of the Distiller's Cut also lemon balm and mint notes of some form. The Gin was developed together with the P.J. Schuetz Eifel Distillery and is distilled on a 500 litre still. So let us see what the Distiller's Cut is all about.
Typical gin and paper aroma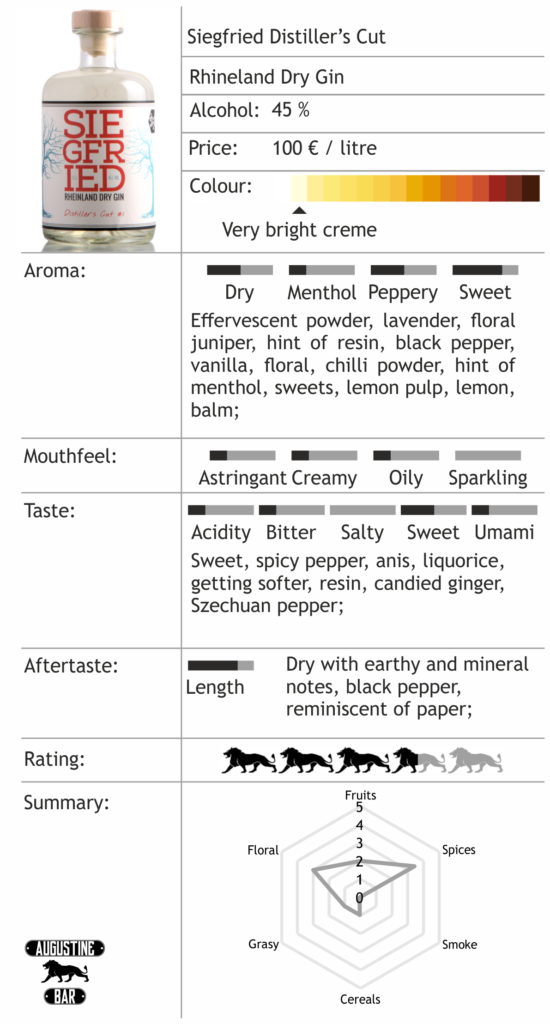 There was a kind of craze around the regular Siegfried Gin, also called Siggi. Now that I have tried its high-proof version I kind of get why! The Distiller's Cut nicely ranges in between a classic London Dry and a New Western Style Gin. There are definitely pronounced juniper notes, but they drift off in a flowery direction rather than the old-school resin-like juniper flavour. Apart from that, there are a lot of spicy and sweet notes in the bouquet and taste. You will mainly get fruity lemon and also some herbal liquorice notes. I guess in the aftertaste is where the lime-tree blossoms really shine through, because when I think of lime-trees I am reminded of freshly created paper. That is exactly what comes through at the end of the sipp.
Not a gin tonic!
Of course, the Siggi DC will definitely work in a G&T, but I was not really in the mood for a regular juniper lemonade. So I went a similar, but slightly different path, when creating a drink for the Distiller's Cut: I made some chamomile syrup, just because I am drinking a lot of chamomile tea lately, and created a kind of Gin Fizz variation. This means that the final recipe was Siegfried Gin, lemon juice, chamomile syrup and instead of soda water I used Fever Tree Tonic Water to top the whole thing off.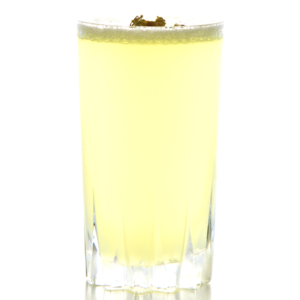 6 cl Siegfried Distiller's Cut Gin
3 cl Lemon Juice
2,25 cl Chamomile Syrup (1:1)*
Top off with Fever Tree Tonic Water
Shake first three ingredients – strain – chilled Highball glass filled half with tonic water – top off;
Garnish: Chamomile blossoms;
Song: SBTRKT – Paper Cuts
*Bring 1 Part water, 1 Part sugar and 2 Tsp. chamomile blossoms for every part of water to a boil – strain – let cool and fill into clean bottle – add 1 oz vodka for every part of syrup to prolong shelve life;
The "Paper Cuts" is a great combination of a classic Gin Fizz, of course served without ice, and a Gin & Tonic. On top off that, nice soothing chamomile notes mellow the acidity of the lemon juice and the bitterness of the tonic water. Also the Siegfried Distiller's Cut makes sure that there a pronounced gin flavours in the mix. It is a nice and refreshing drink that is just right for the changing of the seasons. On top of that, the cocktail also shows that the Siegfried Distiller's Cut can handle a lot of different applications, ranging from classic cocktails with acidity to dry Highballs made with tonic water. From a flavour standpoint the Siegfried Distiller's Cut is quite worth checking out! However, you should hurry, there are only 980 bottles available.