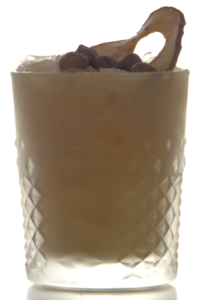 Well, it is again time to look at a rather underappreciated cocktail ingredient: Calvados! This very traditional French apple brandy is not very popular in bars, but it never fails to give drinks a perfect apple note. This is why I also had the idea to create a cocktail variation of a rather famous drink with it! I admit that the final drink is quite different from the original cocktail, but still, it perfectly showcases what can be accomplished by using calvados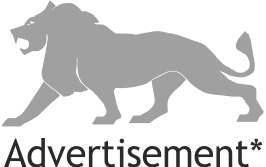 Both calvados I want to introduce to you today are produced by Daron. Each of their Calvados bottlings originates from the "Pays d'Auge" region of France which obviously is famous for its apples and hence its calvados. The fruits used for the production of Daron all come from farms with meadow orchards and 91 % of them are planted with apples while the remaining 9 % are pear trees. The apple varieties used to produce the Cidré, the low alcoholic apple wine, are "Bedan", "Bisquets", "Petit Joly", "Saint Martin" and other old varieties. On top of that, only the first pressed apple juice is used for Cidré production. Therefore, only a small amount of apple wine with an ABV of 5,5 % is gained from one tonne of apples. Afterwards, the Cidré is distilled twice, right after fermentation has stopped, on small copper stills from the Cognac region. This is done twice and after the second distillation, the head and tails of the distillate are cut and only the hearts are used for the wood aging. Only small Limousin oak casks are used for maturation, because of their better surface to spirit ratio.
Young with compelling apple notes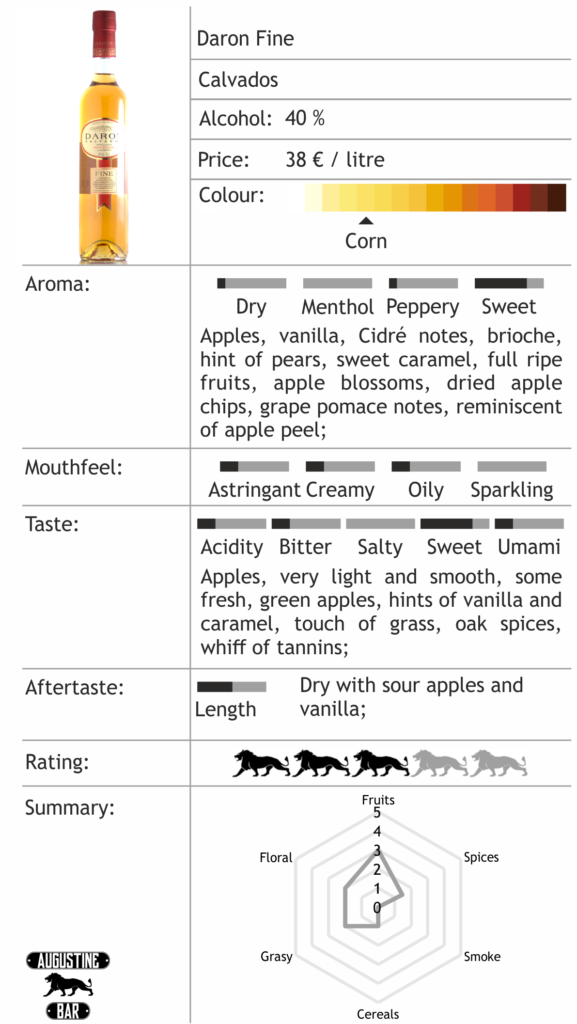 Of course, I tried the bottle of young Daron calvados first and the first thing you will notice with the Fine is its typical calvados taste! There are fresh apple notes in the aroma and taste, a slight sweetness and first hints of the wood ageing. The Fine tastes exactly like a rather strong Cidré, but without being harsh. Nevertheless, the young Calvados lacks a little bit of complex. However, this is somehow the whole point of its existence! The Fine is supposed to be a young and fresh introduction to calvados. If you are looking for more complexity for neat sipping you should consider the X.O.
Complex oak spices and full ripe apples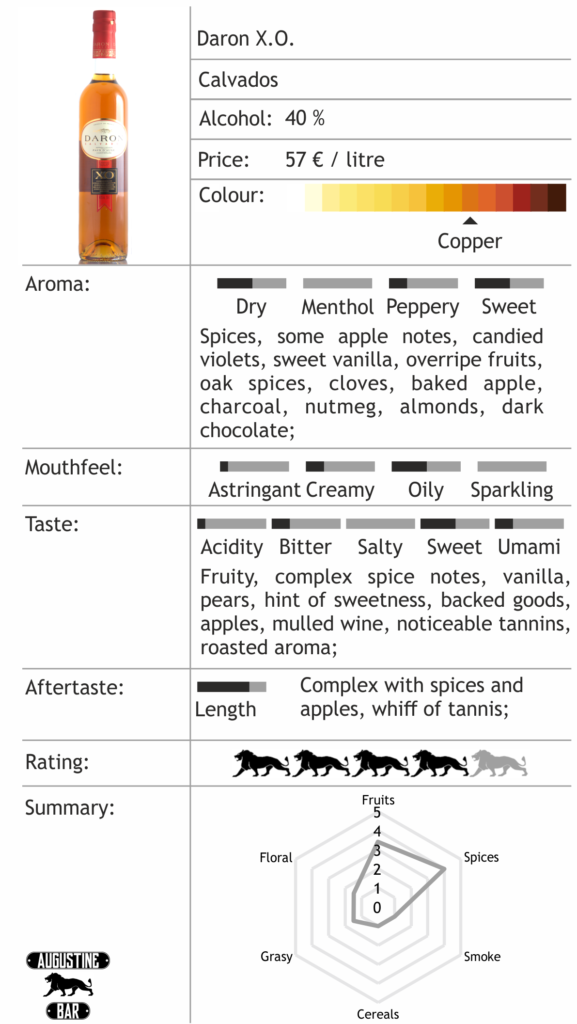 So this is exactly what I did: The Daron X.O. is able to deliver manifold spice notes, along with still enough apple aroma to remind you that you are drinking a calvados and not an aged cognac. Nevertheless, there is a certain similarity between the X.O. and the aged French grape spirit. For instance, there are notes of candied violets which I often encounter with cognac. The X.O. is very enjoyable and I can only recommend to all the calvados fans out there!
Sort of a Mai Tai…
Well, I know it is a little bit far fetched to call the resulting drink a Mai Tai variation. However, it has all the defining properties of a Mai Tai: First there are two similar base spirits mixed together, in this case the Fine and the X.O. calvados. Second, there is orange curacao in it and finally, an Orgeat. Yet, in this case I used a nut-milk made from hazelnuts instead of the traditional almonds.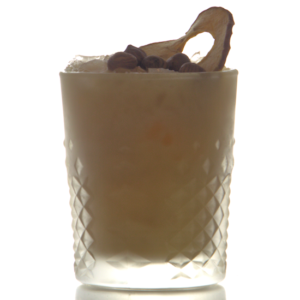 3 cl Daron Fine Calvados
3 cl Daron X.O. Calvados
1,2 cl Pierre Ferrand Dry Curacao
3 cl Lime Juice
2,25 cl Hazelnut Orgeat*
0,75 cl Simple Syrup
Shake – strain – chilled Old-Fashioned glass over ice cubes;
Garnish: Dried apple wheel – hazelnuts;
Song: Louis Armstrong – C'est Si Bon

*Hazelnut Orgeat
Add 100 g of grated hazelnuts to a pan – add 50 ml of water to the pan – bring to a boil – let simmer for 10 minutes – cool – strain through a cheesecloth – 20 g of sugar for every 10 ml of hazelnut milk – bring again to a boil – add 5 dashes orange flower water – cool and bottle;
Indeed, the taste of the "C'est Si Bon" is quite different from your usual Mai Tai. However, the combination of apple flavour and nutty hazelnuts is just perfect! Apart from a powerful hazelnut flavour, the homemade Orgeat also adds a very viscous mouth feel. While the orange curacao puts the emphasis on the sweet and fruity notes in the drink, the lime juice and simple syrup balance out the recipe. Therefore, the smoothness and flavour complexity of the drink will satisfy calvados fans, and hopefully also rum drinkers alike!
*The fact that I received a product reviewed in this article for free, did not – in any way – influence the rating of said product.