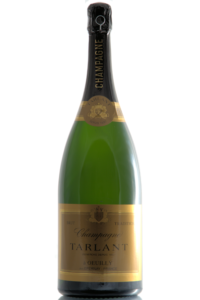 The second bottle of wine I will present to you this year also comes from the champagne region. Today, besides the excellent cuvée, the special feature this time is the size of the bottle. The Tarlant Tradition from the classic range of the champagne house comes in a magnum bottle. Let us see if the bigger bottle results in a bigger taste experience.
The Tarlant champagne house has its roots in 1687 and the first cuvée the Carte Blanche was introduced in 1928. The Tarlant Tradition is a cuvee of two different harvests from 2012 and 2013. On top of that, it consists 56 % Pinot Noir, 39 % Pinot Meunier, 5 % Chardonnay. The grapes are grown on chalk, clay-chalk soil, sand, limestone and shells. The fermentation is done in temperature controlled stainless steel tanks and the reserve wines used in the cuvee are aged in oaked barrels. After disgorging a dosage of 8 g / litre is added to the cuvée.
Yellow fruits and slight yeast notes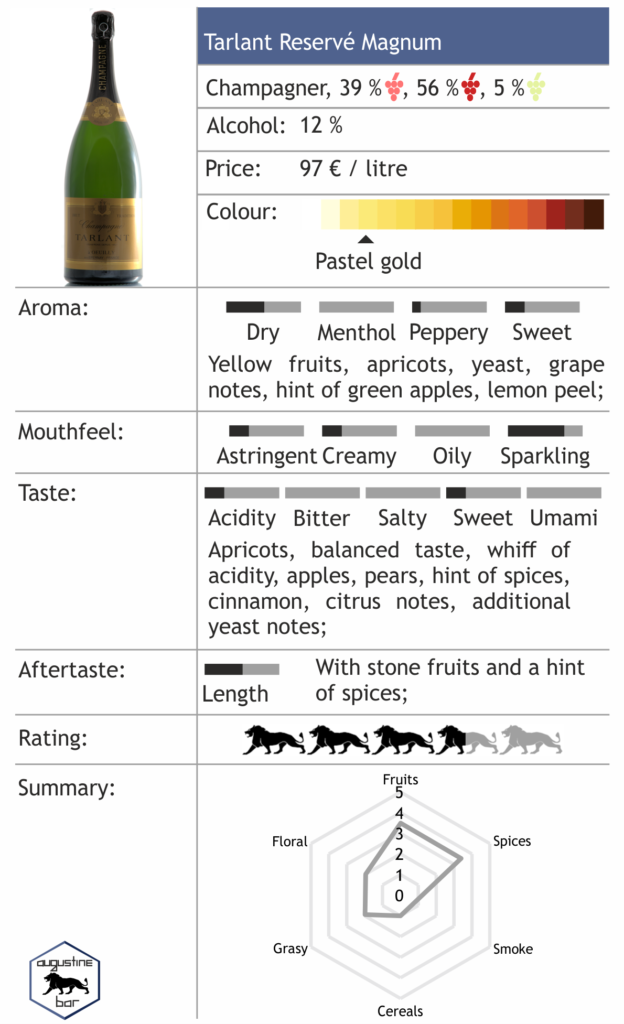 Unfortunately, we could not do a direct comparison between the regular bottling of Tarlant Tradition and the magnum bottle. However, I at least imagine that there is a difference. In my opinion, it comes in the form of more yeast notes and a "riper" flavour. Apart from that, there are also a lot of yellow fruit notes, especially apricots and maybe even peaches. I do not know if this is also due to the bigger bottle, but the Tarlant Tradition also is very well balanced. There is just enough acidity to balance out the dosage and just enough aged champagne and wine notes to give the champagne a proper backbone. On top of that, it is reasonably priced and I would buy it again instantly!
Following my guide to the different levels of dosage in champagne, today it is all about the different sizes of bottles. In addition to the greater prestige, there are also practical and flavour reasons for smaller and larger bottles. The practical reason for this is that on some occasions a normal 0,75 l bottle is too much wine, especially for two people. However, 1,5 l and 3 l bottles supposedly offer better taste experiences. The 1,5 litre magnum bottle in particular probably has the best size for storing champagne, as it has a perfect air-to-wine ratio. Yet, when you look at bottles beyond the double magnum, they are no longer fermented in a single bottle, but are made into a cuvée from smaller bottles. On top of that, there are even bigger bottles beyond the Balthasar, but they are extremely rare and there is a high risk of breaking.