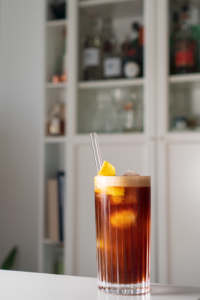 You can basically make an eau de vie out of a lot of things, even out of beer. In this case, the IPA eau de vie comes from the Franconian beer capital of Bamberg. This is especially interesting when considering that the base for the spirit comes from a new beer start-up.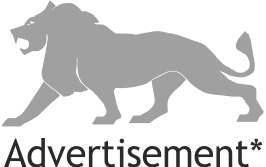 Benedikt Steger wanted to study something, but in the end he decided that he instead wanted to do something with beer. So, after his formal training as a maltster and brewer, he worked in Berlin, London and Paris. When the Paname Brewing Company reached its capacity limited, Benedikt started brewing their beers in Gundelfingen at the Camba Brewery. This also is where his current beers are brewed. The Doldensau IPA eau de vie is distilled from the beer with the same title. The Doldensau was hopped twice with Magnum, Denali, Simcoe, Cascade, Mosaic and Amarillo hops. It has an original wort with 16,8 ° Plato. It is bottled at 7 % ABV with 40 IBUs.
Fruity with hop notes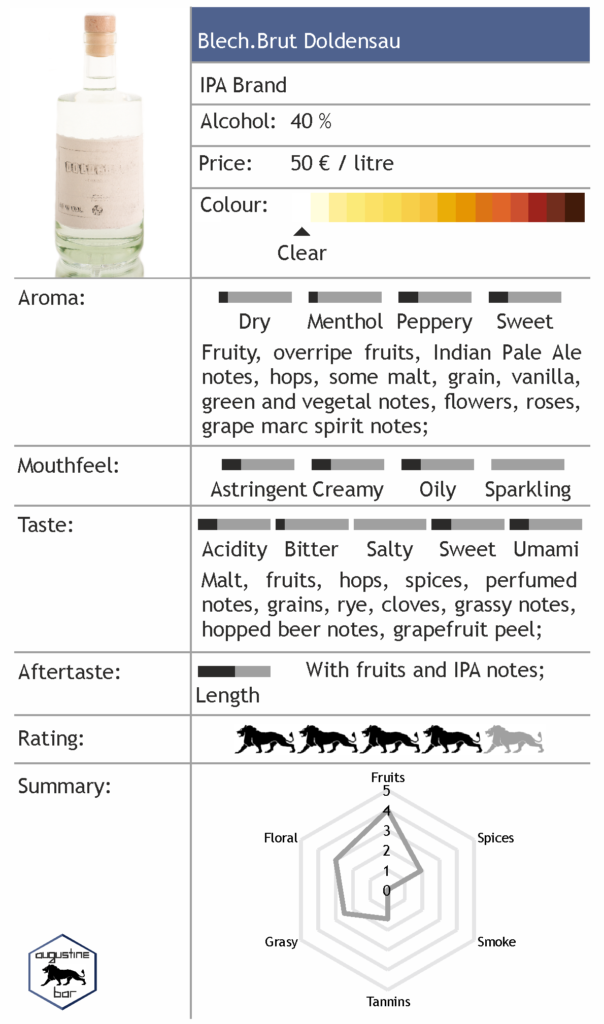 The IPA eau de vie is fruity with hints of malt. Apart from that, you can find some flower notes reminiscent of roses. The taste reminds me of a rye white dog with some grassy notes. With beer eau de vies the hop notes can be overwhelming. However, with the Blech.Brut Doldensau, the hops are very well balanced with clear grapefruit peel flavours.
Basically a Tom Collins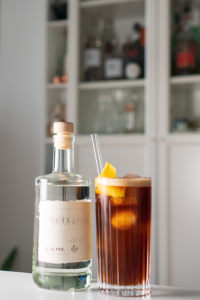 For a drink I decided to create a Tom Collins variation. Therefore, I combined the Blech.Brut with a stout from another brewery near Bamberg. On top of that, I added some quinquina notes. The Schwärzla is relatively smooth for the Stout. It is top-fermented with Pilsner, Munich Typ 2, Carafa Typ 2, Carabelge and Special W malts. The hops used are Spalter Perle and Hercules. For a stout the Weiherer Schwärzla is relatively smooth, almost too smooth. Yet, this makes a relatively thirst quenching dark beer also suitable for hotter days!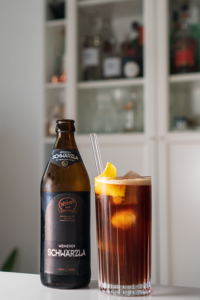 4,5 cl Blech.Brut IPA Eau de Vie
3 cl Rinomato Americano
2 cl Lemon Juice
0,75 cl Simple Syrup

Top off with Weiherer Schwärzla Beer
Shake – add beer to chilled highball glass over ice – strain drink;
Garnish: Lemon twist;
Song: Hamilton Leithauser + Rostam – In a Black Out;
Although it might not seem like it, the drink is very refreshing. The Doldensau harmonizes very well with the Stout. The quinquina balances out the other dominant flavours in the cocktail. All in all, there are a lot of caramel notes with the grapefruit peel still noticeable.
Floral and citrus notes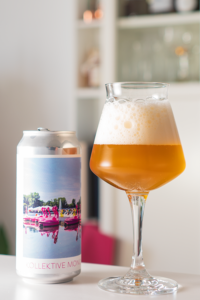 Benedikt has been kind enough to provide me with a can of one of his beers. The Kollektive Monologie is an IPA made from malted barley, malted oats and wheat malt. The hops used are cryogenically dried Amarillo, Citra and Mosaic as well as Simcoe. Contrary to Benedikt's other beers this one is brewed by Binkert from Breitenguessbach. The beer is very fruity, but brings more to the table than the usual IPAs. You can find quite a lot of floral notes in the taste.
*The fact that I received a product reviewed in this article for free, did not – in any way – influence the rating of said product.