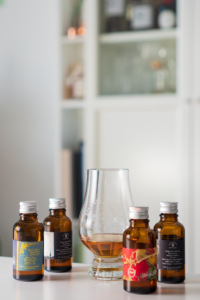 You can say many things about the folks at Whic.de, but that they are lazy is not one of them: Since my last review of their independently bottled whiskies they already released four new ones! Two of them belong to their "Amazing Whiskies" series and the other two to their "The War of the Peat" edition. So, let us see how the different bottles turned out.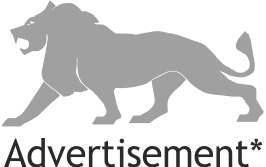 First, we begin with the "lightest" single malt of the four. The Glenlivet 12 Years comes from a first fill Sherry cask and is bottled at a drinking strength of 46 % ABV. Glenlivet probably does not need an introduction. After all, it is one of the most famous single malt distilleries. Everything about the operation is big, they have a 12 t mash tun, eight 59000 l fermenters and 14 stills with the beer stills having a capacity of 15000 litres and the spirit stills 10500 litres. As always with Whic.de bottlings, the single malt is neither chill-filtered, nor coloured. The amazing thing about the whisky is that you instantly sense the Glenlivet distillery character. For me this comes in the form of pear notes and a few hot spices and black pepper. However, while I am a big fan of sherry-cask whiskies, the 12-year-old seems a little unbalanced. There are some other flavours for instance dark berries, but the hot spices dominate the taste of the Glenlivet. Nevertheless, this is not at all a bad whisky!
Young and smoky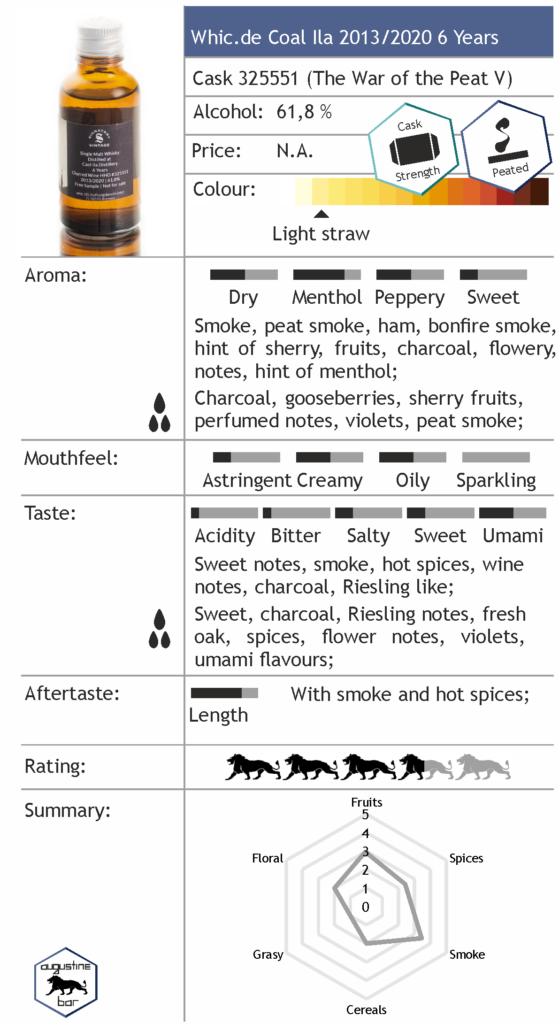 The next bottle is a six-year-old Coal Ila. Even when Coal Ila is not the most sought after distillery on Islay, it is the biggest one. It has six pear-shaped stills ranging from 12500 litres to 19000 litres. The "War of The Peat" bottling by Signatory was distilled 2013 and spent its time in a charred wine cask. It comes at a whopping ABV of 61,8 % without added colouring and it is not chill-filtered. While you get an instant punch of smoke in the nose, the smoke notes are multilayered. You can find bonfire and peat smoke as well as some cold charcoal in the flavour. Yet, besides some additional red fruits from the wine barrels, the whisky still is a bit young with a slightly metallic taste.
Spicy sherry fruits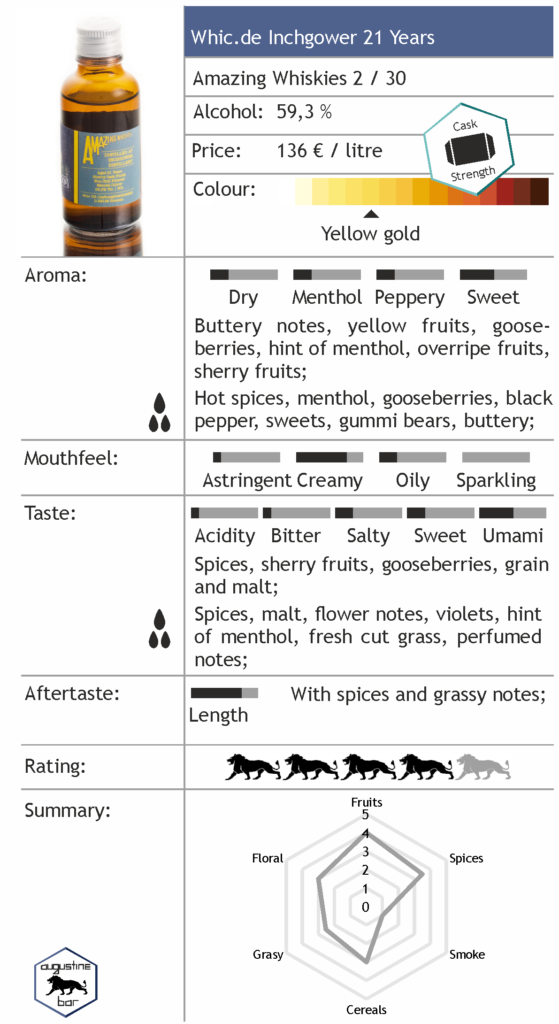 Now the next sample was a first for me. I never had a single malt from the Inchgower distillery. This Speyside distillery uses an eight ton mash tun, six fermenters with a capacity of 40500 litres and two beer and two spirit stills. The stills can hold up to 12500 l and 7236 l respectively and have a pear shape. The malt used at Inchgower is unpeated, and they usually use a mix of sherry and American oak casks. In this case, the Amazing Whiskies bottling is a 21-year-old single malt with a sherry finish. It is bottled at 59,3 % and non-chill-filtered without added colour. While the whisky has an aroma of yellow fruits, gooseberries and black pepper, in the taste flower notes take over. It is quite complex and the sherry fruits do not overwhelm the other flavours of the whisky. So, I enjoyed the Inchgower a lot and will be looking forward to trying more whiskies from this distillery.
Smoke, but not from Islay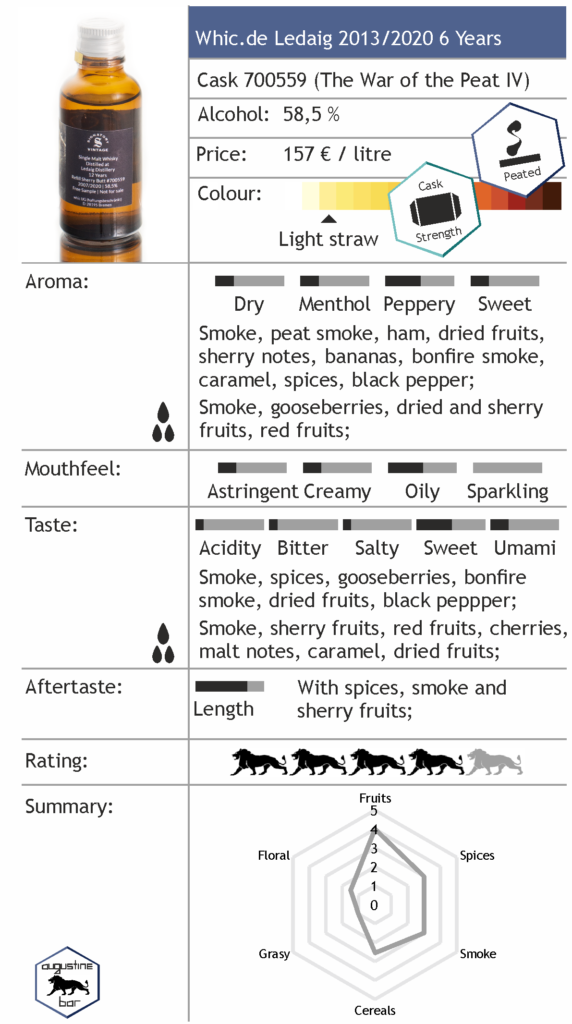 Another smoky whisky from Whic.de's "War of the Peat"-series is a Ledaig 12-Year-Old. This whisky from the Isle of Mull is the peated version of Tobermory single malt. They use a five ton mash tun, four 23000 litres fermenters and four stills with 18000 l and 16000 l. "The War of the Peat IV" is aged in a re-fill sherry cask and bottled at cask strength with 58,5 % ABV. Usually, I am not the biggest fan of Tobermory / Ledaig whiskies. However, the Whic.de bottling comes with a lot of sherry and red fruits, even some cherry notes, besides the powerful smoke. This is why I can highly recommend this bottle for lovers of peated sherry-cask whisky!
*The fact that I received a product reviewed in this article for free, did not – in any way – influence the rating of said product.