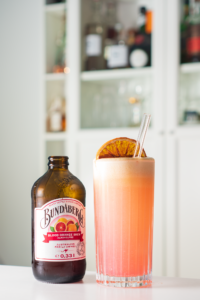 There are a lot of regulations when it comes to bourbon whisky. Nevertheless, this does not keep distilleries from experimenting with cask finishes. Yet, mostly smaller distilleries were doing it. With the Legent Bourbon it is Jim Beam who finish their bourbon in sherry and wine casks. On top of that, the whisky also celebrates the Japanese whisky tradition and knowledge with a special collaboration.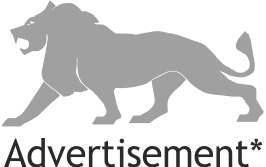 First, things first: The Legent Bourbon is a creation of Jim Beam's Master Distiller Fred Noe and Suntory's Chief Blender Shinji Fukuyo. The whiskey starts off with Jim Beam's classic mash bill of 75 % corn, 13 % rye and 12 % malted barley. The mash is then distilled on high column-stills. After at least four years in new, charred American oak barrels it is allowed to call itself a Kentucky Straight Bourbon Whisky. However, the special thing about the Legent is that the production does not stop there. Next, a part of the bourbon is aged in red wine and sherry casks. Just before Shinji Fukuyo blends the different parts with more bourbon. The Legent is then chill-filtered and bottled at a slightly higher ABV of 47 %.
Typical bourbon with atypical additions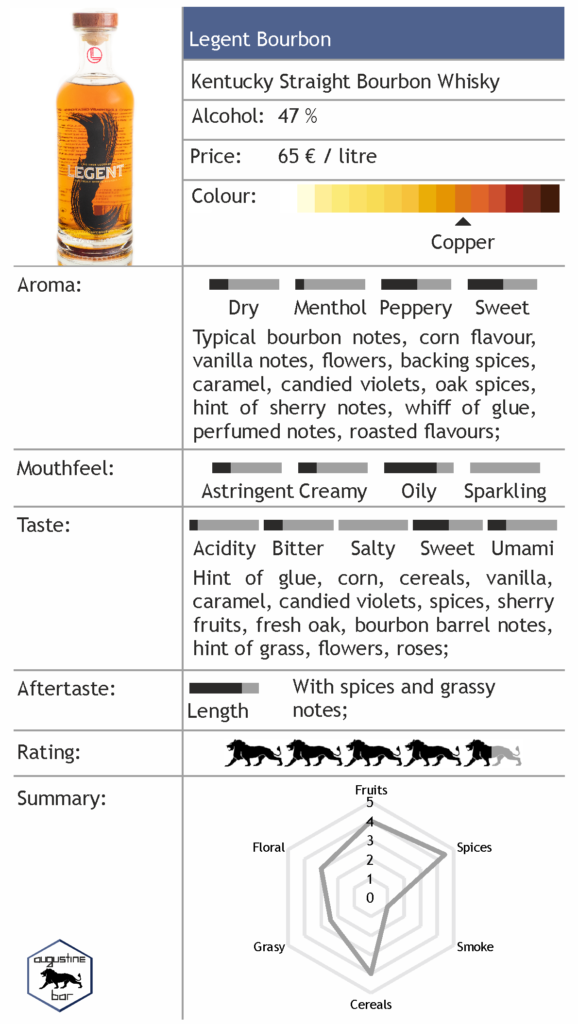 When trying the Legent Bourbon you first notice typical bourbon notes of corn, backing spices and a hint of glue. Yet, there is more to the bouquet and taste than the first impression would suggest. On second glance, you can find sherry notes of dried fruits and also flavours reminiscent of brandy. Despite the higher alcohol content, the bourbon is very smooth, without lacking complexity. Despite the fruity components, the whiskey reminded me of the Knob Creek Single Barrel Bourbon. In conclusion, I enjoyed the Legent very much and was a little surprised by its distinct floral notes.
Not just one, but two cocktails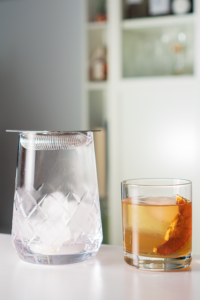 My initial idea was a play on the White Boulevardier cocktail. Instead of gentian liqueur, I used the extravagant Aqua Bianca Liqueur from De Kuyper and Salvatore Calabrese. The liqueur is a recreation of a recipe from the 1800s. It includes peppermint, rose, lemon, citron, bergamot and ambergris. However, you have to be careful with the liqueur. It has quite powerful perfumed notes, which can easily overwhelm the drink. Besides, the Aqua Bianca I combined the Legent Bourbon with Mancino vermouth and bitters for the Boulevardier variation.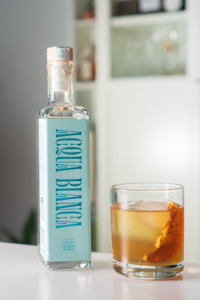 4,5 cl Legent Bourbon
2,25 cl Aqua Bianca
3 cl Mancino Bianco Vermouth

2 Dashes Bittermen's Transatlantic Bitters
Stir – strain – chilled Double Old-Fashioned glass over ice ball;
Garnish: Dried orange half;
Song: Shakey Graves – Not Everything Grows;
The "Not Everything Grows" reminds me of a "White Negroni" variation with Italicus. The flower notes of the Aqua Bianca work well with the candied violet and rose flavours from the Legent Bourbon. Yet, when I saw the blood orange brew by Bundaberg, I just had to create another drink with the Legent Bourbon. Therefore, I made a fizz style cocktail using blood orange marmalade as a sweetener. Apart from that, I also included Aqua Faba to give the drink a proper frothiness and mouth feel. The drink results in a very refreshing cocktail with a lot of blood orange notes.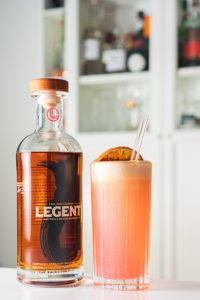 6 cl Legent Bourbon
3 cl Lemon Juice
2 Bsp. Blood Orange Marmalade
0,5 Bsp. Simple Syrup
1,5 cl Aqua Faba

Top off with Bundaberg Blood Orange Soda
Dissolve marmalade with a little water – shake – add soda to highball glass with long ice cube – strain drink;
Garnish: Dried Blood Orange Wheel;
Song: Sundara Karma – Rainbow Body;
*The fact that I received a product reviewed in this article for free, did not – in any way – influence the rating of said product.