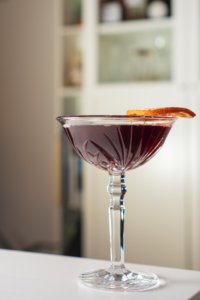 It's been a while since my last calvados review here on the blog. I also did not feature a Manhattan variation for a while now. Although, the Manhattan is my second favourite cocktail, right after the Negroni. On top of that, I also have a very interesting new bitter to introduce to you, the Bittermen's Transatlantic Bitters.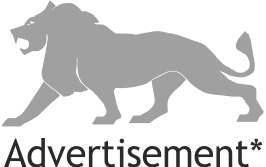 The Coquerel Calvados dates back to 1937, when Réne Gilbert founded Calvados Gilbert. However, when the company settled down in Manoir du Coquerel, the name changed to Calvados Coquerel. If you want to find out all there is to know about calvados, I suggest you read the excellent article by Sepo Galumbi. While it is allowed to use pears in calvados, Coquerel Calvados only uses a blend of different apple varieties. Around 8,5 kg apples are needed for one litre of calvados. Their X.O calvados consists of a blend of six to ten year old apple brandies which spent time in Limousin oak casks.
Spiced apples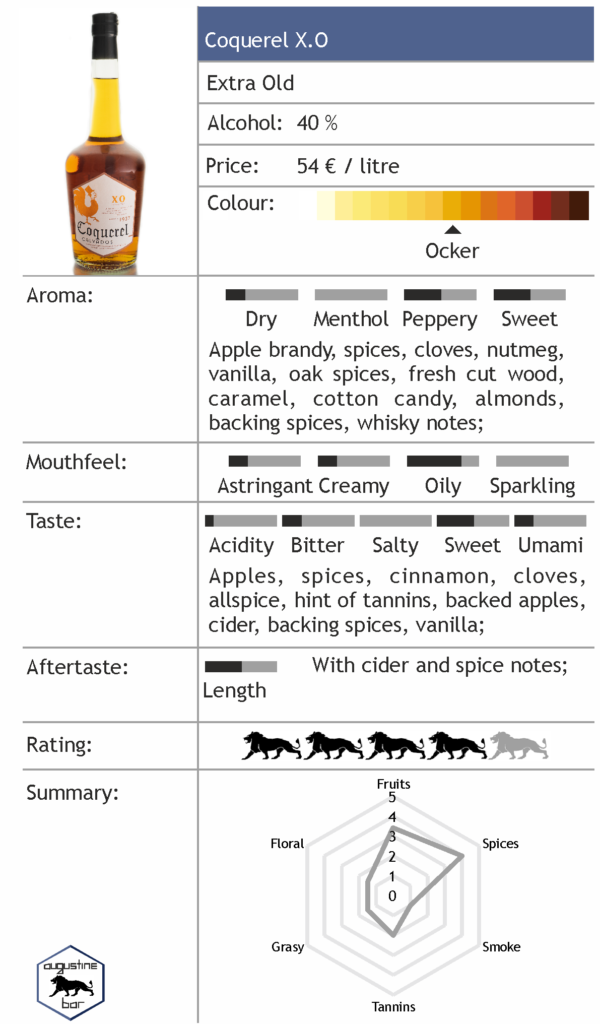 Although the Coquerel X.O is an older calvados, it still has some pronounced apple notes. On top of that, you will find quite a lot of spices in the sip. Especially, nutmeg, cloves and cinnamon. In the back there is a noticeable sweet vanilla note and even some tannins reminding me of apple peel.
Appletan?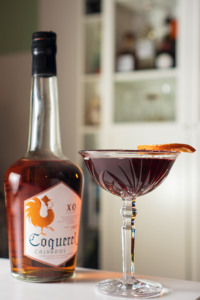 As mentioned before, I was in the mood for a Manhattan variation. While some time ago, I preferred my Manhattans on the drier side, I know tend towards a sweeter ratio. Do not get me wrong, a Perfect Manhattan still is a great drink, but sometimes I crave a smoother drink. In this case I started with a 1:1 ratio of Calvados and sweet vermouth, which resulted in a velvety, yet quite bitter drink. Therefore, I reduced the amount of vermouth a little bit. On top of that, the Bittermen's Transatlantic Bitters, really is bitter. It was created to pay homage to the great European and American Amaros and therefore it is quite bitter. So much in fact so that the resulting drink reminded me of the Hanky Panky cocktail. When it comes to the name of the cocktail, it probably was a good idea not to go with the Appletini reference…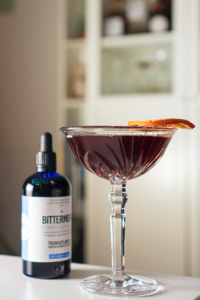 5 cl Coquerel Calvados X.O
3 cl Martini Riserva Speciale Rubino

3 Dashes Bittermen's Transatlantic Bitters
Stir – strain – chilled Cocktail glass;
Garnish: Dried blood orange wheel;
Song: Death Cab for Cutie – Transatlanticism;
Surprisingly, the drink gets mellower when using more high proof spirit. The calvados balances out the bitter notes of the vermouth and the bitters. It is quite complex with bitter notes reminding me of Cynar and a little bit of Fernet. The "Transatlanticism" really tastes like a apple forward Hanky Panky cocktail, without juniper notes of course.
*The fact that I received a product reviewed in this article for free, did not – in any way – influence the rating of said product.