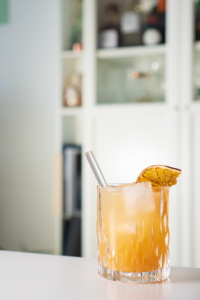 I actually wanted to create another White Negoni variation with the Woodland Navy Strength Gin. Yet, since in the past few months I heavily relied on Negroni variations, I scrapped that idea. Instead, I once more took inspiration from Joerg Meyer and made a variation of his "Mario Muratti" cocktail. It turned out to be the right decision!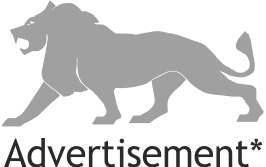 The Woodland Navy Strength Gin, is the high proof version of the regular Woodland Sauerland Dry Gin. The botanicals seem to be the same as with the 45,3 % ABV version and amongst others include bracket fungus, dandelion root, sorrel, fresh nettles and spruce tips.
Citus notes and juniper
Surprisingly, the effervescent powder note of the Woodland Dry Gin is a little bit subdued in the Navy Strength version. The first thing you will notice is noticeable juniper combined with stronger lemon notes. However, the stronger juniper flavour can be encountered often with Navy Strength gins. In the aftertaste you can even find some herbal notes reminding me of mint. Of course, you also can taste menthol, which does not come as a surprise giving the high alcohol content. All in all, the Navy Strength version is my favourite Woodland Gin so far. However, this is not surprising, because in my opinion "Navy Strength is always better"!
Rowan berries instead of Aperol
I have to admit that I never tried the original "Mario Muratti" cocktail. Nevertheless, it is rhubarb season and therefore I had to make rhubarb cordial! – That's just a natural thing I do each spring… Besides the almost classic Rhubarb Gimlet, I am always looking forward to try other cocktails using it. On top of that, while I do have Aperol on hand, I used Gölles Vogelbeer Bitters instead. I cannot help it, but I am in love with each of their products I tried so far.
3 cl Woodland Navy Strength Gin
3 cl Gölles Vogelbeer Bitter
3 cl Rhubarb Cordial

Top off with Sodawater;
Stir – strain – chilled Double Old-Fashioned glass over ice cubes – top off;
Garnish: Dried orange half;
Song: Bee Gees – Stayin' Alive;
The drink is very smooth and surprisingly drinkable for the high proof gin in the mix. You get a great blend of juniper notes, rhubarb and a slight hint of lemon. On second glance, you taste the rowan berry bitters, which do not have to proof anymore that they go well with juniper. In conclusion, the "Jim Moriarty" is a refreshing drink for hotter days, which goes down dangerously smooth…
*The fact that I received a product reviewed in this article for free, did not – in any way – influence the rating of said product. The glass straw was provided by Der Glastrinkhalm.