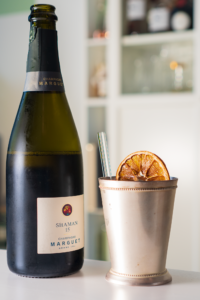 Of course, you can mix champagne cocktails with other high-quality sparkling wine. However, sometimes it just has to be the original. So, when I opened up a bottle of organic champagne from Marguet, I just had to mix a cocktail with it. As a base for my recipe I chose the Prince of Wales cocktail, because this royal drink seemed quite fitting.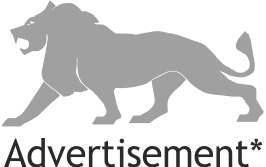 The Monteru takes a different approach to French brandy then most cognac producers: Their brandy comes from single grape varieties from the Charentes Maritime region. In this case the Cabernet Sauvignon Single Grape Brandy grown on limestone soil 15 km from the distillery. The vines which are 15 to 20 years old, yield 60 hl to 65 hl per hectare. The fermentation takes place with Bordeaux yeast at 16 °C for ten days. Afterwards, the wine is double distilled on Alembic pot-stills. The first ageing takes place in refill French oak casks for two years. Afterwards the brandy is transferred to refill American oak barrels. Overall, the barrels have a capacity between 350 l to 400 l. The ageing takes place in an 18th century stone cellar near the Atlantic coast with stable humidity and temperature conditions.
Almost a cognac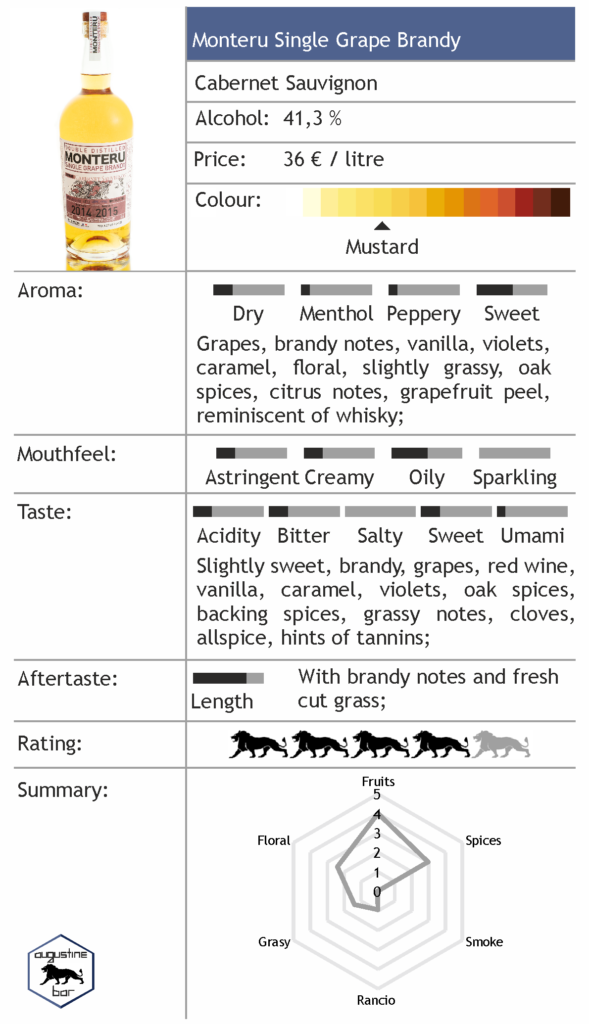 Apparently, a French brandy always has to compare itself to cognac. So, the Monteru stands up to this comparison quite well. It is less "sweet" than cognacs usually are. However, it also is a little less concentrated than cognacs usually are. Instead, it drifts off into whisky territory. There are a lot of oak spices I suspect to come from the American oak. This makes the Monteru quite dry, but it also has the typical violet notes.
Prince of Sherry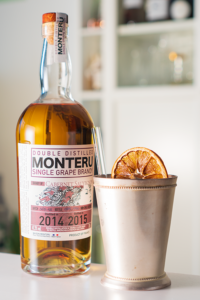 There are a lot of different Prince of Wales recipes. While the original contains rye or brandy and a liqueur, there are other ones out there which use Madeira, an oxidized fortified wine from the eponymous island. So, since I had an also oxidized style of sherry on hand, I thought to give it a go in a variation of that recipe. Palo Cortado Sherry is sherry designated to become Fino or Amontillado sherry. However, sometimes the layer of yeast in the barrel, the "flor", dies and the sherry oxidizes. In the "Joy & Eternity" I also included a few sprays of orange eau de vie to highlight some citrus notes in the drink.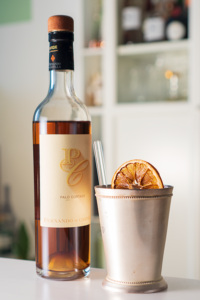 2,25 cl Monteru Cabernet Sauvignon Brandy
2,25 cl Palo Cortado Sherry
0,75 cl Simple Syrup

Spray glass with Haas Orange Eau de Vie
Top off with Marguet Shaman 15 Extra Brut Champagner
Stir – add some champagne to silver mugg with ice – strain drink;
Garnish: Dried Orange Wheel;
Song: Sundara Karma – Symbols of Joy & Eternity;
The "Joy & Eternity" cocktail, despite its booziness, is quite refreshing. The Zero Dosage champagne lends a certain freshness to the drink. Apart from that, the Palo Cortado sherry adds a certain nuttiness with the brandy lingering in the background and adding to the grape note of the cocktail. All in all, the drink succeeds in being a luxurious champagne drink with all the basic components of a classic champagne cocktail.
*The fact that I received a product reviewed in this article for free, did not – in any way – influence the rating of said product. The champagne was provided by Champagne Characters and the brandy by Vodkakultur GmbH.