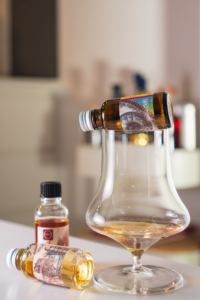 I have to admit, when it comes to independently bottled whisky, I am far from being an expert. However, it is always fun to try a new bottling and trying to find the distillery character in it. At the same time, I do not come around to write about such whiskies as regularly as I wish. This is why I am presenting three bottles from Whic.de in one article today.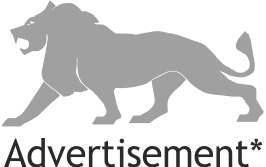 Floral and stormy
The bad news is, that by the time I finally get around to write about a bottling from Whic.de, they mostly are sold out already. Nevertheless, they really know what they are doing and I enjoyed every sample I got so far. The first whisky I want to introduce to you today, is a Single Malt distilled at the Glen Moray distillery in 2007. It was bottled after spending eleven years in a bourbon barrel Hogshead. The whisky is a single barrel bottling with the code HHD 5640 at cask strength. On top of that, the Glen Moray is neither chill-filtered nor coloured.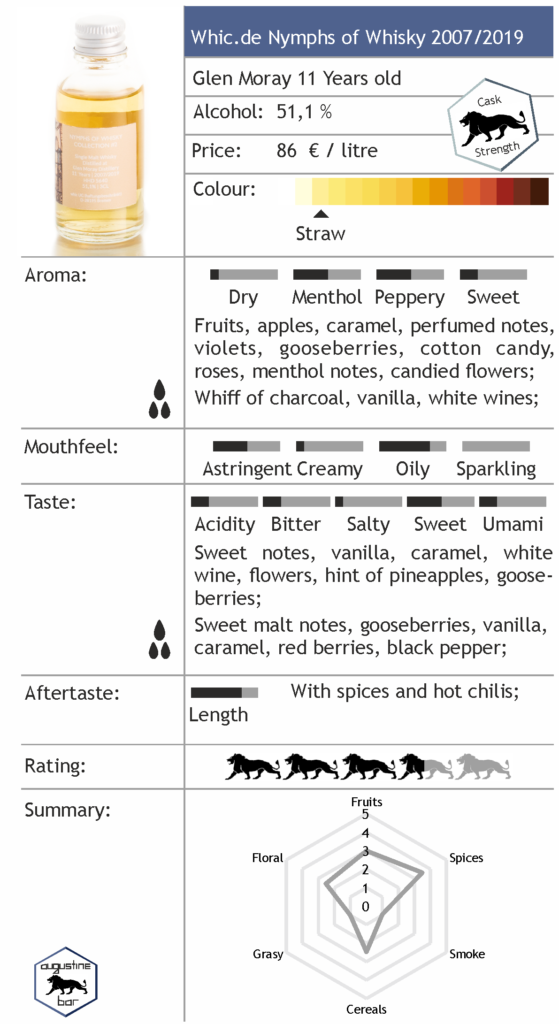 I already tried a Glen Moray bottled from Whic.de and it is surprising how different the two whiskies taste. However, there are also some similarities. Booth whiskies carry a gooseberry and exotic fruit note. However, I think the newer bottling is a little more turbulent and hast more menthol notes.
A lot of whisky for the money!
The next bottling I want to introduce to you is not a single malt, but a single grain whisky instead. The whisky was distilled at the Cameronbridge Distillery, one of the oldest grain whisky distilleries which is located in the Lowlands. There really is not more to say about this bottle, except that it comes at 57,6 % cask strength and that it is not chill-filtered and no caramel colouring is added.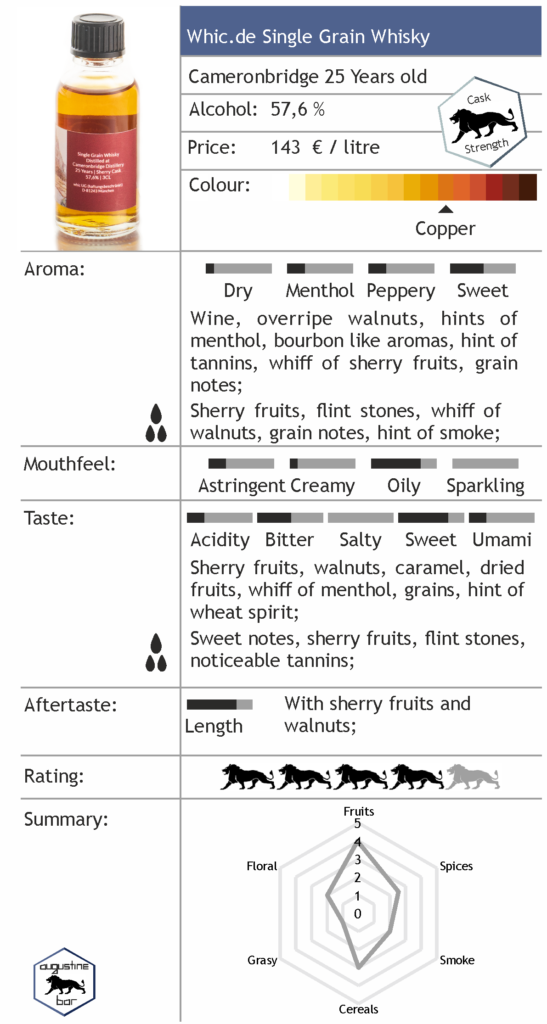 The crazy thing about this single grain whisky is its clear walnut note. I did not encounter such a distinct nut note with a high-quality whisky before. Apart from that nuttiness, you get a lot of sherry fruits and something which reminds me of bourbon. I guess it might be the grains in the mash-bill. However, in the aroma and the taste you can detect some tannins which is relatively typical for a grain whisky. Nevertheless, I really enjoyed the Cameronbridge 25 Years and for the price you get a lot of whisky!
Truly amazing!
Last, but not least, I tried the newest independent bottling from Whic.de from their new series "Amazing Whiskies". The first bottling in this series is a 22-year-old single malt from Glenrothes. It is aged in a sherry butt for its whole maturation time. Afterwards, it is bottled without colouring or chill-filtration. All in all, there are just 270 bottles of this Speyside single malt.
I am a sherry whisky fan. So, I do not have to tell you that a single malt aged in a single whisky barrel for over twenty years and bottled at cask strength is just right up my alley! Of course, you will find deep sherry fruits and some roasted notes reminding me of dark chocolate. On top of that, you can even detect some glue notes found in even older single malts. This is also a great example that whisky does not get "smoother" with age. Do not get me wrong for its 58,8 % the Glenrothes is almost smooth, but it is also complex and demands your attention. If you are looking for an easy sipper, get another bottle of whisky. However, if you are looking for a very complex, non-smoky, sherry-cask single malt get a bottle!
*The fact that I received a product reviewed in this article for free, did not – in any way – influence the rating of said product.