I do not completely recall where I picked up the idea for a mandarin Negroni, but I instantly knew that I had to come up with a recipe for it. So, when I found myself in possession of a "flavoured" vodka from a boutique distillery, I thought I give it a try in this drink. On top of that, I also wanted to use a natural bitter liqueur from Del Professore.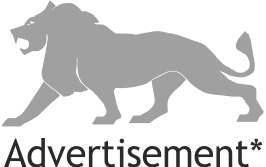 To call the Distillerie de Paris Vodka 75 India a "flavoured" vodka is somehow unfair, because it is made like a gin, but without the addition of juniper. The Distillerie de Paris is the first distillery to legally open in Paris for over fifty years. So, in the vodka inspired by the Parisian neighbourhood "Little India", the brothers Sébastien and Nicolas Julhès use Makrut lime leaves and peel, bergamot and Buddha's hand lemons amongst other spices to flavour their botanical spirit. The vodka is then bottled at 43 % ABV.
Complex citrus notes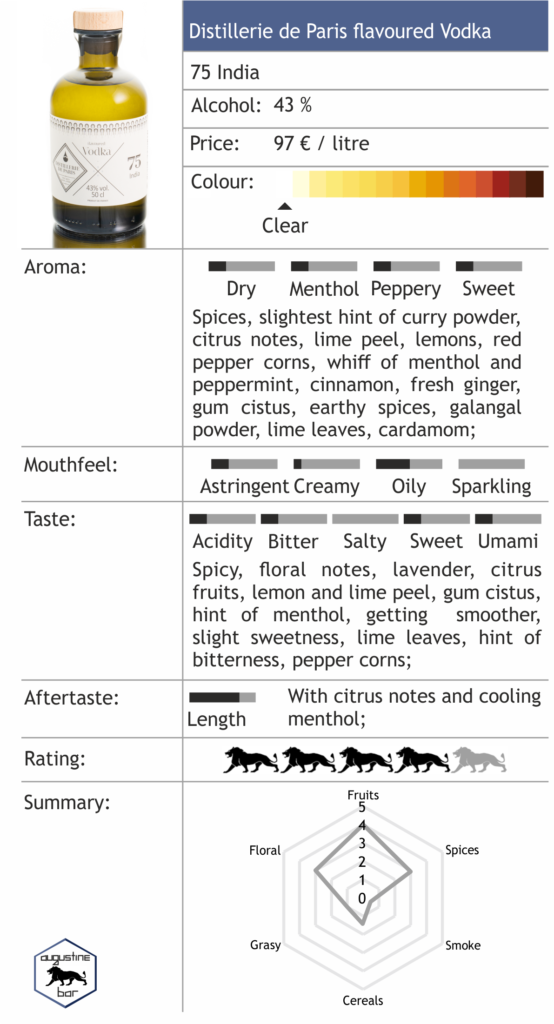 I like the Vodka 75 India especially for what it is not: A gin, it is brave to omit the obligatory single juniper berry necessary in the recipe for calling it a gin. In my opinion it is far more honest to call a spirit where you cannot find a juniper flavour something else. However, let us get back to the spirit in question. The vodka has clear spicy notes, but the next thing you will notice are clear-cut citrus notes. They remind me of lime and lemon peels, but at the same time they are far more complex. After a while you will also notice other spice notes, reminiscent of curry powder (just slightly) and gum cistus. I enjoyed the Distillerie de Paris Vodka very much.
Intriguing bitterness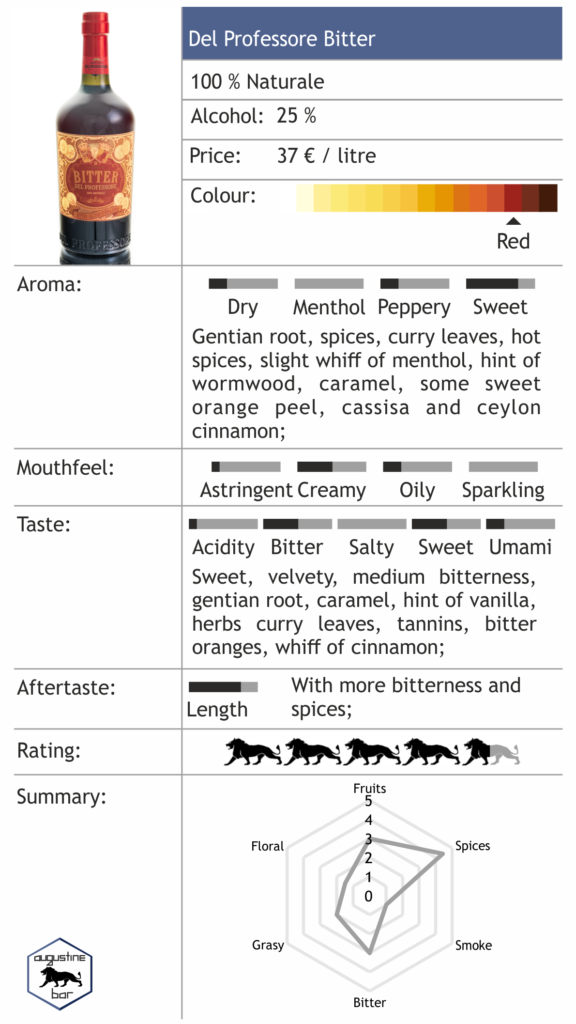 The second liquor I want to introduce to you today, is an Italian bitter liqueur set out to compete with Campari. However, in contrast to the omnipresent red bottle, the Del Professore Bitter only uses natural ingredients. These ingredients mostly include bitter oranges, wild gentian, rhubarb from the Lanzo and Soana valleys, juniper, cinnamon and cascarilla. The bitter is bottled at 25 % ABV. When sipping the Del Professore Bitter, you instantly notice that it is different from Campari. Most of it has to do with the fact that you can actually sip and enjoy it neat. It is not as bitter, or at least the bitterness is better integrated in the other flavours. To be honest, I fell in love with this bitter a bit. Combined with the natural ingredients, I am seriously considering buying this one instead of Campari in the future.
Count Mandarin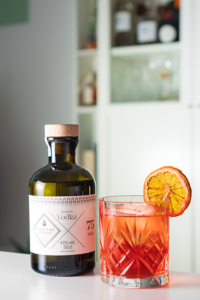 As mentioned above, I cannot clearly remember where I got the idea for adding mandarin flavour to a Negroni style cocktail. Yet, I think it was somewhere on Instagram. Nevertheless, I did not have to spend a lot of thoughts on which ingredients to combine. Since, I added flavour in form of a mandarin eau de vie, I also wanted to reduce the "loudness" of the other ingredients a bit. Therefore, I used the Distillerie de Paris Vodka which also complemented the flavour greatly with its citrus notes. The Del Professore Bitter also was a logical choice, because of its more balanced bitterness. Through its nice sweetness and herbal notes the Mancino Bianco vermouth also made sense.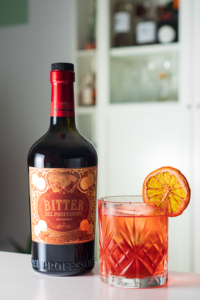 3 cl Distillerie de Paris Vodka 75 India
1,5 cl Gößwein Mandarine Eau de Vie
3 cl Del Professore Bitter
3 cl Mancino Bianco Vermouth

Stir – strain – chilled Double Old-Fashioned glass over ice;
Garnish: Campari-glaced Blood Orange Wheel;
Song: Júníus Meyvant – Manos;
Although the recipe might sound very similar to the original Negroni, the lack of juniper notes and the clear mandarin flavour take the "Manos" in a different direction. The drink is fresher and more suitable for hotter days. Combined with the more balanced bitterness the drink reminds me more of a cocktail made with Aperol instead of Campari. All in all, the cocktail beautifully showcases the "flavoured" vodka as well as the Del Professore Bitter. Both work very well together!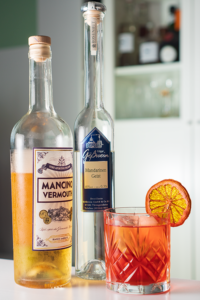 *The fact that I received a product reviewed in this article for free, did not – in any way – influence the rating of said product. The vodka was provided by Charles Hosie, the Del Professore by Kirsch Whisky and the Mancino Vermouth by Perola.