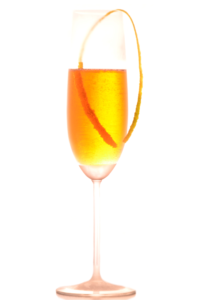 Every year before Christmas I am busy searching for wine to go with the Christmas dinner and since I am a bartender I try to mix things up a bit by throwing in a Cocktail or two.

This year I selected a Californian chardonnay to go along with the pumpkin soup, an Italian red wine to accompany the involtini and for dessert, which was a tonka-bean Crème Brûlée, I gave a choice of Pedro Ximenez sherry or Tawny port. That meant I needed an aperitif cocktail. Since I didn't have any dry Vermouth on hand I could not serve a Bamboo cocktail. It is one of my favourite aperitifs. So, I decided to create a new aperitivo.
All I knew was: it should contain sherry or port and a few bubbles didn't seem wrong, either.
I started off with port wine as a base and remembered that I had a few bottles of Prosecco left over from my birthday party last summer. I thought that the drink needed a little more sweetness, so I added a bit of orange curacao. Some bitters couldn't be wrong either. First I thought about going for peach bitters, but then decided to use some lemon bitters instead. Like with the French 75 the garnish that seemed to fit best was a large lemon twist.
All I needed for a complete Christmas aperitif cocktail was a name. Like almost every time when searching for a name for a new drink I browsed through my iTunes playlists and found a title that seemed suitable on my Christmas CD for this year. When I am talking about "my Christmas CD" it means, that there are no actual carols on it, just quieter and somehow solemn pieces of music. I really don't like Christmas carols…
3cl Quintas Do Infantado Tawny Port
0,5cl Pierre Ferrand Orange Curacao
2 Dashes The Bitter Truth Lemon Bitters
Top off with Villa Sandi Valdobbiadene Prosecco DOCG
Add first three ingredients to a chilled Champagne flûte – top off with Prosecco – stir briefly;
Garnish: Long lemon twist;
Song: The National – Sailors In Your Mouth
I admit that it's a rather heavy drink for an aperitif, because it starts off with the sweetness form the port and the liqueur. But the acidity of the sparkling wine and the lemon twist help balancing the drink out. Furthermore this is a fine example of how citrus peel can be more than a decoration. The peal gives the drink the freshness that it would otherwise lack. It is important that a dry sparkling wine is used in this drink, otherwise the balance will be lost.