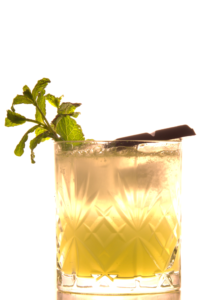 This is not the first cocktail I invented, but it is the favorite of ladies and friends. Though it is not that complicated – to be honest it's fairly simple, but yet a delicious and refreshing drink.

The inspiration for this drink came while reading an article at Bitters & Twisted about brown spirits and summer drinks. Dan Priseman wrote about how dark spirits can also be enjoyed in summer and he gives the recipe for the Jean Marc Collins. It's a combination of Cognac, St.Germain and mint. Well, I admit Mozart Dry is not the darkest of spirits, but I was intrigued by the idea of using mint in a Collins, so that's what I did. Moreover you could say that the drink is inspired by the Ramos Gin Fizz's use of both lemon and lime juice. But that might be a bit farfetched. The important thing is that it works and I never tried it with just one of the citrus juices. As for the Demerara sugar syrup: plain simple syrup works well, too. If you are a bit crazy like me, and you have chocolate mint at hand use it. It gives the drink a bit more complexity, but it is really not mandatory.
5 cl Mozart Dry Chocolate Spirit
1,5 cl Lemon Juice
1,5 cl Lime Juice
2 cl Demerara Sugar Syrup or Simple Syrup
8 Mint Leafs
Top off with Soda water
Slap mint before adding it to the shaker – shake – double strain – double Old-Fashioned glass over ice cubes – top off with soda water;
Garnish: Sprig of mint, cocoa and a piece of chocolate;
Song: Mos Def – Brown Sugar
Better don't ask how my friends came up with the name. It was something like: if you drink too much of it "the chocolate flavor 's gonna punch you in the face". Indeed we had a few that evening when I first made the drink. Since then it has become my obligation to stock Mozart Dry in my homebar at all times and to serve the drink at every cocktail-party I'm throwing. I cannot say I blame my friends it is a very refreshing drink. The chocolate note does not overpower the mint and a there is a subtle sweetness in the finish. Another important fact is that it works very well with the ladies. Now I'm not suggesting anything here, just make up your own mind about the drink! You really have to watch out not to knock them down like lemonade on a hot day, but is this a bad thing?