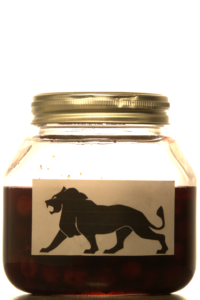 Do you really like the flavor of those pale pink cocktail cherries you get in every "cocktail bar"? – I thought so. That's why I am giving you this recipe to make the tastiest cocktail cherries at home. It's not as difficult as you might think!

Of course you can buy fresh cherries with the stem and pit still attached, you probably should do so. But as it is winter here it might be hard to find fresh cherries, at least without a carbon footprint the size of a car.
Therefore I am using cherries that come out of a jar and are already pitted. If you pick some up from the store take a good look at them and pick some that are a bigger than mine. That is just a matter of looks and not of taste though.
Now this is not the first time I made brandied cherries myself. I conducted a few experiments before. This might not be the easiest but certainly the tastiest way to make them.
Brandied Cherries:
250 g Cherries (pitted or not, that's your choice)
30 ml Lemon Juice
100 ml Cherry Juice (If you buy a jar, use the juice the cherries are swimming in)
80 g Sugar
1 Cinnamon Stick
60 ml Brandy or Cognac (I used Remy Martin V.S.O.P)
7,5 ml Orgeat Almond Syrup (Meneau)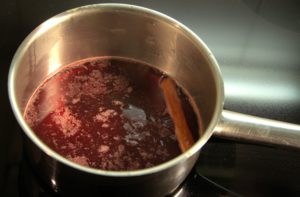 Heat cherry and lemon juice, sugar and cinnamon stick in a pan.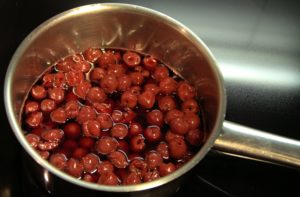 Add the cherries after the sugar is completely dissolved. Let simmer for five minutes. Turn off the heat and let the cherries cool down to room temperature.

Fill the cherries into a clean boiled out jar. Add brandy and orgeat. Close the jar properly and shake it a bit.
I added the cognac last to keep the alcohol from evaporating. This way you get the full brandy flavor and your cherries will stay fresh longer. You can replace the cognac with any other spirit, as long as it accompanies cherries well, or as long as you like it. Who am I to judge? For example I also made some Luxardo Maraschino cherries using the recipe above. However the possibilities are endless: Let me know what you come up with!
Here is an idea what to do with your remaining artifical cocktail cherries:
Cocktail Cherry Funeral