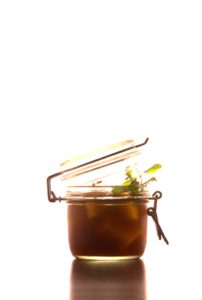 Need a drink to sip on hot summer days? Or do you just want to remind yourself of a warm summer on a cold winter's day? Here is the right thing for you!





Two summers ago the cocktail of the season for me was the Antica Torino Smash, which is kind of an oddity. It shouldn't work, because it is a combination of sweet vermouth and lemon juice. However it does work and in fact it's a glorious drink for warm summer days! Sometimes though you need a summer drink even when it is cold outside, the same way you need a heavy Scotch drink in summer sometimes. Just to remind you of another season and because you always want the things you can't have right now. Inspired by that curious combination I thought: "If vermouth and lemon juice go well together why shouldn't this work with other fortified wines?" This was around the same time I first tasted the Pedro Ximenez sherry from Emilio Lustau which is an amazing sherry. It has an unbelievable rich flavor of dried fruits, plums, oranges and nuts. There are a few good drinks out there which incorporate the PX sherry,
but I wanted to create a summer drink with it.
With the Antica Torino Smash as a base I threw out the Antica and added the PX sherry instead. I kept the mint and lemon juice, because I wanted to take advantage of their freshness. To give the drink a more distinguished flavor I came up with the idea of making an apricot jam myself. As I went shopping for apricots I wasn't satisfied with the quality of them so I bought vine peaches and nectarines, too. If you want to know more about the jam and how I made it check out the recipe.
6 cl Emilio Lustau Pedro Ximenez Sherry
3 cl Lemon Juice
2 Bsp. Stone Fruit Jam
2 Sprigs Of Mint
Slap mint before adding it to the shaker – shake – double strain – preserving jar or double Old-Fashioned glass;
Garnish: Mint sprig & a pinch of coffee spices;
Song: Nat King Cole – Adelita

The richness of the sherry shines through the drink like the warm breeze on a perfect summer's day. The second thing you will taste is the freshness provided by the lemon juice and a sort of cooling effect of the mint. If you use a healthy measure of jam you will taste the coffee spices, too. As for the name of the drink: This time I wasn't very creative, but the name bears witness to its origin. Also if it is a combination of lemon and mint it deserves to be called a smash. Even if the mint doesn't really need the smashing. A light slap between your palms is all it's going to take to release the essential oils. Actually it doesn't matter which time of the year it is this drink will very likely put a smile on your face!