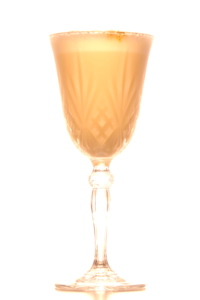 Ok this Game of Thrones reference is just stupid! Of course winter is not coming! On the contrary: The cold days may be over soon! Who says you can't still enjoy a winter drink?
Here you have mine: a version of the Baltimore Eggnog.

As a German speaking cocktail geek you are almost obliged to read and post in the cocktail forum called Cocktail & Dreams. Besides learning about the newest cocktail connoisseur trends you will also find out which spirit your home bar lacks and you instantly have to buy. Be advised there is some peer pressure going on!
Every once in a while a cocktail competition takes place and they are jolly good fun! At this point I should tell you that I am not a big fan of cocktail competitions. At least not the ones held by liquor companies. Why for heaven's sake do you have to write a story about your drink? – Get the irony here? Another reason is that most of my creations use homemade ingredients or at least some exotic ones. Therefore, my drinks wouldn't be allowed to compete in most of the sponsored competitions out there. What separates the C&D competitions is that you are free to use nearly every ingredient of your choice. There is a vote what base spirit or topic should be featured. If you want to submit a recipe you simply have to send it in before the deadline. The recipes are then anonymously published. Everyone who is willing to mix the cocktails that are up for discussion has a few weeks to rate them. The only requirement for a recipe to be accepted to the classification is that at least five ratings have to be submitted. This prevents people from entering recipes containing too exotic ingredients. It's a challenge though if you have everything on hand or can get it in before the deadline.
Thanks for bearing with me on this, because I think this drink, which won the winter drink challenge of the C&D forum, is worth it. I got the idea from Nightjar's Baltimore Eggnog. They use buttermilk instead of a whole egg. Of course their drink was far too complicated to be entered in a simple and fun competition like this, so I made things a bit simpler. Yes sometimes I can do that, too. First I wanted to use Bourbon infused with cardamom, cinnamon, cloves and star anise. I decided to do otherwise, because this reminded me too much of spiced rum and it didn't seem to be resourceful enough. Instead I made an orange infusion and added the spices in form of some healthy dashes of bitters. Apart from that I kept it simple just your regular winter drink ingredients like egg white and simple syrup.
4,5 cl Orange Bourbon*
3 Dashes Mozart Chocolate Bitters / Bittermen's Xocolatl Mole / Fee Brothers Chocolate
3 Dashes Angostura Bitters
4,5 cl Buttermilk
1,5cl Simple Syrup
1,5cl Egg White (One small egg white)
Shake first with ice – strain into second shaker – dry shake – fill into chilled Cocktail glass or small wine glass;
Garnish: 3 Drops of chocolate bitters – swirl;
Song: Stan Getz – Winter Moon
300 ml Maker's Mark (or Bourbon of your choice, don't go over 50% though)
1 Medium Sized Orange
Peal orange – remove all of white pith – cut into small slices – add to container – pour Bourbon on top – let sit for at least three days – remove oranges and bottle;

The aroma of the drink reminds me of advocaat and cold cocoa. When sipping the drink you first taste a combination of chocolate and Bourbon. After that a slight hint of acidity from the buttermilk is detectible, but it is soon joined by orange and spices. The aftertaste is sweet and aromatic with an intense chocolate note.
Because this drink doesn't contain any sort of wine, whole egg or cream my inner cocktail geek wouldn't let me call this drink an eggnog. To satisfy him I just used the title of a winter themed song that seemed appropriate.