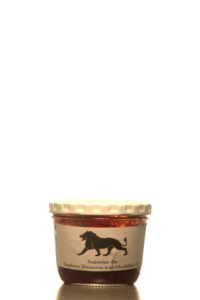 If I were you I wouldn't spend 10 bucks on one small jar of jelly. But if you want both raspberry and whisky in your jam you just have two options: clench your teeth and buy them damn jar or just make it at home.

Guess which option I went for? Right stupid question your reading this article so you already know the answer. As I already mentioned in the post about the Sidecard cocktail I simple couldn't believe how expensive this stuff is. The cheapest price I found was more than ten euros including shipping charges. The only logical thing to do was to make it myself.
Now I didn't calculate the actual cost of buying the ingredients and making the jam at home, but it was something about five euros for an amount that yielded 1 kg of jelly.
500 g Frozen Raspberries
500 g Gelling Sugar (1:1)
1 Vanilla Bean
30 ml Lemon Juice
60 ml Glenfiddich 12 Years Single Malt
Defrost fruits and purée them. Mix with gelling sugar. Cut vanilla pot on its side. Add lemon juice and vanilla bean to fruit and sugar mix. Bring to boil while constantly stirring. Let simmer for four to five minutes. Add whisky at end of cooking time. Stir vigorously. Remove vanilla bean. Fill jam into jars washed out with boiling water. Turn glasses upside down. Let cool to room temperature.
Again you could just eat the jelly on your pancakes, but wouldn't that be a waste? Just mix a Sidecard or a whisky sour with jam instead of simple syrup.
The goal when making the preserves is that the whisky doesn't overpower the flavor. It should just be there to support the raspberry and vanilla aroma. If you like peated whisky you should try it here. Let me know if the smoky flavor goes well with raspberries!