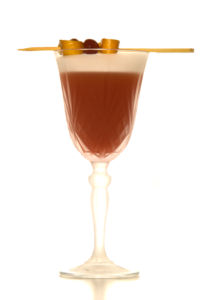 The Sidecar always tasted a bit unbalanced to you? – You think Cognac and Brandy are for elderly people? Maybe I can change your mind about that with this fruity and potent cocktail.



I have to admit the idea of adding ingredients to the classic Sidecar wasn't mine. I read about it in an article in Mixology magazine. I couldn't manage to find the article in my pile of Cocktail magazines, so I can't give you the name of the bartender that proposed adding kaffir lime leafs and whisky-raspberry jam to the sidecar, but that idea stuck with me. After writing the temporary recipe down, I forgot about it for a while. Only when I was pondering over what drinks to serve at my birthday party I remembered the drink.
First I had to get some raspberry jelly. I searched in almost every supermarket in my neighborhood and even went to a deli, but I couldn't find any that was made with whisky. After coming close to giving up I searched for it on the internet and was genuinely shocked by the price tag. However I wanted to use the raspberry-whisky jam anyway. Therefore, I decided to make it myself. You can read how to make it here.
With this obstacle out of the way I thought that Armagnac would suit the drink better than Cognac. Its bolder flavors could better stand up to the fruitiness of the berries and the spice of the kaffir lime leafs. The lime leafs were leftovers from making a lime cordial some time ago, so I was set in this department.
When testing the cocktail before my party I was quite pleased with it. It was better balanced than the original, but the woody flavors off the brandy and the tartness of the orange curacao did let you know where it was coming from. Only one thing was wrong with it: it tasted very dry and sour. The jam couldn't provide enough sweetness to balance out the acidity of the lemon. I figured that this could also be a problem for my guests, because sweeter cocktails are usually more approachable. The simple solution was to add a bar spoon of simple syrup.
6 cl Montesquiou V.S.O.P. Armagnac
1 cl Pierre Ferrand Orange Curacao
3 cl Lemon Juice
2 Bsp. Raspberry Preserves With Glenfiddich 12
1 Bsp. Simple Syrup (2:1)
3 – 4 Dried Kaffir Lime Leafs Or Curry Leafs
Shake – double strain – chilled cocktail glass;
Garnish: Brandied cherry or orange filet in bourbon – kaffir lime leafs;
Song: Jacques Brel – Les Bourgeois
The name of the drink isn't an outburst of creativity, but it bears resemblance to the Sidecar and I created the drink when I was watching the How I Met Your Mother episode where Ted and Barney open a bar. Or should I better say try to open up a bar? They call it: Puzzles. This is where the (card) game theme for the name comes from. A puzzle is a game, a bar with this name presumably would have drinks on the menu that relate to this topic. "Card" in the name of my drink seemed appropriate. – I don't know if any of this makes sense to you, it probably doesn't. For the sake of it let's just say I couldn't find a better name and leave it at that.
Onwards to the description of the taste: The raspberries are the dominant flavor in the drink, but they are kept in check by the dryness of the Armagnac and the lemon juice. The kaffir lime leafs add a spicy exotic aroma to the aftertaste. However don't underestimate the power of this potion due to its girly color! Containing two oz of spirit this is a rather strong drink.
When I was taking the picture for this article I had run out of kaffir lime leafs, but discovered some curry leafs I couldn't make any use of before. I just tried the recipe with them and found that they bring more spiciness to the mix. Therefore I am going to mix the cocktail with them from now on.
Just a quick comment on the song that goes with this drink: It's from the Belgian chanson singer Jacques Brel. He is most famous for his song: Ne Ma Quitte Pas. While I am usually not a fan of French songs I like his music, because it is a bit crazy sometimes.
In this case the song is about a drunken night out, where the singer and two friends who call themselves Voltaire and Casanova insult the "bourgeois". While I don't suggest that you get drunk and show your bottom to some rich people, I found this French drinking song to be appropriate for this cocktail. After all it is quite possible to get some stupid ideas after consuming too many Sidecards.
Coincidentally this month's Mixology Monday is about preserves! So the Sidecard will be my entry for MxMo, check out the other recipes and the announcement post over at A World Of Drinks! Hopefully you will be encouraged to submit your own recipe.