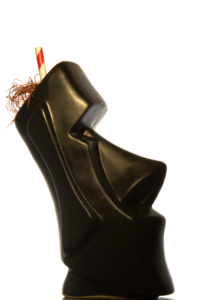 Reinvented might sound a bit exaggerated, but with all these different zombie recipes floating around I think it is ok to add one of your own. After all, Tiki drinks call for a little experimenting. Maybe more than other styles of cocktails.

I had this idea for a Cuban Zombie for a while now. Yes I know Doug is probably going to hate me for this, because like any law-abiding US citizen he can't get his hands on any Cuban rum. However, Cuban rums were the first ones I mixed with and I have been to Cuba, too. So I will always be fond of them, even though I admit that there are better ones out there. I can't even tell you if you really notice the three different rums in this drink. The two aged ones taste a lot alike. What you will definitely taste are the other ingredients I added, because they really make a difference compared to the original Zombie.
I wanted to keep all essential attributes of a Zombie, but they should work together in a different way. So the recipe had to use a lot of rum and a combination of cinnamon, absinthe and citrus flavor. First I wrote down the original 1934 recipe for the Zombie. As you know three is a magic number, so I kept the number of three different rums. I just switched them for Cuban. At first I wanted to use the only high proof Cuban rum I know the Havana Club Selection De Maestros, but I scraped that idea very quickly after seeing the price. Instead I went for a combination of unaged, seven and nine year old rum. Instead of Falernum, a Rum liqueur, I used… of course a Cuban one. It's called Elixir De Cuba and basically tastes like very sweet rum with toffee and dried fruit notes. The herbal absinthe like flavor should be provided by another Elixir, Elixir De Vegetal from Chartreuse. The original Zombie uses a secret ingredient known as Don's Mix which is a combination of cinnamon syrup and grapefruit juice. Of course I had to make a MJM's Mix of some sort that was similar in flavor, but still different. In the end my choice was a combination of blood orange juice and Fee Brother's Whisky Barrel Aged Bitters, which have a strong cinnamon flavor. I don't want to keep secrets from you therefore I will tell you the whole recipe: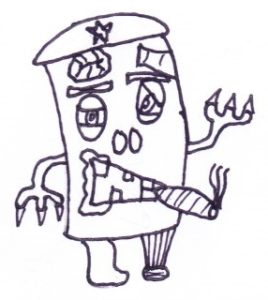 3 cl
Havana Club Blanco Rum
3 cl
Santiago De Cuba Anejo Rum
3 cl
Legendario Anejo Rum
1,5 cl
Legendario Elixir De Cuba
4 Dashes
Chartreuse Elixir De Vegetal
4 Dashes
Fee Brother's Whisky Barrel Aged Bitters
2,25 cl
Blood Orange Juice
2,25 cl
Lime Juice
0,75 cl
Simple Syrup (2:1)
Shake over ice – strain – Tiki mug over crushed ice;
Garnish: Brandied Cherry, chili threads and Campari dust;
Song: Chet Baker – A Night On Bop Mountain
As I said before the drink reminds me of the Zombie, but with the bitters, Chartreuse and blood orange juice it is distinctively different. You can almost taste every ingredient for its self, but without them fighting each other. Now I'm not saying it's as perfect as the Winchester, which is my favorite Tiki drink, but it comes pretty close.
This time it was a harder to find a suitable song, because all Cuban songs I know are too cheerful and not scary at all. And you should be scared a bit, the cocktail contains nine cl (three oz) of rum after all. Now the Chet Baker song is not that scary and neither that Cuban, but the drums kind of remind me of Caribbean music. Like the cemetery scene from "Live And Let Die". I just imagine a tipsy Zombie trotting Havana's Cementerio Cristóbal Colón when listing to this song. But, that's just me, let me know what you think!