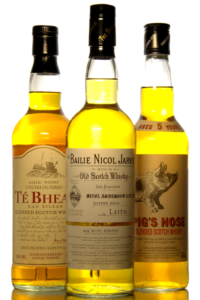 The series of (hopefully) useful consumer advice continues. This time it's all about blended scotch whisky. Maybe this section of whisky is often overlooked, due to it's famous brothers bourbon and single malt, but in the last years some new interesting products were introduced. Follow me as I take a closer look at three promising contenders!
Sure, you could continue buying your Johnnie Walker Black Label and mix your Rob Roys with it! To be honest, there is nothing wrong with that. The Black Label is a good and genuine product. However, the question arises: Are there maybe equally good, or even better ones out there you can get for the same, or even less money?
To answer this question I sacrificed myself and bought three contenders: The Bailie Nicol Jarvie, which I first encountered over at Starchefs.com. The Pig's Nose, which I saw Jamie Boudreau using on Small Screen Network and last but not least the Te Bheag, I read about in an interview with Reinhard Pohorec.
The Bailie Nicol Jarvie is eight years old and made by Glenmorangie. It is named after a character in the Rob Roy novel and is said to contain 60% Single Malt, from the Highland, Speyside and Islay region, and 40% grain whisky from Ayrshire. I am guessing that the Islay part of the blend is Ardbeg, because they are owned by LVMH, too and because I got a certain "Ardbeg taste" when tasting it. Actually I have no idea what the Speyside single malt in this blend could be, but this guess-the-malts-in-a-blended-scotch-game is nonsense, anyway.
On to the Pig's Nose then! I have to say, the level of information you get about this blended scotch whisky is astonishing: it is produced by the Spencer Field Spirits Company and was composed by whisky legend and master blender Richard Patterson. The grain whisky comes from Invergordon and is supposed to be the lightest grain whisky there is. Moreover, it is made using five single malts, three from the Speyside region, one from the Highlands and one from Islay. Then it is aged for five years in oak-barrels, before it is bottled at 40%.
The last of the blended scotch whiskies I am going to test for you is the Te Bheag (pronounced: Tihe: Vek or something like that). It is blended by the Pràban na Linne Ltd. on the Scottish island Skye. The single malt content of this blend is 40%, it is peated, or at least some part of it is and it had spent some time in sherry-casks. I can't tell you if it is just the fact that it is from the island Skye, or if it actually contains Talisker, but it somehow reminds me of this malt whisky. Which, of course, is a good thing as well as the fact that it is unchillfiltered.
As a starting point I tried each blended scotch whisky neat. What I can say right from the beginning is that I definitely prefer single malt over blended scotch, when it comes to drinking it on its own. Be that as it may, below you will find my tasting notes and the score of each scotch whisky. Again the score ranges from 0 to 5, with zero being, "I can't drink that!" and five "best blended scotch whisky in the world!".
| | |
| --- | --- |
| Bailie Nicol Jarvie | Old Scotch Whisky |
| ABV: | 40% |
| Price: | ca. 30 € / Liter |
| Appearance: | golden – light brown, big windows, slow tears |
| Nosing: | wet dog, iodine like sting, salty, some smoke, caramel |
| Taste: | smooth, smoke, sweet caramel, slightly bitter |
| Rating: | 3,5 |
The first sniff of the Bailie Nicol Jarvie almost killed me! It had a nasty sting of iodine and smelled like a wet dog. After a little while the whisky settled down and became more approachable. The second sniff actually was way more pleasant and I never encountered the sting again when opening the bottle later. Like said before already the smell of the Bailie Nicol Jarvie reminded me of Ardbeg, but of course it isn't anything near the smokiness of the single malt. The Ardbeg reminiscence continued with the first sip of the scotch, but soon was smoothed over by a sweet caramel taste. For a blended scotch it was rather pleasant, without being overly complex.
| | |
| --- | --- |
| Pig's Nose | Blended Scotch 5 Years |
| ABV: | 40% |
| Price: | ca. 28 € / Liter |
| Appearance: | light brown, fast tears, small windows |
| Nosing: | sweet caramel, apples |
| Taste: | bitter, metallic, vanilla |
| Rating: | 1,5 |
Now, the slogan of this blended scotch is that it is "smooth as a big's nose" and well, it is! At least the aroma is, but when tasting it things aren't so smooth after all… You get quite a bit of metallic taste on your palate, combined with bitterness and some vanilla notes. If you ask me the metallic character is due to its youth and the bitterness due to the grain whisky. I know a lot of people think that grain whisky doesn't taste bitter, but if you worked your way through a bottle of Johnnie Walker Gold Label (of course not alone) you will notice some bitterness underneath all that blended scotch smoothness. Unfortunately in this blend there is not that much going on besides this metallic youth and therefore I don't really enjoy it.
| | |
| --- | --- |
| Te Bheag | Nan Eilean |
| ABV: | 40% |
| Price: | ca. 27 € / Liter |
| Appearance: | medium amber, fast tears, medium sized windows |
| Nosing: | smoke, caramel, spices, Sherry fruitiness |
| Taste: | smoke, caramel, spices, chilies, fruits, bitterness |
| Rating: | 3,75 |
The Te Bheag started off with a sherry and smoke aroma that I rather enjoyed. I was first inclined to say that it reminded me of Talisker Single Malt, but at least the regular expression isn't a sherry-cask whisky. The taste is similar to the smell with the only drawback being a certain grain whisky bitterness at the end. As you can clearly see on the rating score, this one was my favourite of the three.
Winner neat:
| | | | |
| --- | --- | --- | --- |
| | 1. | 2. | 3. |
| | Te Bheag | Bailie Nicol Jarvie | Pig's Nose |
| Rating: | 3,75 | 3,5 | 1,5 |
As usual the tasting didn't stop with the sampling of the blended scotch on its own: Instead I mixed up three scotch based cocktails, to see how each blended scotch would handle them. I choose the Blood & Sand, The Chancellor and the Penicillin Cocktail for the comparison. For starters they are very good scotch cocktails and more importantly they are some of my favourite cocktails! After all, nobody said that I shouldn't have fun while putting the scotch whiskies to the test!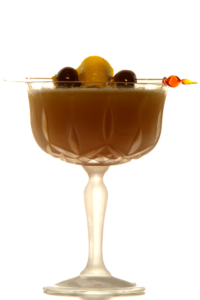 4 cl Blended Scotch Whisky
3 cl Luxardo Sangue Morlacco Cherry Liqueur
3 cl Carpano Antica Formula Sweet Vermouth
3 cl Orange Juice
Shake – double strain – chilled cocktail glass;
Garnish: Brandied Cherries;
| | | | |
| --- | --- | --- | --- |
| | Bailie Nicol Jarvie: | Pig's Nose: | Te Bheag: |
| Notes: | balanced, not to sweet, lacks something | Smooth, not too complex, no flavour overpowers the other | little smoke, cherries, sweet and powerfull |
| Rating: | 3 | 3,5 | 4 |
The Blood & Sand Cocktail is a very forgiving drink if you make it with orange juice and shake it. I suppose it is the o.j. that smoothes out the small imperfections and makes the drink more palatable. Well, some might call it boring, but all three of them were pleasant to sip. The Te Bheag however made the most complex drink with a subtle smokiness. Therefore, it received the highest number of points here.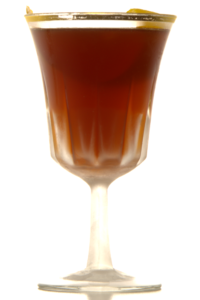 4,5 cl Blended Scotch Whisky
3 cl Quintas Do Infantando Tawny Port
1,5 cl Carpano Antica Formula Sweet Vermouth
Stir – strain – chilled cocktail glass;
Garnish: Orange Twist;
| | | | |
| --- | --- | --- | --- |
| | Bailie Nicol Jarvie: | Pig's Nose: | Te Bheag: |
| Notes: | little smoke, sweet, nothing more going on | flat and unbalanced, lacks sweetness and oomph | better but still not complex, more smoke, overpowers the port |
| Rating: | 2,75 | 2 | 3 |
The Chancellor is a very difficult drink and it's hard to get it right. It's also possible that my port wine was a little over the edge and that might supported the fact that none of the three drinks were perfect. Again the Te Bheag made the most promising of the three. Still, I have to retry this with a different port sometime…
6 cl Blended Scotch Whisky
2,25 cl Lemon Juice
2,25 cl Ginger & Honey Syrup
Float with 0,75 cl Bowmore Tempest
Shake – strain – DOF glass with ice – float;
Garnish: Candied Ginger;
| | | | |
| --- | --- | --- | --- |
| | Bailie Nicol Jarvie: | Pig's Nose: | Te Bheag: |
| Notes: | better balanced, scotch shines through, still lacking something | lacks sweetnes, single malt overpowers the blended scotch | a lot of smoke, combination of scotch and single malt, ginger comes through, |
| Rating: | 2,75 | 2,25 | 3,5 |
The Penicillin Cocktail really needs a strong blended scotch to not get lost between the ginger and the smoky single malt. Well, apart from the Te Bheag none of them did have enough power to do so, but the one prepared with the Te Bheag was rather good. The drink really came together and became something more than just the some of its ingredients.
Winner when mixed:
| | | | |
| --- | --- | --- | --- |
| | 1. | 2. | 3. |
| | Te Bheag | Bailie Nicol Jarvie | Pig's Nose |
| Rating: | 3,5 | 2,8 | 2,6 |
Overall winner:
| | | | |
| --- | --- | --- | --- |
| | 1. | 2. | 3. |
| | Te Bheag | Bailie Nicol Jarvie | Pig's Nose |
| Rating: | 3,6 | 3,1 | 2,0 |
This time there is a clear winner and it is the Te Bheag. Not quite the underdog, that would have been the Pig's Nose, but still a blended scotch that doesn't receive enough recognition! It is pleasant to sip on its own and makes very good cocktails while setting you back the same money a bottle of Johnnie Walker Black Label does. I for myself am curious how the other products of  Pràban na Linne taste and am looking forward to try them someday!