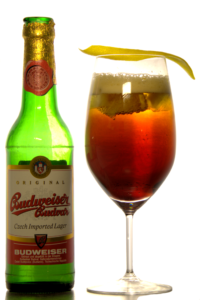 No, unlike Marshall from How I Met Your Mother, I don't suggest that you get drunk and ruin a news report by posing naked in front of the camera. However, since it seems that beer is no longer considered a necessary evil in cocktail bars I thought I should have a closer look at its application in cocktails. This part of the series is about classic beer drinks.
Of course this trend, like many others, began in the US and slowly but gradually made its way overseas. It has come so far, that cocktail bars are almost obliged to carry different quality beers. Moreover, even the next issue of the Cocktailian cocktail guide has beer as a topic. Meanwhile, most people are still disturbed or at least astonished by the thought of beer in their cocktails. That's why I thought I see if some of the beer cocktails out there are any good.
As a start I tried three well-known beer drinks. It is up for discussion if they are really considered cocktails, because some of them only contain two ingredients. However, I think it is essential to try those classic recipes to understand where modern beer cocktails are coming from. That's why I selected the Amer Bière, the Black Velvet and the Shandy as beer drinks that have been around for quite some time.
The Amer Bière is the traditional French way of drinking Amer Picon. Amer Picon is a French aperitif liquor, made from orange, gentian and quinine eau de vie. This eau de vie is then sweetened with sugar an coloured with caramel. With the Amer Bière you can vary the amount of Amer Picon to use from ¼ oz to 1½ oz depending on your preference. As for the beer you could use a French one, but I went for the famous Czech lager, Budweiser.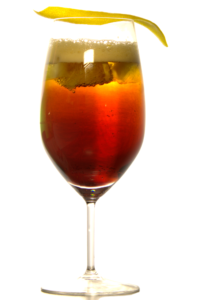 3 cl Amer Picon
Top off with Budweiser Budvar Premium Lager
Build Pilsner glass with ice cubes;
Garnish: Orange Slice & Lemon Twist;



As it turns out this drink tolerates a big amount of Amer Picon. Next time I will go up to the full 1½ oz. The drink tastes slightly bitter, with a hint of oranges and caramel. Make sure not to use a beer that is too strong, otherwise it will overpower the taste of the Picon. All in all it is a refreshing drink for hot summer days and I quite liked it. Though it will not become one of my favourite drinks, because of its lack of complexity.
The next drink, the Black Velvet is one of those drinks where you read the ingredients and can't help yourself, but wonder if it really works. The combination of Guinness and champagne is not one you would come up with on first thought. Nevertheless, to save you the trouble I tired it and was surprised when I discovered that it actually is a classic cocktail. It was created in 1861 at the Brooks's Club in London to mourn the death of Prince Albert, Queen Victoria's husband.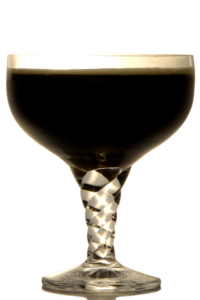 Black Velvet:
1 Part Drappier Brut Cart d'Or Champagne
1 Part Guinness Extra Stout
Build in champagne bowl;
Garnish: /



To be honest I made a mistake while preparing the drink. The stout beer is supposed to be floated on top of the champagne, but I think the drink really tastes better when the two components are mixed. Speaking of taste: the drink had a second surprise in store for me, it tastes better than you would imagine. It starts of with a malty and slightly bitter taste of the Guinness. After that the champagne takes over and leads to a grapelike aftertaste. While I can't imagine to have this every day, it still is a very interesting drink.
The last one of the "classic" beer "cocktails" is the Shandy. I followed Jeffrey Morgenthaler's instructions and made the lemonade a la minute, from fresh lemon juice, simple syrup and sparkling water. Jeffrey suggests to use a Lager, but instead I used a "Märzenbeer". I discovered sometime ago that this beer somehow works best with the citrus notes of lemonade.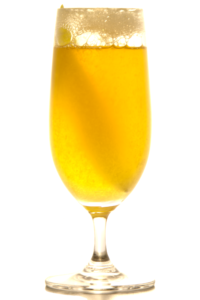 4,5 cl Lemon Juice
3 cl Simple Syrup
12 cl Sparkling Water
Top off with Weltenburger Anno 1050 Märzen Beer
Mix first three ingredients in Pilsner glass – top off with beer;
Garnish: Lemon Twist

Like the Amer Bière this is a perfect summer refresher. You can easily sip it on a hot summer afternoon. The fresh lemonade massively improves the whole experience with fresh citrus notes and just a hint of sweetness.
In the end while I liked all of those three drinks they don't really explain why there is such a hype about beer cocktails. However, you have to remember that those have been around for a long time and the beer drink trend is just starting to take off. That means there must be other drinks out there which really make a difference. More on that later… So be prepared for the second article about beer in cocktails!