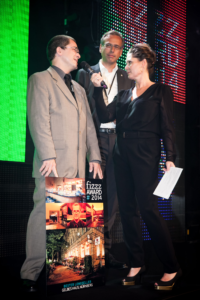 On Monday the 20th of October, Gelbes Haus the bar I am working in received the Fizzz Award for the "Best Longseller" concept. Of course that makes us very proud and happy, but also a little scared if we will be able to keep all those new customers at bay!
Obviously I am kidding even without the award, we are well equipped to handle the masses! My boss Mr. Kirschner and his Gelbes Haus have managed it for over 25 years now and will continue to do so. Now his hard work has been rewarded by the Fizzz Award for the "Best Longseller". The award was presented on Monday at the Gibson Club in Frankfurt, Germany. With over 600 guests, let's just call it a big party!
The Fizzz award itself was given for the 17th time this year. Besides other categories like best bar team, trend concept, best club and best café concept the jury was in search of a location that persists for over 15 years and adjusts to new trends, without ever losing its character. However, the verdict of the jury was not the only thing that lead to the Gelbes Haus receiving the award: in an online voting every nominee was able to invite his guests and followers to vote for him.
The Gelbes Haus was able to do both, convince the jury and mobilize the masses. So it was no wonder that on Monday everybody could compliment us on receiving the award. As usual Oliver Kirschner made sure that the whole team kept both feet on the ground: "We now are a little bit famous, but tomorrow morning work continues as per usual. An even tonight the bar is open. We remain what we are: a bar from Nuermberg, that is keen on delivering new taste experiences to its customers in an relaxed atmosphere. A big thank you goes out to our devoted fans, customers and partners, who voted for us and are supporting us on a daily basis."
I think there is nothing more to add to this, except: Congratulations Oliver and keep up the good work! I am very proud to work in such a long-lasting and now award winning bar! Of course I will give my best to contribute to future successes!
To celebrate the award with us I suggest you help yourself to one of these: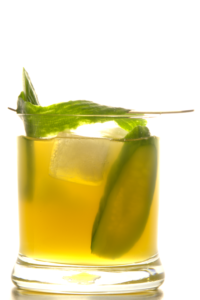 5 cl Hendrick's Gin
1 cl Morand Golden Delicious Apple Eau De Vie
2 cl D'Arbo Elderflower Syrup
Top off with Cloudy Apple Juice
Build in Double Old-Fashioned glass over ice;
Garnish: Cucumber slices;