In the cocktail world there are well-known ingredients like Gin, Orange Curacao, Rum etc. and there are ingredients most people have never heard of. Mirto definitely is one of them. So follow me as I take a closer look at this Sardinian liqueur and its application in cocktails!
I don't known if it is a familiar concept, but at least my parents are undertaking far more trips since my sister and I stopped going on holidays with them. As long as they bring me back a souvenir I am totally fine with that. Of course as a bartender my favourite gifts are country-specific liquors. So, when my parents told me that they were planning a trip to Sardinia, I immediately asked them to bring me back some Mirto.
Mirto is a liqueur made from myrtle berries or leaves which are macerated in alcohol and then sweetened with sugar. It is the traditional Sardinian drink and there are two versions of it: Mirto rosso, which is made from the berries and is very sweet and the Mirto bianco. The Bianco is produced by steeping only the leaves of the myrtle bushes in alcohol. Since I found more cocktail recipes calling for the rosso, I asked my parents to bring me back the rosso.
What they brought me was the Gestione Fattorie Mirto Del Contadino. It has a dark red colour and is bottled at 30% ABV. Below you will find my tasting notes when sampling it neat at room temperature.
| | |
| --- | --- |
| Gestione Fattorie Mirto Del Contadino | |
| Alcohol: | 30% |
| Appearance: | dark burgundy, small windows, slow tears |
| Nose: | Fruity, eucalyptus, slightly bitter, morello cherries, Campino bonbon |
| Taste: | slightly sweet, a hint of bitterness, frutiy, eucalyptus |
| Aftertaste: | Herbal, with more sweetness |
| Rating: | 3 |
Of course I usually don't drink liqueurs on their own, except for Chartreuse. However, for a liqueur it was quite pleasant, with a slight bitter note that cut back the sweetness. Throughout the whole sip there was a strong eucalyptus note present that reminded me of Fernet Branca. All in all I can imagine it would be just fine on its own over ice cubes with an orange twist, but since this is a blog about cocktails I tested the Mirto in a few drinks, too.
I found all of the three recipes I tried on cocktail virgin slut, which is a great inspiration for me. No matter if I am in search of new recipes, or trying to create new ones. The first drink the "Four Moors" was right up my alley, because it uses sherry. This fortified wine is one of my favourite cocktail ingredients and far too underestimated!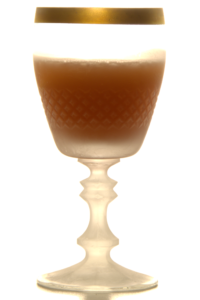 4,5 cl Lustau Amontillado Sherry
3 cl Meneau Orgeat
1,5 cl Gestione Fattorie Mirto
Stir – strain – chilled Cocktail glass;
Garnish: Lemon Twist



I made a little mistake when preparing this drink: I shook it, instead of stirring. With 1 oz syrup in the mix I think both ways are ok. The sip began with a combination of sherry nuttiness and almonds. After a while more bitter and fruity elements took over and finally lead to a relatively sweet aftertaste. It was good, but a little too sweet for my taste. Maybe the drink would be better if you use homemade orgeat, or cut back on it.
The next drink is a variation of the Greenpoint cocktail we all love and adore. Hugh Fiore simply switched the red vermouth for Mirto and replaced the two bitters with grapefruit bitters.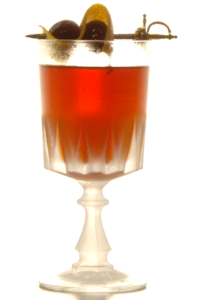 4,5 cl Four Roses Single Barrel Bourbon (Old Weller 107 Proof)
2,25 cl Gestione Fattorie Mirto
2,25 cl Chartreuse Jaune
2 Dashes Bittermen's Grapefruit Bitters
Stir – strain – chilled Cocktail glass;
Garnish: Orange Twist;

This is a very complex cocktail. The bourbon is almost suppressed by the two liqueurs. It hides behind layers of sweetness and herbal notes. The Myrtle Point somewhat reminded my of a Manhattan enhanced by eucalyptus and Chartreuse notes. After a while and with the temperature of the drink rising it started to become a bit too sweet. Again I would cut back on the sweet component and maybe use 2 oz of bourbon.
So both previous drinks ended up being to sweet. That got me worried that the third cocktail would end up just the same. The Carrol Ironwood is a combination of rye whiskey, Mirto and cinnamon syrup. Luckily I had some homemade syrup on hand that was left over from Tiki Month.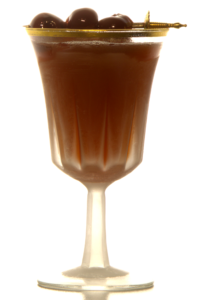 6 cl
Rittenhouse Bottled In Bond Rye Whiskey
3 cl
Gestione Fattorie Mirto
1,5 cl
Cinnamon Syrup
Stir – strain – chilled Cocktail glass;
Garnish: Brandied Cherries;



It turned out that I was wrong: the drink was not too sweet. Instead it had a rich spicy complexity and just underling notes of sweetness. The Mirto when not being paired with too sweet ingredients can quite brilliantly replace sweet vermouth. Its eucalyptus notes where a bit cut back by the rye and the cinnamon, which turned out to be a match made in heaven!
From the three drinks I tried the Carrol Ironwood by far was the best and I can only recommend that you try it yourself. An interesting Mirto cocktail I still have to put to the test is the Zelda Fitzgerald, which also uses another Italian liqueur Cynar. That being said you probably don't have Mirto on hand… Then there is only one solution: travel to Sardinia and buy one!