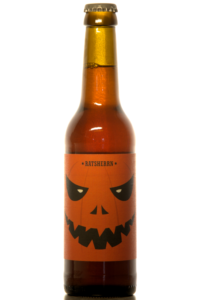 Ever since I first got my hands on the PDT cocktail book I wanted to try Jim Meehan's cocktail the Great Pumpkin. However, until this year it was virtually impossible to get pumpkin ale here in Germany. This year though, while researching beer cocktails I discovered one from Ratsherrn brewery in Hamburg and of course I mixed the drink with it.
The pumpkin ale is brewed with Hokaido pumpkins, caramel and of course beer, but moreover Ratsherrn also uses spices which are typical for pumpkin pie. After all, it is a mix of water, barley malt, pumpkin purée, wheat malt, dark rock sugar, hops, allspice, nutmeg, ginger, cinnamon and yeast. Needless to say that this beer is not conform with the "Reinheitsgebot" from 1516, but who cares if it tastes good. Nevertheless, I have no doubt that it is made with the highest quality in mind.
The Great Pumpkin cocktail itself was created by Jim Meehan, owner and creator of the "Please Don't Tell" cocktail bar in New York in Fall 2008. Jim's inspiration for this drink was Charles Schulz's comic "It's The Great Pumpkin, Charlie Brown" in which Linus and Sally are waiting for the Great Pumpkin to show and bare gifts. Obliviously the Great Pumpkin doesn't show and Sally is besides herself with rage for missing trick-or-treat.
The best part is when Linus reflects on Sally's rage in a brief conversation with Charlie Brown:
Linus: "You've heard about fury in a woman scorned, haven't you?"
Charlie Brown: "Yes, I guess I have."
Linus: "Well, that's nothing compared to the fury of a woman who has been cheated out of tricks-or-treats."
Maybe Linus could have mixed Sally a Great Pumpkin cocktail for restitution, but I guess we will never know if that would have calmed her down.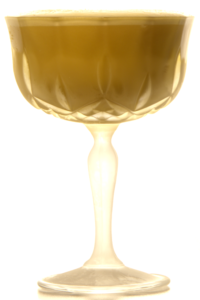 1 Whole Egg
Decarbonate beer in base of shaker – add the rest of the ingredients – shake with ice – strain into second shaker – dry shake – fill into large chilled Cocktail glass;
Garnish: Grated Nutmeg;
Since this cocktail includes an egg, you should dry shake the ingredients. Now most people would first dry shake and then shake with ice, but a very wise man and blogger colleague of mine suggested that you should first shake the drink with ice. The reason is simple: While you would get more foam when shaking at room temperature you also lose some of it when straining the drink after dry shaking. Be reversing the sequence of shaking with ice and dry shaking you make sure that all of this nice foam you have produced will end up in your drink, without further straining.
The Great Pumpkin started with a strong nutmeg aroma followed by a eggnog like taste. After a while the rye came through and was supported by earth and spicy notes. The whole sip had a very creamy texture, because of the use of a whole egg. All in all I was very pleased with the cocktail, even though I could not taste anything that would remind me of a pumpkin. Below you will find my tasting notes of the Ratsherrn Pumpkin Ale.
| | |
| --- | --- |
| Ratsherrn | Micro Limiteds – Dark Lantern Pumpkin Ale |
| Alcohol: | 5,9% |
| Price: | 9,06 € / Litre |
| Appearance: | dark caramel, with red reflexes |
| Nose: | malt, sweetness, spices: allspice and cloves |
| Taste: | malt, earthy notes, dry, spices and a hint of bitterness |
| Rating: | 3 (out of 5) |
While this pumpkin ale was a very tasty beer it somewhat lacked the characteristic pumpkin taste that I expected. Don't get me wrong I still liked it, especially with those allspice and cloves notes in the aftertaste. However, I somewhat expected the pumpkin taste smack me in the face. Like a mean Great Pumpkin would do… Nevertheless, I enjoyed the drink and the beer, so I guess at the end all is well.