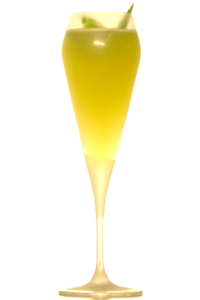 I am a thief! I stole this recipe from onemartini.com. – Well, to justify my deed: I didn't really steal it. I just used their recipe as an inspiration and changed a some of the ingredients to create my own cocktail.
Of course that means that both drinks a very similar, but in my opinion if you change more than two ingredients it is ok to give the cocktail another name. So, that is what I did: While my drink remains a close relative to the Old Cuban, mine uses Grapefruit Mint, orange bitters and simple syrup.
While the change in bitters and syrup might be arbitrary, the change of mint is very important. You can really smell a strong citrus flavour when rubbing a mint leave between your fingers. This special aroma is also noticeable in the prepared drink.
As for the sparkling wine: I tried this with Cremant, Cava and Riesling Sekt and all of them were good. However, the Cava made the best drink and I think a Spanish sparkling wine just corresponds well with the tequila. Make sure you use a very dry Cava and don't worry about the drink becoming too sour. The grapes that are used to produce Cava contain a small amount of acidity, which makes balancing the drink easier.
Maybe I should say a few words about the right tequila to use here: Most of you will already know that you shouldn't buy a cheap one. Nonetheless, I can't make myself clear enough that what most people think of as tequila, does not deserve to carry that name. Those so called "Mixto" tequilas are only obliged to contain 51% agave eau de vie. I think you can imagine what the rest is, or better don't! Sometimes it is best, not to know what kind of cheap sugarcane spirit is thrown in the mix.
If you use 100% agave tequila on the other hand, it is a whole different story! I tried Herradura and Espolon Reposado so far and the Herradura clearly won. That means that this cocktail needs a strong and flavourful tequila, but do not hesitate to experiment. I guess that you could even try a Blanco or Anejo tequila, depending on your preference. Let me know, how things turn out!
3 Sprigs Grapefruit Mint
Top off with Azul y Garanza Bodegas Cava Funambul Equlibri Natural Brut Nature D.O.
Garnish: Grapefruit Twist – Mint Sprig;
Song: Rodrigo Y Gabriela – Tamacun
Before I get into the taste of the drink, I want to mention its beautiful green colour. Similar to the Rocket Smash, it shines in a full green colour and this should make sure that people will want it. However, the taste is just as good as the looks: The sip of the cocktail is clearly dominated by agave notes from  the tequila, but soon the mint takes over with a refreshing and cooling sensation. Just before the carbonation of the sparkling wine makes itself known, together with a slight sweetness. To be honest, I am quite pleased with this drink and even if the last warm days are finally over, this is the perfect mixture to transfer yourself to a warm tropical beach.
Last but not least I have to say, that the original recipe, the Sparkling Tequila Mojito, makes a hell of a drink, too and you should try both versions. Of course you can also mix this cocktail with Champagne and I guess you can well imagine that I already tried it. Let's just say that a splash of Bollinger really takes this to the next level! 😉