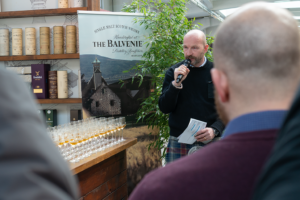 After my first visit to the Finest Spirits in 2016, I managed to swing by the great spirits tradeshow once again. The focus this year was on rum, which we had at the Finest Spirits Bar and from a small, but excellent Austrian distillery. Below you will find our highlights from so many great products at the Finest Spirits!
The big news of this year's Finest Spirits tradeshow was that Frank-Michael Böer sold the tradeshow together with the Braukunst Live to the Meiniger Verlag. We will see how that change will affect the fair in 2020. Nevertheless, with around 120 exhibitors the Finest Spirits 2019 was the biggest one yet. After the official welcome, the press tour began at the Campari booth. There we were able to try the new Glenfiddich Fire & Cane from their Experimental Series. This no age statement (NAS) whisky is a mix of smoky and bourbon cask single malt finished in Spanish style rum casks.
Smoke & Bourbon casks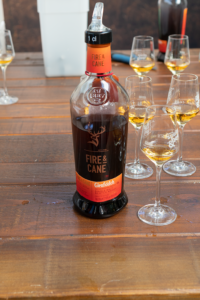 The Fire & Cane showed a nice bouquet of bourbon cask and noticeable bonfire smoke notes, while the taste was more dominated by the smoke and some grassy flavours. The aftertaste was medium long with sweet vanilla and caramel notes. Next up was the Paul John stand across from the Bremer Spirituosen Contor booth.
Exotic vanilla flavours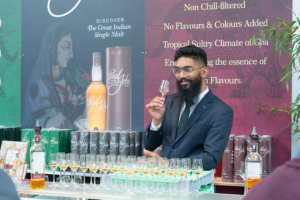 All Paul John whiskies are distilled twice on copper pot-stills from Indian 6-row barley. The only imported ingredient is the peat for their smoky variations. We tried their non-peated bottling called Brilliance. The NAS whisky is aged in ex-Bourbon casks, non-chill-filtered, not coloured and bottled at 46 % ABV. In the nose you get typical bourbon casks whisky notes of sweet vanilla pudding with the addition of exotic, banana-like notes. In the taste the vanilla is accompanied by hot spices, Szechuan pepper and white wine.
Exclusive and rare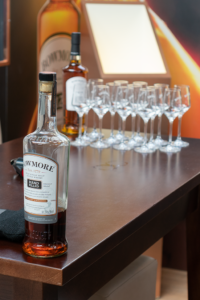 Next up was the booth from Beam Suntory. Instead of the promised Bowmore 12 years, they served us an exclusive Bowmore Hand Filled. This twenty-year-old cask-strength bottling only spent its time in Oloroso sherry casks. The aroma was dominated by hints of glue, black walnuts, dried fruits and just a hint of phenols. The excellent taste of smoke, dried fruits, roasted notes and sherry fruits was accompanied by a great thick mouth-feel. Unfortunately, the bottling with 57,7 % is only available at the distillery and just over 600 bottles exist. I love Bowmore and this Hand Filled bottling might just be the best one I tried so far!
Fruity coconuts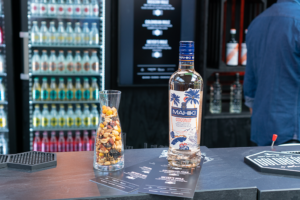 Before the conclusion of the press tour with rum cocktails, MBG served us the new Mahiki Coconut Liqueur at their booth. This liqueur, made from Jamaica rum and Polynesian rum and flavoured with Samoan coconuts, is filled with 21% ABV. The aroma and taste of the coconut spirit was dominated by a clear coconut flavour in addition to some floral, hibiscus like notes and a hint of sugarcane. The liqueur is noticeable sweet with a touch of peach flavour in the aftertaste.
Refreshing drinks
At the Finest Spirits Bar, we were presented with three rum based cocktails. An Old-Fashioned variation with Ron Millonario, a cocktail called "Wilma" using rum and Ancho Reyes and the "Mosquito". This Horse's Neck variation using Pusser's Rum tasted light and refreshing with just a touch of ginger. After the official press tour was over, we concentrated on the smaller exhibitors.
A beautiful gin bottle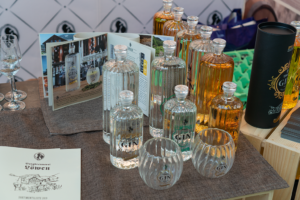 First off, we stopped at the booth of the Bergbrennerei Löwen which supposedly had the most beautiful gin bottle. While I let you be the judge of that, I can tell you that the hand-blown bottle holds a rather good gin. The Wood Gin spends one year in French barrique barrels. It manages to hold a good balance between botanical notes and oak spices from the barrel, while not becoming too smooth. Their other bottling, the Green Gin uses lemon grass and hay as botanicals. While hay might not sound like much, there actually goes a lot of effort into producing food quality hay. So, it does not come as a surprise that the Löwen Green Gin's aroma is clearly dominated by the hay notes. Other citrus and floral notes linger in the back and blend together for a very smooth taste.
Cryptic label, but excellent whisky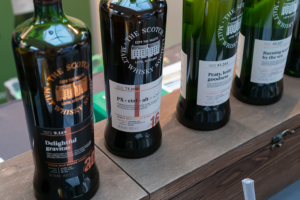 Since, I enjoyed a sample of Scotch Malt Whisky Society whisky in 2017 so much, I was very happy to see that they had a stand at the Finest Spirits 2019, too. They had a special spirits fair offering for their membership and we took a sip of one of their colour-coded bottlings. The "PX + ctrl + alt > = 🙂 " a 16-year-old Aultmore bottled at 58,6 % from 1st fill Hogshead casks and Pedro Ximenez barrels was right up my alley! The initial impression of sherry fruits, oak, spices, dried fruits and tobacco was accompanied by a sherry fruit, spices and gooseberry dominated taste. This was the second bottle that got me seriously considering signing a membership.
Cognac with an Eastern touch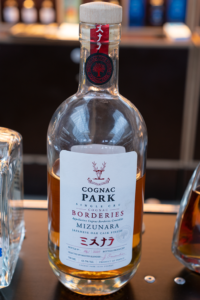 Through a tip from Johann my fellow blogger from Cocktailbart.de I got a tip to visit the Perola stand. He told me about a Park Cognac finished in Japanese Mizunara oak casks. Since this Japanese oak is kind of a big deal in the whisky world, I just had to try this cognac. To make things short: If you are a cognac fan, you must get a bottle of this cognac! The subtle and elegant Park cognac notes are enhanced by fresh and funky oak spices. The unusual wood finish also brought up the association of black tea. We also sampled a sip of rare Mancino Vecchio Vintage, which was unbelievably delicious, but way too expensive.
Rum, rum, peach eau de vie and vinegar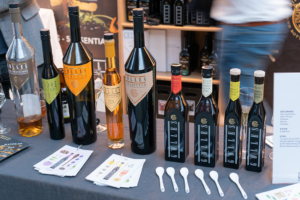 Next up we stopped at the Gölles booth. There David Gölles the master distiller took a lot of time to show us all their different products and we had an excellent time! First, we tried his new white rum, which together with his other bottlings will be released on the first of April. Although the rum is distilled from molasses, the flavour is very fruity and almost rhum agricole like. Besides the fresh sugarcane juice, you can taste vanilla, overripe fruits and hints of exotic spices. The white rum is very mellow and has no alcoholic burn whatsoever. Second, we also had his strong rum which is less smooth, but adds complex oak notes, buttery vanilla, molasses and a hint of smoke to the mix. I am very curious to try these rums in cocktails! However, the absolute highlight was the cask-strength, oak aged peach eau de vie! Its taste was so overwhelming that it took me a while to write any tasting notes at all! The "Alter Pfirsich" tastes of vineyard peaches, overripe fruits, esters and vanilla with the longest after taste imaginable. I just had to get a bottle of it. Besides the spirits from Gölles you should also check out their vinegars. They are all excellent and delicious!
Just aquavit!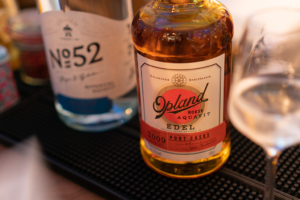 Arcus presented a remarkable number of different aquavits at their booth. They are relatively new to the German marked although their brands are very well known in Germany. Two of their newest products are the Lysolm No. 52 Aquavit and the Opland Edel aquavits. The No. 52 was especially released for mixing cocktails. Nevertheless, it was a pleasant sip with a spicy and oily combination of caraway seeds, cardamom as well as orange peel. The Opland Edel Port Cask Norwegian Aquavit is aged for four years in sherry casks and finished in first fill port casks for at least another year. The Opland added a distinctive rye bread note to the typical, but well-balanced caraway seed notes. On top of that, there were hints of dried fruits and more spices. I am very happy to see that an aquavit company is expanding here in Germany!
The right vodka for hop heads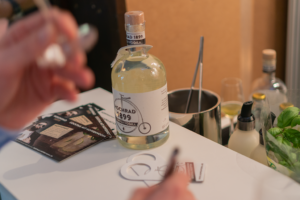 The beautiful thing about the Finest Spirit is that you will coincidentally discover new products which manage to surprise you. This is the case with the Hochrad 1899 Hop Vodka. The vodka from the Lutzenburger Liqueur & Genussmanufaktur uses the Perle hop variety for flavouring their vodka. This results in a slightly bitter and very oily taste with a slight fruity hint of pears. It also makes a great Basil Smash variation which we found to be very refreshing. The oily hop notes shine through very well and blend beautifully with the basil.
MGP Whisky from Bavaria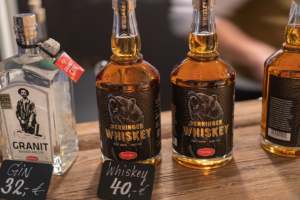 The Penninger distillery famous for their Blutwurz, went a different way to get their own whisky. Instead of distilling their own mash, they sourced their "bourbon" from MGP in Indiana. This was to some part due to them not being allowed to distil mashes containing starch. Yet, it also has the benefit that they can now wait until they have a whisky with a certain age and complexity. The mash-bill for the Penninger Whisky consists of 60 % corn, 11 % rye and 29 % barley. The whisky is aged for two years in the United States and then spends another 18 months in casks here in the Bavarian Forest. Afterwards it is chill-filtered, which is rather common with American whiskies, and bottled with 42 % ABV. The whisky is very smooth with typical bourbon style whiskey notes of corn, rye, apples and fresh cut grass. The sip finishes with a rather long aftertaste with a distinct sweetness. I enjoyed the Penninger Whisky very much!
All good things come in threes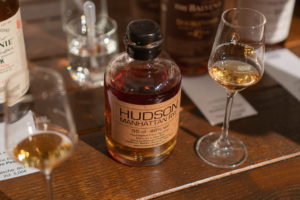 Since, I already enjoyed the Hudson Baby and Four Grain Bourbons in my most recent bourbon blind tasting, we went to the Campari stand to try the remaining Hudson whiskey. The Manhattan Rye is produced from whole grain New York State rye which is sourced from local farms. The rye ages in slightly charred small oak barrels. Although it is young the Hudson Rye has all the typical rye flavours: You will find sweet notes, spices, rye grain, grassy notes and even hints of chocolate in the taste. It is still rather highly priced, but if you come across it, you nevertheless should give it a try.
The start of a great tequila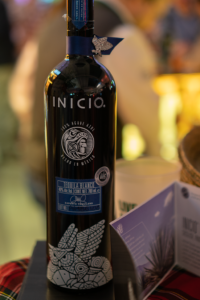 At the booth of Ferrand Germany we had the chance to talk to Ms. Rivera from Inicio Tequila about their new Blanco Tequila. The agave hearts for this premium tequila take between seven and twelve years to mature. When they are finally ready, the pinas are cooked in an old stone oven with water vapour and slowly fermented over three days. The agave mash is distilled twice on pot-stills like the ones used in Cognac and the tequila is bottled at 40 % ABV. The Inicio had an beautiful fruity agave note with slight hints of minerals reminiscent of salt. Apart from that, you could find exotic fruits and a distinct sweetness in the taste.
A refreshing palate cleanser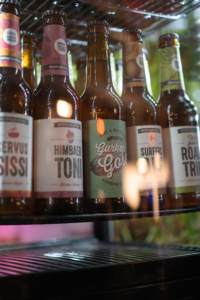 To take a short break from tasting all those great spirits we stopped at the stand from Hopfmeister a German craft brewer from Munich. There we talked to their master brewer and because I wanted to broaden my horizon on sour beers he served use his Gurken Gose. This collaboration brew with the Hertl brewery is made using malted barley, caramel wheat malt, cucumber, unmalted wheat, hops (Hallertauer Cascade), coriander, salt, lactobacillus and yeast. While this sounds very unconventional for regular beer drinkers, it was a very refreshing beer which started off with a clear cucumber bouquet. Yet, the cucumber was nicely balanced in the sip by citrus, wheat and malt notes. In the aftertaste you also noticed a slight salinity.
Some peat monsters for the end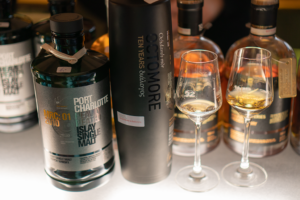 For a night cap before leaving the Finest Spirits 2019 we visited the Diversa booth with their heavily peated Islay single malts. The first one from Port Charlotte the MRC:01 2010 is peated to 40 ppm and consists of 50 % first fill American whiskey casks and 50 % French wine casks which were blended and finished in Mouton-Rothschild casks. The initial impression was dominated by heavy peat smoke and phenols, but after a while gooseberry and dried red fruit notes appeared. To finish us off completely we were also served the Octomore Ten Years Dialogos 167 ppm Vintage 2008. The funny thing was that after the Port Charlotte, the Octomore first did not appear that smoky. However, after a few minutes you were hit by a shipload of peat smoke flavours. Beneath it all lay some Bourbon casks notes, vanilla and hot spices. After a while the phenol heavy smoke turned into bonfire smoke and some hints of dried fruits became perceptible.
There was no point in trying anything after those two peat monsters. So, we did the only responsible thing and went to our hotel looking back at a marvellous Finest Spirits 2019.